Gaming
Casino's vaccine mandate dominates Facebook Live event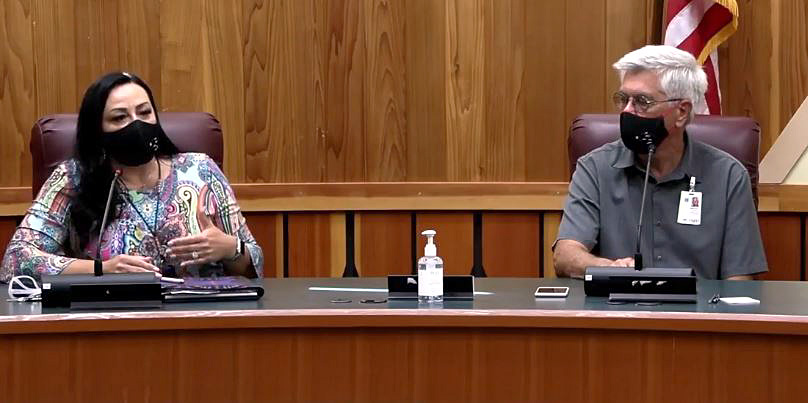 By Dean Rhodes
Smoke Signals editor
A decision by Spirit Mountain Casino to mandate that its 934 employees all become vaccinated against the COVID-19 virus dominated the Thursday, Sept. 9, Facebook Live event held by the Tribe.
Spirit Mountain Casino General Manager Bruce Thomas and Human Resources Director Camille Mercier explained the decision that was arrived at after consultation with Tribal Council and the Spirit Mountain Gaming Inc. Board of Directors.
Thomas said the decision was to prevent a "runaway situation" at the casino that could affect so many employees that Spirit Mountain Casino would have to shut down like the Siletz Tribe's Chinook Winds Casino did in late August.
"The vaccination program was our only viable option that we had," Thomas said, adding that testing doesn't solve the problem or protect the casino from loss of employees to the disease.
The vaccination mandate was discussed by Tribal Council on Wednesday, Sept. 1, and approved by the Spirit Mountain Gaming Inc. Board of Directors on Tuesday, Sept. 7. Tribal Council members also discussed the vaccine mandate during its Tuesday, Sept. 7, Legislative Action Committee meeting that can be viewed at www.grandronde.org by clicking on the Government tab and then Videos.
Currently, approximately 54 percent of the casino's staff members are vaccinated, Mercier said.
The casino held two two-hour meetings with employees to explain the decision. Thomas said approximately 100 total employees attended the two meetings.
Thomas said whether to get the vaccination remains a personal decision for casino employees. Employees will have a 40-day window during which they can get vaccinated and retain their employment or find another job.
"We regret any employees that we lose," Thomas said. "But we have to proceed based upon the health of all of the people involved and how that impacts the casino, which is our responsibility."
Thomas added that the casino at this time will not require proof of vaccination for guests although it has reinstated its mask-wearing rule for customers.
Mercier said medical exemptions will be permitted, but they will be reviewed by Tribal health care professionals before being accepted. There will not be any religious exemptions, she added.
Tribal General Manager David Fullerton said the Tribal government currently is at an 86 percent vaccination rate for its employees and will not mandate all employees receive a vaccination. Only Health & Wellness Center staff are currently required to be vaccinated or be tested daily for COVID, he added.
"Our employees have done a great job stepping up," Fullerton said.
The 20-minute Facebook Live event was the 21st held by the Tribal government since March 2020. Approximately 300 people logged on to watch the broadcast, which also included Health Services Executive Director Kelly Rowe and Tribal Council Chairwoman Cheryle A. Kennedy.
Kennedy started the Facebook Live event by briefing attendees on COVID-19 statistics. She said the Tribe is currently tracking 37 active cases, and has tested 3,056 people with 2,904 negative results and 152 positives, which translates into a 5 percent positivity rate. So far, the Tribe has vaccinated almost 20,800 people.
"We know that the COVID variant has hit not only the state of Oregon and the U.S. hard, it has hit the Tribe hard as well," Kennedy said, encouraging others to do anything they can to spare others from this "awful, angry disease that is running rampant."
Kennedy encouraged viewers to remain socially distant, get vaccinated and wear a mask while in public.
"Let's all join this effort, this campaign, to make sure this virus is eradicated," she said. "Be a warrior against this virus."
In response to questions from viewers, Rowe said the Tribal Health & Wellness Center is currently providing third-dose booster shots to those who are immuno-compromised and that the clinic is seeing shorter time between exposure and infection with the widespread Delta variant.
Rowe added that the Tribe cannot test specifically for the Delta variant when it gets a positive result, but can send a sample to the state lab for testing if the patient is presenting different symptoms.