Culture
Event helps bring back the bow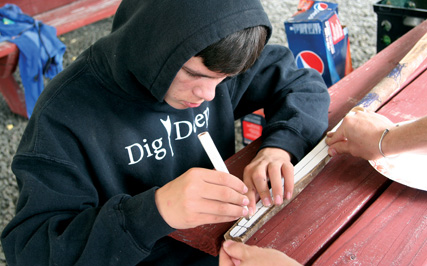 Kailiyah Krehbiel gave the thumbs up about her father's help on Saturday, June 29, at the Tribe's Uyxat Powwow Grounds.
She was attending a family affair that weekend for as many as 40 youth from across the state who learned to make bows from scratch and practiced shooting arrows at targets.
Brian Krehbiel, Cultural Education specialist and point man for the Tribe in organizing the event, was tightening his daughter's emerging bow stave in a vise, that in turn was clamped to one of the picnic tables under a tent, where the action was non-stop with youth filing, sanding and painting the blanks, knotting and waxing bow strings and finding ways to carry the finished bows and arrows over their shoulders.
Bringing Back the Bow is an Oregon nonprofit funded for this summer's three-day camp by a $3,500 grant from Spirit Mountain Community Fund, the Grand Ronde Tribe's philanthropic arm. Founded and run by lifelong bow hunter Jack Holthaus of Springfield, Bringing Back the Bow also brings bow-making camps to Tribes in South Dakota.
After his third retirement, Holthaus said, "I wanted to hunt with a traditional bow." From that experience, he turned to teaching bow making to a select few and grew the camps from there. As a corporate turnaround specialist in his business life, his interest was in growing companies, he said. With the bow camps, his interest is similar.
"Ideally, I want to put myself out of a job and hope that the people of the Tribe will take this camp and make it bigger and better every year," Holthaus said.
From Krehbiel's point of view, "It's beautiful. I couldn't ask for anything better. Everybody here helps everybody else. They put what they're working on aside to help somebody else. Everybody's made a bow already, if not two or three."
The camp was a joint venture between the Cultural Resources and Natural Resources departments and volunteers from Traditional Archers of Oregon.
At different stations, bow staves were shaped with the help of a band saw and string was wound and waxed by longtime bow makers from the Traditional Archers group.
Three kinds of wood were used and templates helped the new bow makers refine the ends where the string was hooked and tightened on the bow.
Kaleb Reid, 11, son of Erica Mercier, carried his bow over his shoulder with the string loose. "I'm keeping it slack," he said, "or the string will loosen."
He had sanded his bow and painted it, then thought of a better idea and sanded it again. "I like the natural look," he said.
"I was better at making the bow than my mother," said Elizabeth Watson-Croy of her mother Glenda Croy, who sat across the table.
"Don't rub it in," said her mom.
"But she shoots straighter than me," said Watson-Croy.
Jeremy Lane, 16, gave his first bow to his uncle because "it's tradition to give away the first bow you make. He hunts with a bow and I thought he'd like it."
"For a lot of kids, this is where they came from," said Bobby Mercier, Culture and Language specialist for the Tribe. "Our grandfather (Jessie Smith) was a bow maker."
"It took a lot of work," said Dakota Ross, 11, of the sanding, shaping and painting he had done. The shooting, he added, "was hard at first, but I got the hang of bringing the arrow back." After maybe five rounds of shooting, he said, he started hitting the targets.
In addition to bow making and shooting, the camp brought youth to see the local woods from which bows are traditionally made. There is a year or more of drying that goes into the wood staves before they are ready to become a bow, but local hazel (nut) wood is plentiful in the area. Bows also are made of a bamboo species called rattan and service berry wood, neither of which are local, said Krehbiel.
Vine maple, however, is local and makes some of the best bows, said Mercier.
Cultural Protection Coordinator Eirik Thorsgard gave a presentation on flint knapping to show how early arrowheads were made.
Stone blades were used until Lewis and Clark came through, said Mercier, and Native Americans switched to metal blades. Even earlier, in the late 1700s, Native Americans bartered for metal with Canadian traders, he said.
The camp pierced the hearts of Tribal interns and staffers, too.
"They're so excited to be shooting," said Kiana Leno, 16, a summer intern with the Cultural Resources Department. "It's really cool that they get the experience, and for me, too. I made a bow yesterday."
"I got into it," said Melisa Chandler, a site monitor in the Cultural Resources Department. "I took my time and was working on it all day, off and on." As for the youth, she said, "They're seeing what can happen when the work on it, and how they can shape things."
Before it was over, Rick Thompson, president of Traditional Archers of Oregon, honored the Tribe with a bow he had made. He presented it to Tribal Council member Toby McClary, who said he knew how successful the camp was even before he showed up because he was seeing a continuous feed of photos on Facebook.
Then everybody headed over to the targets.
"Nock your arrows," said Krehbiel.
The arrows went up in the bows, pointing every which way.
"Fire away," he said, and a hail of arrows came down on half a dozen targets set at six different distances. That was the only place in camp you didn't want to be over the weekend.