Culture
Reibach taking his Native flute to Northern Ireland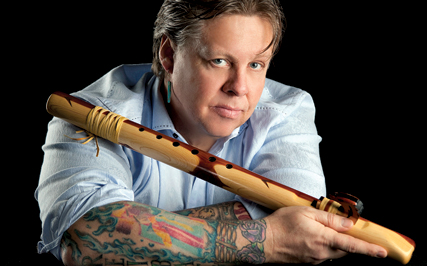 Tribal member Jan Michael Looking Wolf Reibach, winner of four Native American Music Awards, including Artist of the Year, will be performing in Derry, Northern Ireland, on Friday, July 27, at the Waterside Theatre.
The performance will be something of a homecoming for Reibach.
Although he is the great-grandson twice removed of Kalapuya Chief Joseph Sangretta, Reibach is also the twice-removed great-grandson of James Dunn from Derry, Northern Ireland, who arrived in the United States in 1834.
A close friend and genealogist from Ireland, Keith Wright, helped trace Reibach's Irish ancestry.
During his tour of Ireland, Reibach also will play for Northern Ireland's Deputy First Minister Martin McGuinness.
Reibach, who works for the Tribe as Lands Manager, is an accomplished Native American flutist, recording artist, educator and humanitarian. With 18 CDs released internationally, he has won the aforementioned four Native American Music Awards.
His dedication to making a positive difference, which includes a special CD for children battling cancer and a national Native youth drug and alcohol prevention music project, is a main driver of his music.
He has headlined large festivals and concerts across the country. He has instructed cultural diversity courses at universities for more than seven years and taught more than 5,000 people how to play Native American flute.
These days, however, his commitment to working for the Tribe takes precedence and his performance schedule is limited.
He said that performing in Ireland is especially close to his heart.
"Every day, I wake up and feel grateful to be a Grand Ronde Tribal member and to have the blessing of our culture," he said. "We are all tied through Mother Earth one way or another. I am excited to meet my Irish relatives and share the native flute with them."