Tribal Government & News
General Council briefed on Tribe's Contract Health expansion effort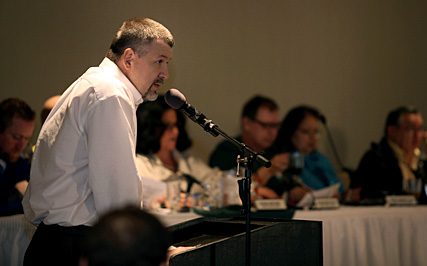 PORTLAND -- The Tribal membership was briefed on the Tribe's continuing efforts to expand its Contract Health Service Delivery Area, which has the potential of saving a significant amount of Tribal dollars, on Sunday, April 1, at the General Council meeting held at the Monarch Hotel near Clackamas Town Center.
Tribal Health Services Executive Director Mark Johnston said that the Tribe's current Contract Health Service Delivery Area encompasses six Oregon counties - Marion, Multnomah, Polk, Tillamook, Washington and Yamhill - in which about 3,000 Grand Ronde Tribal members reside.
Contract Health Service is the federal funding from the Indian Health Service given to the Tribe annually to pay for Tribal member health care. The Tribe receives $2.75 million annually and Contract Health is the payer of last resort, Johnston said.
Since the federal funding is woefully inadequate to fully fund Tribal member health care, the Grand Ronde Tribe supplements Contract Health Service funding through the Skookum Health Plan to the tune of approximately $20 million a year.
But, Johnston said, in 2007 a new law was passed that allows Tribal members covered by Contract Health Service to receive Medicare-like rates, which saves the Tribe between 60 percent and 70 percent on a bill at hospitals within the six-county delivery area.
Johnston said that a Tribal member living in the six-county area who goes into the hospital for a 10-day stay and operation that costs $250,000 would eventually cost Contract Health $25,000 when all available discounts and reimbursements were applied. A Tribal member living outside the Contract Health delivery area under the same circumstances would cost the Tribal health plan $225,000 for the same procedure.
"So, if we get more Tribal members CHS eligible by expanding our delivery area, we would save a significant amount of money," Johnston said.
In 2010, the Grand Ronde Tribe proposed adding 13 more Oregon counties and two counties in southwestern Washington state to its designated delivery area. Those 15 counties reflect the Tribe's ceded lands.
However, other Tribes - Coos, Coquille, Cowlitz, Cow Creek, Klamath, Siletz and Warm Springs - objected to the Grand Ronde proposal for expansion because it might affect their user populations and, hence, federal funding.
The Grand Ronde Tribe rescinded its original expansion request, Johnston said, and tried to negotiate with the other affected Tribes. Only Cowlitz and Coquille negotiated with Grand Ronde, but agreements were not reached.
So, Johnston said, on Jan. 12 the Tribe resubmitted its request to expand its delivery area, this time only listing Oregon counties north of Lane County. The request was sent to the Portland District Office of Indian Health Service, which will again send it to other Tribes potentially affected by the expansion for comment.
Johnston said the Tribe is expecting a decision by July 1.
Johnston said the pros for the Grand Ronde Tribe include reducing the number of Tribal members who feel they are not included, eliminate out-of-pocket expenses for Tribal members living outside the current delivery area and increase Tribal Contract Health user counts, which may lead to increased federal funding.
The only con, he added, might be the need to add another Tribal employee to help process Contract Health claims.
"This is a battle worth fighting for," Johnston said.
Johnston said he expects the Portland Area director to back the Grand Ronde effort, but if that does not occur, the Tribe plans on taking its request directly to the Indian Health Service director in Washington, D.C.
"We believe we'll be successful," Johnston said.
Johnson then discussed the Tribal member health plan - Skookum. He said the original intent of the health plan was to supplement coverage that Tribal members might have elsewhere, such as Medicare, Medicaid or an employer's health plan. Skookum was never intended to be the primary payer, he said.
A survey started in October 2010 found that out of 2,760 Tribal members who responded, 1,648 (60 percent) said they have no other health insurance coverage. The survey also found that 1,551 (56 percent) of those respondents were Medicaid eligible.
Based on those results, Tribal Council instructed Tribal Health Services in January to begin determining if Tribal members have access to other health care coverage in an effort to control and hopefully reduce Tribal expenditures on health care.
"We are trying to save your money," Johnston emphasized since Tribal dollars used to supplement health care are not available for other needs, such as education, housing, pensions and per capita.
The General Council meeting was opened with a blessing song performed by the Portland area drum group that included Tribal members Jon George, Greg Archuleta, Jordan Mercier, Delores Parmenter and Debi, Eric and Erin Bernando.
Tribal member Jan Michael Looking Wolf Reibach also performed a Choctaw blessing song on flute.
The next General Council meeting will be held 10 a.m. Sunday, May 6, at the Tribal Community Center. It will be followed by a 1 p.m. Tribal Community Input meeting in the Tribal gym.
Tribal members Duane Wheeler, Kiona Campbell and Travis Taylor won the $50 door prizes and Tribal spouse Denise Wilson won the $100 door prize.
Tribal Council member Toby McClary announced that the constitutional election on adding a primary to the Tribal Council election process will be held June 13. Registration packets will be sent out by the Bureau of Indian Affairs beginning April 9 and Tribal members will have about a month to register to vote in the election.
To change the Tribal Constitution, at least 30 percent of those registered to vote must cast ballots and 66.7 percent of those voting have to approve of the change.