Health & Education
General Council briefed on Health & Wellness' 2020 goals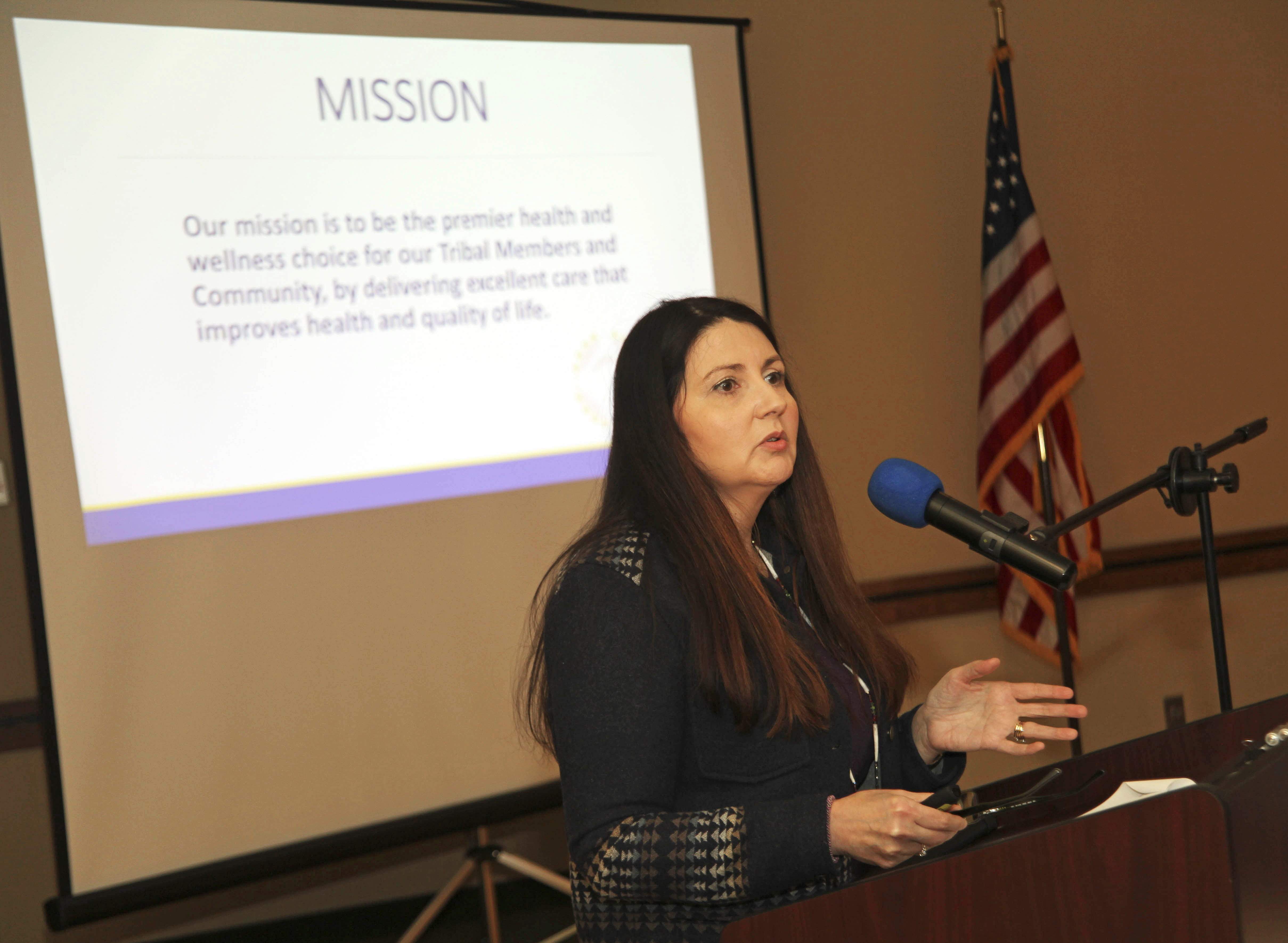 By Dean Rhodes
Smoke Signals editor
CLACKAMAS -- The Tribe's Health & Wellness Department has many goals for 2020: expand the medication-assisted treatment program, concentrate on Elder dental care, launch a new Pharmacy computer application and continue striving for zero complaints.
Those were just some of the goals outlined by Health Services Executive Director Kelly Rowe during a 45-minute presentation before a well-attended General Council session on Sunday, Feb. 2, at the Monarch Hotel & Convention Center.
Rowe surveyed all of the different departments offering health care at the clinic: Medical, Dental, Behavioral Health, Optometry, Pharmacy, Community Health, and Administration and Business Office.
No matter the department, however, they are all judged on the same criteria: quality care, patient access and, perhaps most importantly, patient satisfaction.
"Our complaints went down 20 percent from 2018 to 2019," Rowe said, adding that the goal is zero complaints. "If we don't shoot for the best …. We have to meet the needs for everyone who comes to us for care."
Rowe said the Tribal clinic in Grand Ronde treats approximately 65 percent Native American patients and 35 percent non-Native, which would include Tribal employees and community members. There are about 16,000 patients annually, although that number may include duplication of patients visiting multiple departments within the clinic.
Within the Medical department, Rowe said the recent push to eliminate hepatitis C within the Tribal community has paid dividends. The clinic has reached an 87 percent screening rate with patients and 39 people were identified as being positive. A new regimen of drugs can cure the disease.
"The faster we catch it, the sooner we can stop that process and make people well," she said about the effort led by Dr. Randy Blome.
In 2020, the Medical department also will continue to expand the medication-assisted effort that helps drug-dependent people get off opioids and will work with Behavioral Health to integrate their specialties into patient medical care. Currently, the clinic has 18 patients enrolled in medication-assisted treatment, Rowe said.
Regarding the Tribal Pharmacy, Rowe said a new computer application will go live on Tuesday, Feb. 25, requiring the Pharmacy to close for the day on Monday, Feb. 24. She estimates that the new system that will require staff members to become familiar with may slow down production for a week to 10 days, but she said the positives to the new system will include a direct link to the U.S. Postal Service for mailing of prescriptions and allow app-based communication.
Other highlights include Dental obtaining a new panoramic X-ray machine and focusing on improved Elder dental health care, the Behavioral Health addition that is scheduled to open in late February, a new optometrist in Optometry, possible expansion of medical transportation provided by Community Health and expanding pediatric services offered by Tribal member Dr. Allison Empey to a weekly basis in March.
In closing, Rowe announced that Senior Administrative Executive Assistant Holly Snodgrass was selected as the 2020 Health & Wellness Center Employee of the Year for her work in 2019.
"She is always helpful and goes above and beyond in all interactions," Rowe said. "She is a positive, resourceful and excellent team member."
Following her presentation, Rowe fielded four questions and comments from the audience. In response to an inquiry from Tribal Council Vice Chair Chris Mercier, Rowe said the Tribe is prepared for any possible corona virus cases should the disease reach Oregon.
"We have been getting information from the CDC (Centers for Disease Control), and Polk and Yamhill county health departments and have shared it with our providers," Rowe said.
The respiratory illness, which started in China, has reached the United States with a reported case in Washington state.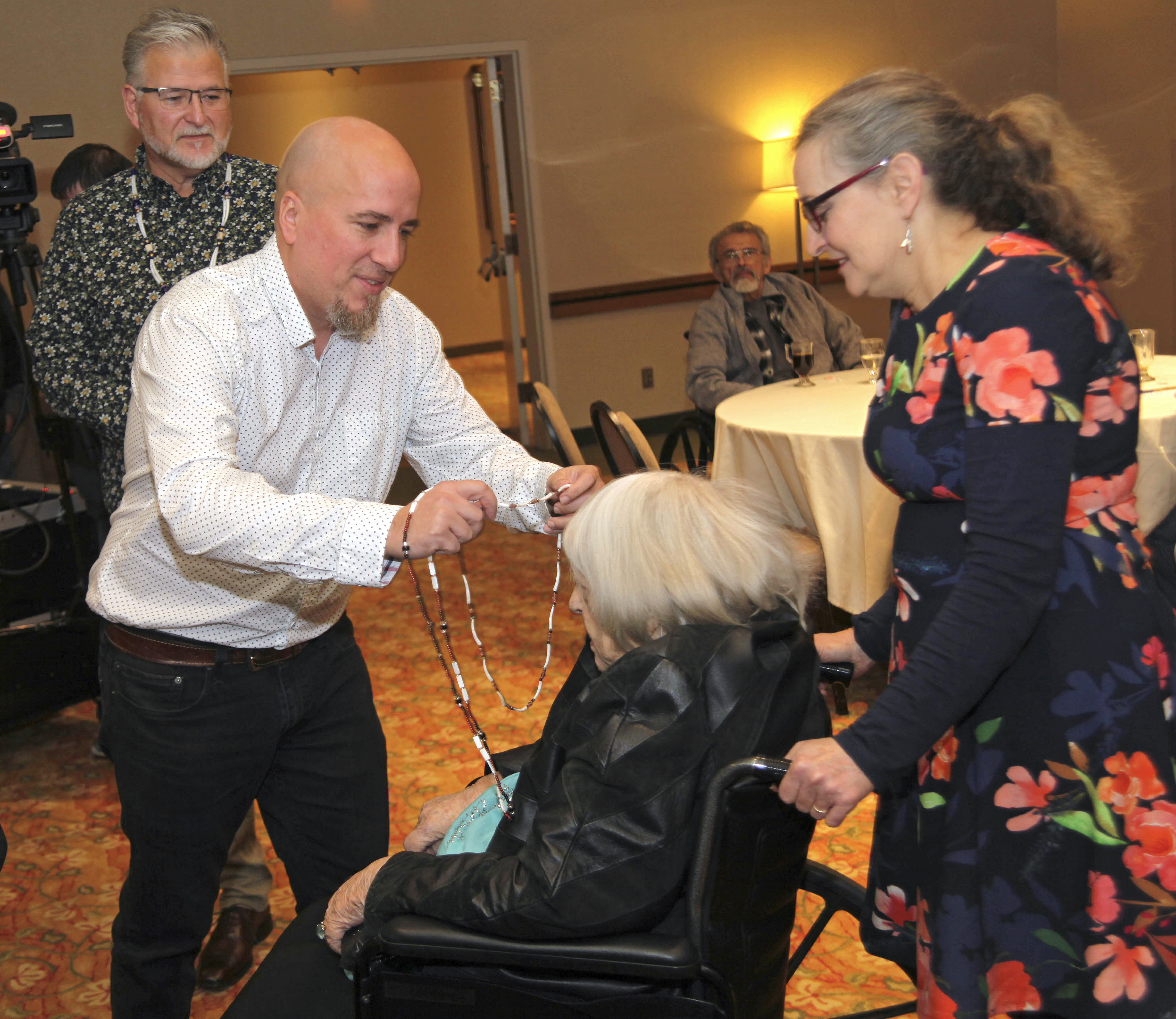 Tribal Council Vice Chair Chris Mercier gifts 96-year-old artist Dorothy Vandiver with a dentalium necklace in appreciation for her donation of "Flute Player" to the Grand Ronde Tribe. Tribal Council Secretary Jon A. George, left, and daughter-in-law Maria Vandiver, right, look on. Vandiver, who lives in hospice care, donated the paintings to the Grand Ronde Tribe in honor of its purchase of the Blue Heron Paper Mill site in Oregon City in August 2019 and return to Willamette Falls. (Photo by Dean Rhodes/Smoke Signals)
In other action, Mercier gifted 96-year-old artist Dorothy Vandiver with a dentalium necklace after she donated two 88-by-82-inch canvasses to the Tribe in honor of Grand Ronde purchasing the Blue Heron Paper Mill site in Oregon City in August 2019.
The paintings, collectively called "Flute Player," show Okaga, the South Wind, according to Lakota legend, playing the instrument.
Vandiver, who lives in a hospice care home, was accompanied by her children, Robert Vandiver and Bonnie Espe, and their spouses, Maria Vandiver and Paul Espe.
"This is a profound act of generosity," Mercier said. "We are really thankful for this."
Tribal members also lined up to individually thank Vandiver for the donation, which will hang in a yet to be determined location.
The door prize winners were Ed Larsen, Brian Bean and Greg Archuleta, $100 each; and Char Michelle-Westley, Donna Sanders, Erin Bernando, Robert Vandiver and Lisa Archuleta, $50 each. Also raffled off were Health & Wellness goodie bags and 2020 vote T-shirts.
The next General Council meeting will be held at 11 a.m. Sunday, March 1, at the Tribal Community Center in Grand Ronde.
In addition, Fish & Wildlife Program Manager Kelly Dirksen and Aquatic Biologist Brandon Weems attended the meeting to distribute salmon to Portland-area Tribal members.
Following the General Council meeting, about 20 Tribal members stayed for the first of three Community Input meetings that are seeking advisory vote topics to possibly be placed on the September Tribal Council ballot. General Manager David Fullerton and Tribal Council Chief of Staff Stacia Hernandez facilitated the session.
The next two Community Input meetings will be held after the General Council meetings in March and April in Grand Ronde and Eugene, respectively.
After a list of topics is compiled, Tribal Council will select the questions to be placed on the ballot.
To view the entire General Council meeting, visit the Tribal government's website at www.grandronde.org and click on the Government tab and then Videos.