Tribal Government & News
51 Tribal employees honored for years of service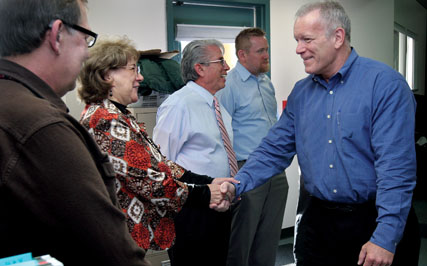 Fifty-one Tribal employees representing 608 years of service were honored Dec. 21 in the Tribal Community Center during the third quarter Employee Recognition Celebration put on by the Tribe's Human Resources Department.
Leading the list of Tribal employees in commemorating their 22nd year of Tribal employment were Human Resources Generalist Connie Holmes and Natural Resources Department employees Jeff Kuust, who is the Timber and Roads Program manager, and Jeff Nepstad, who is Silviculture and Fire Protection Program manager.
Following an invocation given by Tribal Council member Steve Bobb Sr., Tribal employees were served a lunch that included lasagna (meat and vegetarian), salad, garlic bread and cupcakes.
Tribal member and Tribal Executive Officer Chris Leno opened the recognition by telling employees how much he appreciates their hard work and effort. He then introduced Tribal Council members June Sherer, Toby McClary, Jack Giffen Jr. and Bobb.
"I appreciate everyone supporting Tribal Council decisions through difficult budget times," McClary said. "I appreciate your willingness to do what it takes to support the Tribe."
"This organization is blessed to have each and every one of you," Bobb said, saying he was inspired by a recent employee e-mail in which the person said they felt blessed to work for the Tribe.
"I want to thank every one of you for your hard work in supporting the Tribe," Sherer said.
"Thank you for your hard work and dedication," Giffen said. "I don't consider you as employees, but as partners. Your hard work and dedication had brought the Tribe to where it is."
Tribal Human Resources Director Walter Kalinowski then started the slideshow that recognized Tribal employees for their length of service starting at five years.
Those honored were:
Five years: Dental Assistant Shanna Eide, Spirit Mountain Community Fund Program Coordinator Louis King, Cultural Resources Department Manager David Lewis, Graphic Design Specialist George Valdez and Community Health Driver Melody Wright.
Six years: Housing Services Coordinator Deborah Kroeker, Medical Clinic Secretary Erica Mercier, Member Services Specialist Reina Nelson and Public Affairs Director Siobhan Taylor.
Seven years: Enrollment Program Manager Jolanda Catabay, Maintenance Technician Jeffrey Larsen, Social Services Secretary Shannon Simi, Health Information Technician Stephanie Simmons and Finance Executive Assistant Ken Trevino.
Eight years: Food Services Coordinator Kristy Deloe and Environmental Resources Specialist Brandy Humphreys.
Nine years: Treasury Manager Rick Andersen, Round Valley Construction Foreman Thomas Brown, Part-time College Program Manager John Harp, Round Valley Equipment Operator Mark Mercier and Audit Director Trudi Yoshikawa.
10 years: Education Administrative Assistant Deborah Bachman and Medical Transcriptionist Linda Henry.
11 years: Tribal Court Clerk Julie Boekhoff, Education Lead Matt Bucknell, Network Administrator Jack Dobiash and Optical Technician Egypt Leno.
12 years: Alcohol and Drug Counselor Laura Burton, Procurement Supervisor Kevin Mueller and Senior Financial Analyst Jeff Valentine.
13 years: Dental Hygienist Sheila Blacketer, Disabilities and Education Services Coordinator Elaine Lane Raven, Head Start Teacher Toni Lockwood and Payroll Specialist Georgene Sanders.
14 years: Lead Pharmacy Technician Faith Goodman and Language & Culture Specialist Bobby Mercier.
15 years: Assistant Tribal Attorney Kim D'Aquila, Employment & Training Specialist Pearl Rife and Referral Clerk Sharon Wattier.
17 years: Employee Benefits Specialist Sheila Elliott-McDonald, Tribal Attorney Rob Greene and Home Ownership Coordinator Nancy Holmes.
19 years: Executive Officer Chris Leno and Natural Resources Department Manager Michael Wilson.
20 years: Higher Education Program Manager Bryan Langley.
21 years: General Ledger Specialist Melanie Ebensteiner, Procurement Assistant Kelly Herber and Tribal Member Health Care Specialist Barbara Steere.
Honored employees received a certificate and check in appreciation for their respective years of service to the Tribe.