Tribal Government & News
Tribe, Portland hold Government Day on Sept. 23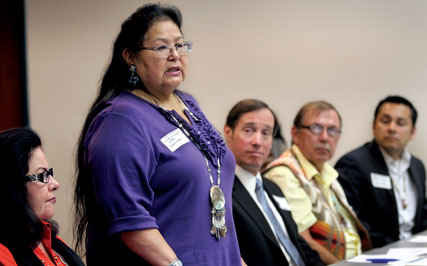 A first-ever Tribal Government Day between the Confederated Tribes of Grand Ronde and City of Portland may lead to an accord between the two governments that outlines a more official government-to-government relationship.
The three-hour event held Friday, Sept. 23 - National Indian Day -- in downtown Portland was a concerted effort to build more awareness throughout city staff about the Confederated Tribes of Grand Ronde and its historical connection to the Portland area, said Warren Jimenez, who is chief of staff for Mayor Sam Adams and a member of the Chumash Tribe in California.
"This is very important to Sam," Jimenez said, "that city staff learn about the government-to-government relationship with Grand Ronde."
For the Grand Ronde Tribal contingent, led by Tribal Chairwoman Cheryle A. Kennedy, Tribal Government Day was an opportunity to educate about 25 Portland staff members - mostly departmental directors -- about the Tribe's history and connection to the area that is now Oregon's largest city.
It also was an opportunity to let city personnel know that Portland is sitting in the Grand Ronde Tribe's ceded homelands, given up in the 1855 Treaty of the Willamette Valley.
Kennedy pointed out the Tribe's ceded lands map, which was pinned to a wall by Tribal staff members.
"The message we're conveying today is that the connection to this land is with the Confederated Tribes of Grand Ronde," Kennedy said. "Although there are urban Indian programs in Portland, they do not represent us and they do not speak for us."
Tribal Public Affairs Director Siobhan Taylor also brought the point home in a humorous homage to "Ghostbusters."
"If it has to do with Native Americans in Portland, who are you going to call? Grand Ronde," Taylor said.
Kennedy led a Tribal Council contingent at Tribal Government Day that included Tribal Council Secretary Jack Giffen Jr. and Tribal Council members Chris Mercier and Kathleen Tom.
Tribal staff who attended included Executive Officer Chris Leno, Cultural Resources staff members David Harrelson and Julie Brown, Ceded Lands Manager Michael Karnosh, Tribal members Jon George and Greg Archuleta from the Portland office, Public Affairs Secretary Kristen Ravia and Tribal youth Destiny Bishop.
George and Archuleta staffed a table, where they demonstrated basket making and other Tribal crafts.
"We are thrilled to be here," Taylor said at the start of Tribal Government Day. "The Confederated Tribes of Grand Ronde is the Tribe of record in the city of Portland and in the Willamette Valley. We hope this is the beginning of a wonderful exchange of information."
Much of the Tribal portion of the program was aimed at educating Portland's elected officials and high-level employees about the Grand Ronde Tribe's history and connection to the land since time immemorial.
Kennedy briefed city representatives about the Tribe's seven ratified treaties that ceded most of western Oregon to the federal government in the 1850s, including the Willamette Valley Treaty.
"We are the descendants of those treaty signers," Kennedy said, "and some of them gave their lives after signing those treaties."
Kennedy also related 1954's Western Oregon Termination Act, the work that started in the 1970s to regain federal recognition and 1983's Restoration.
"Since 1983, we have been in the throes of building a nation from the ground up," Kennedy said. "If you visit Grand Ronde, you'll see that everything is new.
"What we're doing now is educating people because education is a powerful tool. … Our job here today is to build a good relationship. You'll find that the Confederated Tribes of Grand Ronde is a good partner."
Kennedy then gifted copies of the Tribe's treaties to Portland City Commissioners Dan Saltzman and Amanda Fritz.
"Our grandfathers signed these," Kennedy said.
After a showing of the Tribe's 25th Restoration video, which reinforced the Tribe's history, Tribal staff made brief presentations.
Harrelson, who is also a Tribal member, said Cultural Resources personnel would be willing to work with Portland city staff when it comes to appropriate Native place names.
"Our ancestors were very vibrant people and Grand Ronde has a connection to this place," he said. "We're available to talk about this connection."
Giffen talked about the Tribe's efforts in natural resources, concentrating on successful efforts to clean up waterways on the Reservation and the phenomenal fish returns to Agency Creek.
"Our staff has created a clean water atmosphere on the Reservation. I challenge you to utilize our folks," Giffen said. "They have a good understanding of how Mother Nature wanted it to be."
Karnosh discussed ceded lands.
"Ceded lands are directly related to a treaty," Karnosh said. "Ceded equals treaty. … These ceded lands areas remain extremely important to the Tribe today. In the past, Tribes have not directly influenced the management of land in the ceded lands, but they seek continued access and use of the resources. The Tribe is interested in working with its government partners to see those promises are kept."
Tribal Attorney Rob Greene added that, from the Tribal perspective, "Ceded lands are home."
"The people who were here are still here, and they actually never left," Greene said.
After the Tribal presentation, seven Portland department directors briefly provided overviews of their missions and discussed ways the Grand Ronde Tribe could be involved.
For example, Mathew Sinclair, Community Relations manager of the city's Bureau of Parks and Recreation, noted that approximately 8,000 acres of the city's 11,000-acre parks system are natural areas.
"This would be a great opportunity to participate and be involved in the management of these areas," Sinclair said.
Eva Huntsinger, a senior engineer with the city's Bureau of Transportation, said that Native American Tribes "set the benchmark for sustainability" and Tribal input is sought in the development of a new bridge to be built over the Columbia River.
Kaitlin Lovell, manager of the city's Science, Fish and Wildlife Division, noted that every fish that returns to Agency Creek on the Tribal Reservation must pass through the city of Portland twice.
"We all want the same thing," Kennedy added. "Clean rivers and clean water."
As Tribal Government Day drew to a close, the educational effort appeared to have had a deep effect on some attendees.
"I hope this is the start of a new and more aware relationship," Fritz said.
She said that she had a Grand Ronde Tribal pin on her desk that she did not wear because she did not feel it was appropriate because she is not a Tribal member.
But, Fritz said, after Tribal Government Day, she will start wearing it daily.
"I have a responsibility to wear the Tribal pin because I have been elected to make decisions about this land," Fritz said. "And this land is the home of the Grand Ronde Tribe."
After the meeting, attendees were served a lunch prepared by Spirit Mountain Casino. George and Archuleta performed the honor song before lunch.