Culture
Tribal member acts, plays guitar and studies for college degree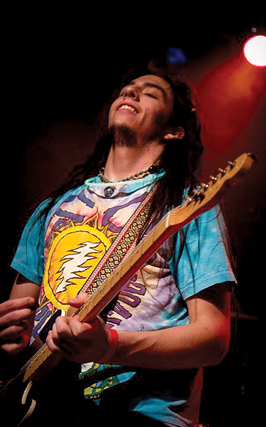 For an upcoming episode of the new NBC homicide detective series "Grimm," Tribal member Kenneth Sequoia Lewis, 21, will be handcuffed to a chair.
In the scene's background, he will be talking to a police officer. He is an extra in this Portland-based series about a detective. The series starts Friday, Oct. 21, at 9 p.m.
"I have dreadlocks," Lewis said. "They thought I looked like a police suspect."
The fame of the small screen, however, played an otherwise small part in his summer this year.
Sol Seed, the four-man, Eugene-based "psychedelic reggae rock band" for which Lewis plays guitar, has been wowing clubs up and down the Oregon coast and as far south as northern California. The group also spent the summer working on the band's second compact disc, "Rising Roots," which was set to be released Sept. 10 at the Caldera Tap House in Ashland.
Sol Seed plays about half original songs and half covers, Lewis said, including work first recorded by Bob Marley and Toots and the Maytals.
"But we also like to mix it up," he said. "We do a cover of 'Little Wing' by Jimi Hendrix and 'The Joker' by the Steve Miller Band."
There will be a number of CD launch parties, Lewis said, but "once we fully release it, it will be available on I-Tunes." The group also sells merchandise at their shows, including T-shirts and CDs. The group is working hard everywhere they go to build a fan base.
Lewis also has played guitar with Tribal member and Native American Music Award winner Jan Michael Looking Wolf Reibach.
"I've done a lot of work at the Tribe, playing music, during Restoration celebrations and at private shows at the Tribal gym," Lewis said.
"He's played a lot with me," said Reibach. "Kenny won the Native American Music Award Record of the Year with me last year for 'Breakin' Free.'
"He's performed with my band at Native American casinos. One of the highlight performances for Kenny was in 2008 when we played the 25th Restoration celebration at the casino, opening for Rita Coolidge."
Lewis played on three of Reibach's albums and also played guitar on "We Are Grand Ronde," the song Reibach donated to the Tribe earlier this year.
"I've been working with Kenny since January, February, 2008 when (Tribal member) Ann Lewis (Kenny's mom) moved up here. I met Kenny and recognized right away that he had an amazing gift with that guitar, so we brought him in right away.
"He's played in acoustic trio groups with me, performed at the World Beat Festival in Salem with me and performed at amphitheater there. He's played big stages.
"We watched him grow and he's evolved into a stand-alone guitar player and an incredible musician.
"Sol Seed is incredible, top notch for sure. He's kind of outgrown me, but that's OK. I still love him. Whenever I call him for a project, he's always there for me."
"Jan Michael has been a big influence on me," Lewis said.
Lewis also credits martial arts training for his success with the guitar. His family operated a dojo in Eagle Point for a few years in 2005-06, but Lewis studied martial arts for nine years. During that time, he earned a second degree black belt in American open style karate and "did the tournament circuit for a year."
He won two world titles, he said, in traditional kata and traditional weapons (a bow staff). During that time, he competed in 20 tournaments, against hundreds and hundreds of fighters to get to the world championship in Hollywood in 2003.
"As far as discipline, especially with guitar playing," he said, "I know (from the martial arts) that there's going to be a learning curve." He also said that his hands are stronger as a result and his memory improved from having to learn martial arts forms.
No doubt his college career will benefit as well.
Lewis is a full-time sophomore at Lane Community College, leaning toward declaring for a political science degree. College life left all summer free for Lewis to perform. Between weekend gigs, he used the work week to practice his music and ride his skateboard.
"Rising Roots" may not be directly related to Indian culture, he said, but "the message is very compatible. We're dealing with oneness, cultural and spiritual relativism; being able to live together."
He's also taken advantage of the Lane Community College longhouse, he said. "I love that place, it's awesome."