Culture
Tribal friend Mark O. Hatfield walks on at the age of 89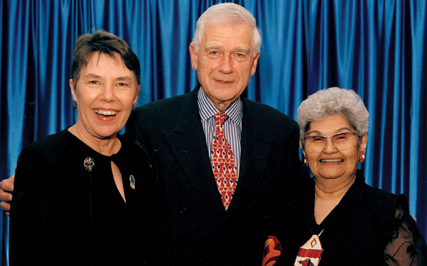 Mark Hatfield, the U.S. Senator who played a pivotal role in ushering through Congress the Restoration of the Grand Ronde Tribe in 1983 and the Grand Ronde Reservation Act in 1988, walked on Sunday, Aug. 7, at the age of 89.
On Monday, Aug. 8, the Grand Ronde Tribe flew its flags at half-mast in honor of Hatfield's life.
"Words cannot describe what he did for us," said Tribal Elder Kathryn Harrison, who worked on the Grand Ronde Restoration effort in the early 1980s and served many terms as Tribal chairwoman. "His kindness, dignity and respect … He was a genuine friend of the Tribe. What a loss."
"Senator Mark Hatfield was a man of valor," said Tribal Chairwoman Cheryle A. Kennedy, "who courageously served the state of Oregon. He stood for unpopular decisions, including Tribal concerns. He served to make things right so that the greater good would be achieved under his watch."
Hatfield, along with then-U.S. House of Representative Les AuCoin, introduced the legislation that would restore the Grand Ronde Tribe to federal recognition in 1983, ending 29 years of Termination.
Five years later, AuCoin and Hatfield would once again team up to ensure that the federal government's promise of new reservation land would be kept.
"He was a consistent, unflagging friend of Native Americans," AuCoin said Monday, Aug. 8, from Bend, where he was visiting relatives. "He wanted to correct historical wrongs. That bonded us, particularly the Grand Ronde Restoration, which was opposed by local timber interests. He knew that this was an injustice that needed to be taken care of."
AuCoin remembered Hatfield as a "friend … loyal, principled, heaven-sent. He was my best friend in Congress."
Hatfield was born in the Willamette Valley farm town of Dallas on July 12, 1922. He spent most of his youth in Salem, where he worked as a guide at the new state Capitol.
It's that local connection that Harrison says helped Hatfield develop his knowledge of the Grand Ronde area and the injustice of the Western Oregon Termination Act of 1954.
"He had a special attachment to the Grand Ronde area," Harrison said. "He grew up around here. He used to tell me, 'I know the hills better than you do.' "
After graduating from Willamette University in 1943, Hatfield became a Navy officer and commanded landing craft at Iwo Jima and Okinawa, two of the World War II's bloodiest conflicts. He visited Hiroshima two months after it was leveled by an atomic bomb.
After the war, he attended graduate school at Stanford University in California and then returned to Oregon to teach at Willamette University. He was elected to the state House of Representatives in 1950 and elected Oregon Secretary of State in 1956. At the age of 36, he became Oregon's youngest governor in 1958.
In 1966, he was elected to the U.S. Senate, where he served the state for 30 years.
In the 1970s and early 1980s, he was instrumental in helping terminated western Oregon Tribes regain federal recognition, including the Siletz and Grand Ronde.
In her biography, "Standing Tall: The Lifeway of Kathryn Jones Harrison," Harrison recalls Hatfield advising the Grand Ronde Tribe to circumvent the Bureau of Indian Affairs and "play it politically."
Hatfield referred the Tribe to AuCoin, warning that if the local congressman was not supportive of a Restoration effort, it will never succeed in Congress.
AuCoin remembers consulting with Hatfield before a potentially contentious community meeting regarding the Grand Ronde Reservation Act held in August 1987 in the Grand Ronde Elementary School gym that ended with timber interests losing much of their local support.
In March 1988, the AuCoin-Hatfield Bill was introduced, proposing a Grand Ronde Reservation of almost 10,000 acres. Both AuCoin and Hatfield used their seniority in Congress to push the bill through.
"I remember calling him to tell him we had won," AuCoin said. "About two-thirds of the way through the meeting, people began trickling out because there were no issues anymore.
"The world is diminished to lose a man like that. We need more Mark Hatfields in this world."
When Hatfield visited the Grand Ronde Tribe in 2001, he said he remembered the era of Termination in the mid-1950s and that it gave him great personal pleasure to be part of the turnaround and establishment of a Tribal success story in Grand Ronde.
"For the Confederated Tribes of Grand Ronde, Senator Mark Hatfield valiantly and steadfastly supported our Tribal Restoration from beginning to end," Kennedy said. "There was no question in the Senator's mind that Termination was a grave injustice that needed to be corrected.
"He used his influence to gain the support of the Congress for the passage of the Grand Ronde Restoration Act. I am deeply saddened by Senator Mark Hatfield's passing because the Confederated Tribes of Grand Ronde and Indian Country have lost a true friend."
Harrison said she is happy that the Grand Ronde Tribe continues to honor Hatfield's life of public service with the Mark O. Hatfield Fellowship funded by Spirit Mountain Community Fund. The fellowship annually sends a Native American to Washington, D.C., to learn about the federal government by working in an office of one of Oregon's congressional delegation.
"I think it is more important than ever to keep (the fellowship) going," Harrison said about Hatfield's legacy.
Hatfield is survived by his wife, Antoinette; four children, Elizabeth Hatfield-Keller of Portland, Theresa Cooney of Bethesda, Md., Mark of Miami and Visko of Bantam, Conn; and several grandchildren.