Culture
Salem-Keizer School District prepares to christen Kalapuya Elementary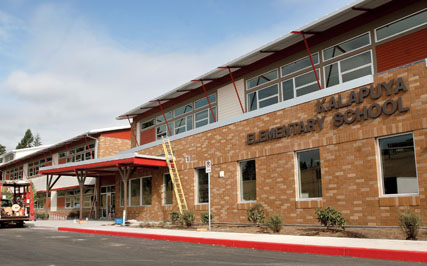 At 11:30 a.m. Friday, Sept. 2, the Salem-Keizer School District will hold a ceremonial dedication for the opening of a new West Salem grade school.
It has been named Kalapuya Elementary and will be the first Keizer-Salem school name derived from the area's Native American culture.
Plans are afoot for a Grand Ronde Tribal drum group to play and bless the new school, and possibly for other Tribal participation in the ceremony, according to Tribal Cultural Resources Department Manager David Lewis, who also is a member of the Tribe.
Lewis submitted a letter supporting the Kalapuya name and also worked with the district to name its mascot the Condors.
Condors are on the verge of being restored to Oregon by a coalition of partners, including the Confederated Tribes of Grand Ronde, with the Oregon Zoo. The zoo also has a condor breeding facility outside of Sandy. Condors went extinct in Oregon in about the 1930s.
The Kalapuya name survived the scrutiny of a Citizen Bond Oversight Committee subcommittee, which was working with "criteria established by the procedure for Naming of New Schools."
Kalapuya was selected over 16 other suggested names, including Columbia, Tom McCall and Barack Obama.
"The subcommittee's first choice is Kalapuya Elementary School," read the recommendation. "The Kalapuya Tribe lived throughout the Willamette Valley. The committee believes that this name recognizes the historical and cultural impact Native Americans have had on our community … and choosing this option expands upon the diversity of school names within the district."
The new middle school in West Salem, named Straub Middle School after former Oregon Gov. Bob Straub, also will be honored at the dedication.
"We have also offered to help the school district with cultural programming and with developing other Native-styled symbols for the school," Lewis said. "I hope this turns into a true collaboration between Salem-Keizer schools and Grand Ronde. If so, it will help us to establish Native culture and history programming and curriculum in the second largest school district in Oregon.
"The Salem area has one of the largest populations of Grand Ronde members outside of the Reservation yet they do not get much in the way of culturally appropriate programming in the district."
Both schools will open for the first time in the fall.
Kalapuya Elementary is located at 2085 Wilmington Avenue N.W. in Salem.