Culture
Annual Contest Powwow set for Aug. 19-21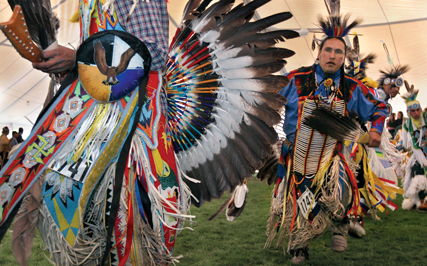 By Melissa Biery
Summer Youth employee
The Confederated Tribes of Grand Ronde is holding its annual Contest Powwow, which is one of the largest powwows held in the Pacific Northwest, from Friday, Aug. 19, through Sunday, Aug. 21, at Uyxat Powwow Grounds, just off of Highway 22 next to Fort Yamhill State Park.
Hosts drums will be Blackstone, Seekaskootch and Cree Confederation. Registration begins at 5 p.m. Friday and Grand Entry and Royalty Coronations will be at 7 p.m.
On Saturday, activities will begin with a parade at 11 a.m. followed by Grand Entry at 1 p.m. Dancer registration deadline will be at 2 p.m. with another Grand Entry at 7 p.m.
At 1 p.m. Sunday, the final Grand Entry will be held.
Prizes will range from $1,000 for first place to $25 for fifth place depending on the dance category. Tax forms are required for participants as well as Social Security numbers and photo identification. Specials - Women's Traditional and Men's Chicken Dance -- will feature $800 for first-place finishers.
Master of ceremonies will be Hal Eagletail (Tsuu T'ina). Head judge will be Lara Ike (Yakama/Rock Creek Wasco) and Freddie Ike Jr. (Yakama/Rock Creek Wasco) will be the arena director.
There will be parking available at the Uyxat Powwow Grounds for a $1 or a donation of a can a food, and there will be a shuttle running from Spirit Mountain Casino to the powwow grounds. There will be free camping available at the powwow grounds.
Also, pets are not allowed inside the powwow arena.