Culture
Jack McKnight graduates from police academy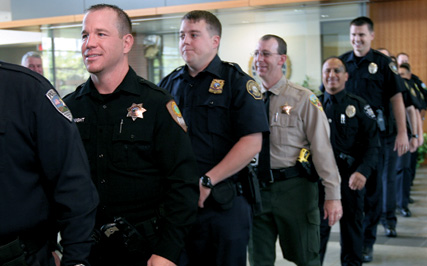 It's been a year in coming and it's not over yet, but the Grand Ronde Tribe's effort to fund its own police force is a step closer to reality.
On Friday, July 22, Tribal member and Forest Patrol Officer Jake McKnight, 33, graduated from the state Department of Public Safety Standards and Training, and is now the Grand Ronde Tribe's first police officer.
While in training, McKnight was awarded the best in class out of 325 trainees in Defensive Training.
"It is voted on by the trainers in the academy," he said.
"It's a historic time and a historic day for the Tribe," said Pete Wakeland, Tribal member and Director of Development for the Tribe. He is designated, by Tribal Council resolution, as the Tribal Police supervisor.
"I have no law enforcement powers," Wakeland said. "I am simply assigned to supervise our police officer and will continue to be our point of contact and liaison where police, fire and public safety are concerned."
"The result," he said, "is that we are enhancing security not only on Tribal lands, but in the local area as well. I'm incredibly proud of what's been accomplished, of Jake, and I look forward to continuing our relationship with the neighboring counties in promoting the highest level of public safety possible."
On Friday, July 22, Gov. John Kitzhaber signed a bill that that recognizes Tribal police officers as police officers under state law, giving them law enforcement abilities off their reservations.
There is one more step for McKnight, which is up to three months of field training still to be completed. For the field training, McKnight will work out in the field with another officer, possibly from another Tribal police force, until his counterpart clears him for duty.
Meanwhile, McKnight will be out on the Grand Ronde Reservation, seeing to the public safety and, he says, earning the respect of those he is out there to protect.
"It's been a huge process," said McKnight.
He started a year ago, "if not longer," getting Tribal Council to approve a resolution for a Tribal police department and preparing the paperwork to get into the academy.
The Tribe passed the resolution authorizing a Tribal police force on Dec. 22, 2010.
Then it was on to the academy for McKnight. The academy oversees a 17-week, 640-hour course that includes physical training and the study of laws and practices.
"If I was ever in the military, I'm sure it would have been a lot like the police academy," McKnight said. "About 60 percent of the candidates were ex-military. There was a lot of marching together; making sure you're on time. To me, it was almost like law school and basic training in the military. And there was a lot of testing. Every three to four weeks including a three-hour midterm and a three-hour final exam."
Tribal officers-in-training from Warm Springs attended the academy with McKnight, and other Tribal officers-in-training also have gone through the academy.
"I learned a lot about the state laws, when they apply and when they don't; a lot about the Miranda warning, when it applies and when it doesn't; a lot about physical force, when it applies and when it doesn't."
The Tribe still needs a police vehicle that meets state standards. Agreements with county courts and jails still have to be worked out. And the Tribe's own criminal code still needs to be written.
It was noted at the academy that the Tribe does not yet have a Tribal law enforcement structure to support police work, McKnight said. "But I told them, you have to start somewhere."
A currently pending grant application would fund two more police positions, a sergeant and another officer, but Wakeland noted that the Tribe "is not going to grow a huge police department."
"I feel great," said McKnight. "I feel like it's moving along; and it's going to be successful. I want to thank Tribal Council for this opportunity."