Culture
Tribal member tries out for 'American Idol'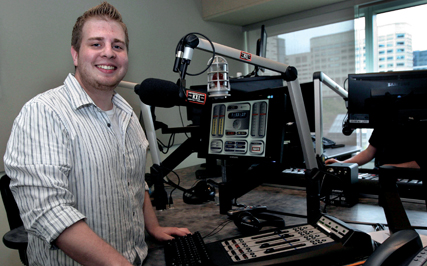 "American Idol" missed a great bet on Saturday, July 2.
Among 4,000 to 5,000 hopefuls singing their hearts out during 30-second audition slots at the Rose Garden in Portland, the iconic reality show passed on the talents of Tribal member Jordon Schultz, who came with three songs and plenty of spirit, and left with plenty of spirit and new ideas for next time.
Schultz, 22, already has another great career. The public hears him as "the afternoon voice" of sports on KXL 750 AM radio from 4 to 7 p.m. each weekday. Schultz also hosts the "Game Day" show every weekend, which leads into Portland Timbers' games on Saturdays and Sundays with approximate starting time of 4 p.m.
Call him "a talk show host" or a "sports anchor," or better yet, a young man living out his dreams.
From the time he was 11 or 12, he knew he was different from his friends. "When they were listening to music," he said, "I was listening to sports radio.
"I am so happy to be able to do what I want to do," he said.
He picked up his first love as his first job.
"I got lucky. Real lucky," he said. "I started as an intern (at KXL) in August 2008, right out of two years' study at Mount Hood Community College. A year later, he was hired on full time.
"I've advanced way quicker than I ever imagined. I've gone way further than I expected when I started three years ago."
Along with sports, Schultz's interests also have focused on his singing abilities. He majored in music at Mount Hood and before that, since fourth grade, he said, he has performed in school choirs.
"You learn how to take care of your voice," he said.
Skills beyond voice exercises were needed in Portland earlier this month, however. Schultz waited in line for four hours on the Thursday before the auditions.
"I showed up at 4:30 (he meant a.m.), and finally signed up at 8:30."
For the actual audition on Saturday, Schultz showed up at 5 a.m., he said, and got his shot at about 10:30. "A lot had to wait way longer than I did."
"The producers were obsessed with Portland being the Rose City," he said. "They were handing out roses to all the people in line, and getting us to say things like, 'Welcome to the Rose City.' "
When his 30-second moment came, Schultz was ready with three songs: "Feeling Good" by Michael Buble, "Follow Through" by Gavin DeGraw and "PDA" by John Legend. In the end, he spent his entire 30 seconds on "Feeling Good," and he was.
"They sent people through after (hearing them for) five seconds," he said, "and they didn't send people through after 30 seconds."
He fell into the second group. "They said they liked what I did but they were looking for something else."
That something else, he thought, was "anything interesting and new; unique; they took people who dressed kind of weird. You've got to be memorable."
Still, he said, "It was fun. I had a friend that got through." The next round for his friend will be in August, and altogether one goes through three or four more auditions before landing on the small screen with the largest audience in television.
Undaunted, Schultz already is looking around for his next shot, maybe on another reality show.
"I know there's options. I'm going to deal with rejection many more times in my life. This wasn't the first and it won't be the last.
"You can't take it personally. I don't. It was as simple as it wasn't what they were looking for on that particular day. You can't think it was because of you.
"I'm telling people I had a good time. I'd do it again; it was great to see how the process works. It's not as it seems on TV. There's a lot more work that you have to do than it seems on TV.
"I tried to let the unique parts of my voice really stand out. It doesn't sound like everybody else. I tried to let myself, my uniqueness, get through during my audition."
In the end though, he was not quite satisfied.
"I want another chance. I'm going to walk in and own myself. I didn't feel like I owned my personality. I'm going to walk up, give the judges a great big grin and show them my personality. And," he added, "I may choose a couple of different songs."
Schultz's father, Tribal member Kevin Schultz, is Operations Commander for the Marion County Sheriff's Office and member of the Tribe's Fish and Wildlife Committee.
Jordon has not yet gotten involved in Tribal activities.
"I would absolutely be interested in working with the Tribe in the future," he said. "The Tribe's done so much for me: scholarships to go to college; they helped me with living expenses during school; and all the benefits, like health insurance.
"I want to give back because they've helped me so much."