Culture
Spirit Mountain Stampede is back in the saddle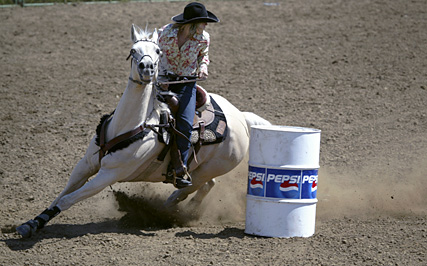 After a two-year hiatus, the Spirit Mountain Stampede rodeo will literally be back in the saddle again.
Held continuously between 1996 and 2008, the rodeo was corralled in 2009 and 2010 as the Tribe tightened its collective belt because of the nationwide recession.
But it is back in 2011 with some new wrinkles.
Still a Northwest Professional Rodeo Association-sanctioned event, Spirit Mountain Stampede now has the financial and personnel backing of Spirit Mountain Casino to help make it financially successful.
There are billboards promoting the event along Interstate 5 in the Portland metro area, as well as along state Highway 18 just east of the casino in Grand Ronde.
There is a Facebook page and there will be radio spots, said Tribal member and casino Marketing Sponsorship Coordinator Jocelyn Huffman.
In addition, the casino is helping the Tribal Rodeo Special Event Board sell tickets online through its usual vendor.
And the casino will be holding a complementary event during the Stampede, helping make Grand Ronde and the Stampede a destination event.
At 8 p.m. Saturday, the casino will host "Gone Country," a variety show of country music star impersonators, including Garth Brooks, Tim McGraw and Brooks & Dunn.
"The rodeo is in conjunction with Spirit Mountain Casino," says Tribal Elder and Rodeo Special Event Board Chairman Harold Lyon. "We're very, very happy to have it back."
The rodeo will feature the usual competitions on Saturday and Sunday afternoons - bull riding, barrel racing, saddle and bareback bronc riding, breakaway roping, tie-down roping, team roping and steer wrestling.
On Friday evening, the "slack events," held for contestants who did not qualify for the Saturday and Sunday competitions, will be held.
Winners of the bull riding and bronc events will win a portion of the entry fees and $2,000 in added money. Winners of the timed events will receive a portion of the entry fees and $1,500 in added money.
Free parking will be at Spirit Mountain Casino, which will run a shuttle to the rodeo grounds, and on 2.5 acres west of the Rodeo Grounds on the Tribal campus. Lyon said the rodeo also might use the old powwow grounds immediately south of the Governance Center for parking.
"We're shooting for 1,500 people," Lyon said, adding that the casino also will bring in temporary bleachers to seat that many rodeo fans.
Howell Rodeo of Veneta, Ore., is the stock provider.
To buy tickets online, visit www.spiritmountain.com and click on the Events & Entertainment tab.