Culture
Tribal employees find original Tribal allotment, pass books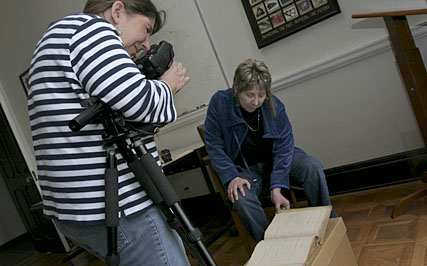 David Lewis, manager of the Tribe's Cultural Resources Department and a member of the Tribe, has been busy researching Grand Ronde history.
One day each week for the last month, Lewis has buried himself in files at the Oregon Historical Society in Portland to glean what information he could.
"There's not one central inventory," said Oregon Historical Society Reference Librarian Scott Daniels, "but a lot of bits and pieces. A box could be 95 percent something else and 5 percent on the Tribe you're researching.
"There could be four to five places to look for one piece of information. That's part of the joy and part of the problem."
In a box with most of the material relating to Chemawa Indian School and other Oregon Tribes, Lewis found two old books relating to the Grand Ronde Tribe. He immediately grasped the significance of the find, though he wasn't sure right away that the Tribe didn't already have copies of them.
One was a Grand Ronde Agency book of allotments from 1889.
"We've seen these allotments before," he said, "but not the original books."
The other book was a pass book recording Natives coming and going from the Grand Ronde Agency starting in 1861. Natives could not just leave the Agency, Lewis said.
"They needed a pass and it was in this book that the agent recorded the passes. I had to call back to the staff to see if they had this information," Lewis said.
This turned out to be new for the Tribe, Lewis said. "A significant find."
On Tuesday, May 10, Cultural Resources staffers and Tribal members Khani Schultz, Cultural Collections coordinator, and Julie Brown, Collections assistant, joined Lewis on the fourth floor of the Oregon Historical Society, the research floor, in the Jefferson Room, with a wall full of south-facing windows and plenty of light to photograph the books, page by page. Lewis figured it would take them about four hours.
The pages were delicate, and some stuck together at the spine, making it difficult to flatten the pages for the photographs. There was excitement in the find and between photographs, an anecdote was remembered, a piece of history related.
Lewis paged delicately through the allotment book, noting names that today's Tribal members would surely know: Martha Jane Sands, Allen (could be an ancestor of Tribal Chairwoman Cheryle Allen Kennedy), Bob (now spelled "Bobb," as in Tribal Council member Steve Bobb), Apperson, Amos, Foster and Hutchins.
"We know for sure that this is a name that has changed over the years to Hudson," Lewis said. "We have records that say that Hutchins or Hudson refers to the same person or family."
All the names in the allotment book refer to Grand Ronde Tribal members or their descendants.
"Most were full blood," said Lewis. "You needed to be at least half blood to get an allotment."
"Here's Hartless," he continued to read from the book. "Holmes. Here's Jones from the Molalla Tribe. That most assuredly is a relative of Kathryn (Jones) Harrison. Here's LaChance, Lafferty."
While the allotments were signed into the book in 1889, Lewis said that most weren't likely delivered until 1891 or so.
"Here's Mercier, Metcalf, they're all here. Riggs. We have lists of these allotments from the National Archives," he said. It is something else again, though, to see the original.
Looking at the pass book, people were named with their Tribes. We now know that "Perry and family" got a 10-day (10d) pass on June 20, 1864, to visit the "Millers" in "Polk"?
We know that on April 7, 1890, that "Umpqua Charles and wife" and "Cultis Joe and wife" got "7d" passes to visit "Mill Creek"?
And that on April 9, that same year, "Muddy Jim and wife" got a "1w" (one week) pass to go to "Marys River"?
"This is an amazing archive," said Lewis, particularly for genealogists. "It has information that people don't have. It tells (partial) stories about lineage, and is more detailed information on a daily or annual basis than we have seen before."
Natives sought passes to leave the reservation for many reasons, said Lewis, from harvesting crops to fishing to visiting relatives.
"When you were here, you couldn't make your own money," said Schultz, holding down a page for photographing, "so they took off."
And not all of those leaving the reservation did so by seeking passes.
"There are stories my mother (Tribal Elder Peachie Hamm) tells about trails from the reservation to the coast that only the Indians knew about. We've looked for the Old Coast Trail many times," said Schultz, "but we've never found it."
Although the Tribe does not yet know what rules were in place for Indians to get these passes, Julie Brown guesses that a lot depended on the agent in charge at the time, or whether the Indian was in trouble at the time.
Likewise, she said, punishments for taking off without a pass varied from being whipped to a family losing rations to nothing at all if an Indian had something perceived as valuable to trade.
These ideas are strung together from things we know about history and human behavior and from oral tradition. Finds like this add reliable details to the mix that need to be collected and interpreted.
Before the professionals at Cultural Resources work through one batch of data, another arrives full of new information and possibility.
As Schultz and Brown continued photographing pages, Lewis went back to the stacks where he uncovered copies of "what are possibly the first laws in Grand Ronde." Among the information was a list of the Tribes represented in this early legislative body as well as 22 laws governing the peoples of the Grand Ronde Agency nearly at its beginning.