Gaming
Casino hosts Tribal small business conference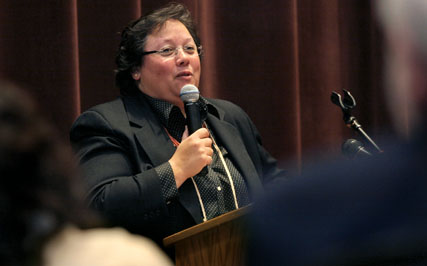 Clara Pratte (Navajo), national director of the Office of Native American Affairs in the U.S. Small Business Administration, summed up an economic problem in Indian Country succinctly.
Seventy percent of new jobs in the United States are created by small businesses that are operated by entrepreneurs.
However, in Indian Country, more often than not a $1 comes in and then is quickly spent off-reservation, not circulating the customary seven times through the local economy because of the lack of Native-owned small businesses.
The problem, said Danny Jordan, Self-Governance Coordinator of the Hoopa Valley (Calif.) Tribal Council, is how do Native American nations bring business opportunities to where Native Americans live?
This discussion, as well as a litany of others and training sessions, occurred during a two-day small business conference held April 20-21 at Spirit Mountain Casino. Called "Trading at the River," it was sponsored by the Oregon Native American Business and Entrepreneurial Network.
Pratte delivered some good news to conference attendees. She said Native-owned small businesses - Indianpreneurship -- are the largest growing sector percentage-wise in the country.
"We're engaging in commerce," Pratte said during her keynote speech on Thursday, April 21.
However, most of those Native-owned small businesses are being established outside of Indian Country.
"How do we bridge that disconnect?" she asked rhetorically. "How do we bring those businesses back home? What is the secret sauce?"
Although she admitted not knowing the definitive answer, she listed several common characteristics of Native nations where Indianpreneurship is flourishing.
She cited leadership, where Tribal leaders are "visionary and fearless" in investing in Native entrepreneurs.
She cited structure, where there are strong Tribal court systems and a separation between government and business.
And she cited Tribal nations that are good at leveraging all of the resources - Tribal, federal and state - that are available to Indianpreneurs.
Pratte cited the case of an Indianpreneur who recently graduated from a Small Business Administration training and used that newfound knowledge to increase business by 300 percent.
"Think of all of the different buckets you can dip into," Pratte said. "If we build an alliance together, there is nothing Native American entrepreneurs cannot do."
Jordan, during a question-and-answer session, said that many Tribes are not adept at capturing their own money through purchasing from Native-owned companies and have yet to create their own financial infrastructure that would foster reservation-based, locally-owned economies.
Pratte agreed. "We (Native Tribes) are hemorrhaging money every day outside of our borders," she said, suggesting that Tribes look for ways to foster economic development on their lands. She cited establishment of free trade zones as one possibility.
On Wednesday, April 20, Tracy Stanhoff (pictured, above left photo) discussed her Los Angeles-based company, Ad Pro, which provides advertising and graphic design services. She said she started the business with $1,500 and now it works for large international companies, such as Boeing.
Stanhoff also discussed her chairmanship of the Prairie Band Potawatomi Nation when it was going through the process of taking over operation of its casino, Prairie Band Casino and Resort 15 miles north of Topeka, from Harrah's.
"Our Tribe transformed northeast Kansas from a depression," she said, citing the multiplier effect of casino dollars flowing through the local economy.
She said when she took over as chairman of the Tribe, she was nicknamed "F5," which is the strongest classification of tornado, by casino employees partly because she went to the Contracting Department and told them she was tired of her Tribal casino not hiring Native entrepreneurs when possible.
"We need to focus on growing wealth," Stanhoff said, "and building sustainable businesses. You need to build something you know about, something you have a passion about."
She stressed that Indianpreneurs need to "be real," and not front businesses for nonNatives just to access federal business assistance.
Stanhoff said Indianpreneurs can be catalysts for change in their communities by providing jobs for Native people. She also suggested that Tribal communities separate politics from business so that decisions can be made quickly and decision-makers can be flexible.
After the keynote speakers on both days, "Trading at the River" attendees had a choice of seminars to attend that ranged from helping Indianpreneurs use Native chambers of commerce and business associations to help grow their business to ways Tribal enterprises can become partners with Indianpreneurs.
There also was some humor. The synopsis for "Indianpreneurship: Working for Yourself, Your Family and Your Community Through Small Business" stated: "Is entrepreneurship a surefire way to become spiritually rich, economically self-sufficient and exhausted?"
In addition to the speakers and seminars, "Trading At the River" featured Native-owned businesses and vendors, who were selling Native arts and crafts.
Bryan Hill (Quinault), who owns Accurate Land Surveys of Hillsboro, said he attended "Trading At the River" to network and disseminate information about his company to Tribal governments and Native-owned businesses.
Tribal Elder Raymond Petite attended, selling Native arts and crafts.
Tribal member Bryan Mercier, who sits on the network's Board of Directors, attended, as did Grand Ronde Tribal Economic Development Director Titu Asghar.
"Trading At the River" was appropriately sponsored by the Confederated Tribes of Grand Ronde and Spirit Mountain Casino on its 20th anniversary.
In 1991, the Oregon Native American Business and Entrepreneurial Network was formed as a non-profit, public benefit corporation by four Tribes - the Confederated Tribes of Grand Ronde, the Klamath Tribes, the Confederated Tribes of Siletz and the Confederated Tribes of Warm Springs. Since then, the Confederated Tribes of Umatilla and Tribes in Washington state have joined.
The network was formed "to become actively engaged in encouraging individual enterprise" to establish a private business sector in Indian Country.
"By increasing private enterprise on the reservations, Tribes can diversify their economic base and decrease their reliance on federal revenues," the network's Vision Statement at www.onaben.org says.
That sentiment was echoed by Stanhoff.
"Learn to flourish in competition. Competition is not bad. The most important thing in Indian Country right now is small businesses," she said. "All of the problems in Indian Country … a lack of education … underserved health care … that all could be solved by building wealth in our communities. We're changing this world in Indian Country. Don't you forget that. Keep moving forward and growing your businesses."
"We're only truly sovereign," Pratte said, "when we're economically independent."