Culture
Celebrating Lottie's life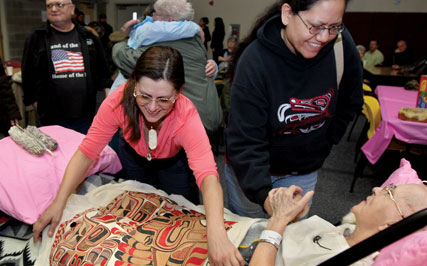 Timing is everything.
Or at least it was for the hundreds of family and friends who attended the recent Celebration of Life for Tribal Elder Lottie Child, 62.
Lines formed on both sides of a hospital bed in the Tribal gymnasium at about 2 p.m. Tuesday, Feb. 15. Two-and-a-half hours later, Child, resting comfortably in the bed, was still exchanging greetings and stories, still alert and excited about the celebration she insisted upon having while she was still alive.
Child was remembered as active, skilled and caring by people who have been with her throughout her life. The doctors tell her she is succumbing to cancer and she was facing her third bout during the celebration, coming just after removal of a large brain tumor and a series of strokes that left her paralyzed from the waist down.
"Three years ago," said her daughter, Brandy Farmer of Vale, "the doctors told her she had three months to live."
Still, said Farmer, "She is very happy and ready. She is more concerned about how we're taking it."
There was no shortage of tears during the afternoon.
Tribal Elder Roselee Hall, her niece, but the same age as Child, grew up with her and recalled one of their early exploits in Philomath at Beaver Creek.
 "We were talking about it today," Hall said, tears drying on her face. "She was laughing so hard. We were fourth- or fifth-graders and we had missed the bus to go home. We looked around, and there were all these bicycles in racks outside the school, and we thought they were for people who missed the bus. So, we took a couple bikes and rode home. When we got home, we learned that that wasn't why the bikes were there, and that you don't just take bikes, so we had to take them back and apologize."
Child was the youngest of 11 siblings. Of the four still alive, two were able to attend the celebration, including her oldest sister, Tribal Elder Eloise Kisor, 79, of Moses Lake, Wash. Kisor was just getting married when Lottie was born.
"She loved to hunt and water ski. She did just about anything. There wasn't anything she couldn't do," said Kisor. "Mom and dad had more time by the time she came around, and they taught her everything."
Tribal Elder Lennie Low, 65, is Child's closest sibling.
"From the bottom of my heart," he said, "there is no more beautiful girl than Lottie. No matter what she ever wanted, I tried to help her."
Low remembered when he "started working in the brush" and Lottie was about 14. "I got her a rabbit stole," he said. Low didn't have to say how much she loved that gift. "Years ago, when her house caught on fire, that stole was the first thing she saved," said Low, "and she still has it today.
"She cared about people. She cared about her Tribe. She stood up for people, worked hard all her life and never had a bad thing to say about anybody."
Granddaughter Angela Christian, 23, remembered cribbage and more.
"We played a lot of cribbage and she always beat you," Christian said. "We did a lot of beading and leatherwork, too. She helped me make my first regalia when I was 12."
Christian's mother, Tribal member Paula Wilkinson, 41, recalled for the gathering that her mother had traveled to the World's Fair in Canada, to Mexico and that she had lived in North Carolina.
"She's done so many wonderful things for the people she's touched," Wilkinson said. "I love you, Mom, with all my heart."
As others wished Child well, a changing cast of her children and grandchildren, cousins, nieces and nephews sat at the foot of the bed. Grandson Conrad, 9, took charge of Gizmo, Child's little Yorkie. Gizmo spent as much time on the bed with Child as in Conrad's arms. He took especially good care, often carrying the dog on a soft blanket.
Conrad's father, Tribal member Big Farmer, 32, remembered a Mother's Day fishing trip at Murphy Lake in central Oregon with his mother when he was 9.
"It rained. We got stuck in the mud. There were the rattlesnakes," he said. So, it was not such a good time? one might ask. "Hell, no," said Big. "We caught a ton and had a blast."
Jim Farmer, brother to Lottie's second husband, George Farmer, remembered a hunting trip with Lottie and six men.
"When you're ready to go out and kill something, you go with me," Lottie told him.
"We (the men) hunted for three days and never caught a thing," he said.
So, he took her up on her offer.
"She knew right where to go. We saw a nice forked horn, and she said, 'Go ahead and shoot it.' So I did, and when I went to field dress it, I told Lottie to bring the truck around. So, I'm out at the animal, working on it, and I heard a crack, like somebody shooting at me. I looked around, and there was Lottie with a rifle, and I looked around again, and not 30 yards behind me she had shot a three-point, bigger than mine. She got the biggest one and laughed at everybody.
"She knew where the deer were. She had that spirit about her. It's something most people don't understand. She had the best heart of anybody I ever knew, except my wife. You can't believe how special it was to be around her."
Child worked for many years as a dealer in the Spirit Mountain Casino and, in 2000, ran for Tribal Council. Again and again, people spoke about how Child cared for the Tribe.
Her fondest memories, she said, went beyond the hunting and fishing, cooking, beading and leatherwork. "It's all the love I have for my people," she said. "I always wanted to be a part of our people. They're still my family. A lot don't understand what our people are all about."
She said she ran for Tribal Council "because of the love I have for my people. A lot just want the money, but that's not what our people are all about. We're about caring for our people."
And she felt it all around her on that Tuesday afternoon in February.
Her husband, Bill Child (unenrolled Sioux), has been by her side as the disease has taken its toll. Though they have been separated for many years, Bill continues to hold her in the highest regard.
"She was my awakening," he said. "She kind of helped me get back to myself. We studied her people and my people." And of the celebration, he said, "There's been so much love put out by (the Grand Ronde) people. I could see it in your faces. It was a really good thing for my heart. It's a good thing to see our people doing that again."
Lottie's parents, who have passed on, were Bud and Rose Low. Rose was a Tribal Elder.
Among her living siblings are her brothers Floyd "Buddy" and Lennie Low and her sisters, June Low Knowlton and Eloise Kisor; all but Lennie are Tribal Elders. Her siblings who have walked on are Tribal Elders Albert Low, Petrova King, Genevieve Johnson, Betty Nissan, along with Colleen Garcia and Irene Biddle.
Her children are Tribal members Brandy Farmer, Paula Wilkinson and Big Farmer along with April Loges. All but Loges, who lives in Arizona, celebrated with their mom.
Child's grandchildren are:
Brandy's children are Shyloh, 15, Wyatt, 14, Morgan 12, Virgil, 9, and Jenny, 8.
Paula's children are Angela 23, and Samantha, 21.
Big's children are Coyote, 12, AJ, 11, and Conrad, 9.
April's children are Michelle, 30, Amanda, 26, and Ben, 24.
Many from every generation joined in the celebration.
Lighthouse and Recovery Church of Grand Ronde Pastor Ken Haller, who is a Grand Ronde Tribal Elder, officiated. 
"I know that our spirits don't stop here," said Tribal member and multiple Native American Music Award winner Jan Michael Looking Wolf Reibach. "I'll see my sister again. Lottie, this is for you." He played "Amazing Grace" on the flute.
Later came a bagpipe rendition of the same song.
Tribal members Bobby and Travis Mercier, Brian Krehbiel, and Santiago and Nick Atanacio made up the Grand Ronde drum for the celebration.
"I love you. I'll probably see you on the other side," Tribal Elder Marcella Selwyn told Child.
"We're starting a new tradition," Child said of her Celebration of Life. "Everyone should have a chance to say goodbye. Everyone should have a going-away party."
"At the time of her passing," said Wilkinson, "we will gather at Adams Funeral Home in Sheridan."