Culture
Elders Linda and Cecil Donahue find love on Facebook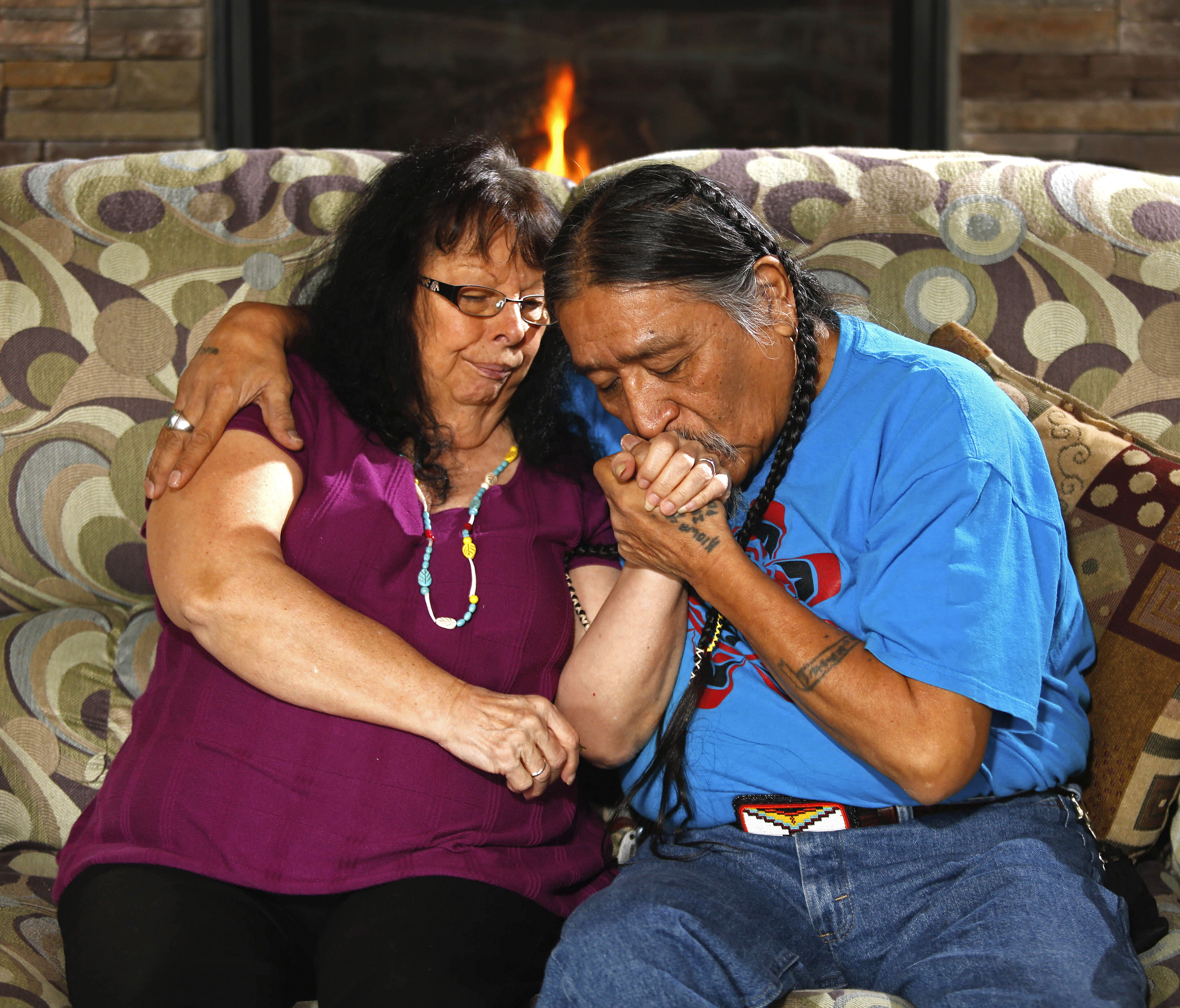 By Danielle Frost
Smoke Signals staff writer
For Tribal Elder Linda Donahue, meeting her soulmate was a journey with a modern twist: It began by downloading an app.
She and husband, Cecil, connected on the world's most popular social networking site, Facebook, after Linda purchased her first smartphone in 2016 and signed up for an account.
The two Elders can frequently be seen holding hands, smiling and sitting close together at different Elders Activity Center events, proof that love flourishes at any age.
"My nephew showed me how to get on Facebook," Linda says. "One of my friends took some pictures and helped me make a profile."
Cecil, a Marine Corps veteran who lived in Oklahoma, noticed Linda's comments on different posts. He liked what he saw and decided to send her a friend request.
"I was really excited to have a friend who was Native American, but I didn't realize he lived in Oklahoma when I accepted the request," Linda says. "So we began exchanging messages. This continued for eight months.
Cecil, whose Native heritage includes Kiowa, Pima and Maricopa, wanted to speak with his new friend on the phone, but Linda was hesitant.
"I wanted to get to know him through his words and see what he was like," she says.
Finally, Linda consented to a phone call, much to Cecil's relief.
"I wanted to call her because things can be misinterpreted when you are writing them out instead of speaking," he says. "I wanted to hear her voice and get to know her better that way."
Once the phone calls began, Linda's hesitation melted, as did her heart.
"I loved his voice and the way he talked to his grandkids," she says. "He warned me not to get too attached, but I already knew that he was the one."
After four months of nightly phone calls, Linda decided to fly to Oklahoma and meet her long-distance love in person.
She had tickets to leave in late January 2017, but after telling Cecil she didn't like the thought of spending the New Year alone, they decided to ring it in together. However, the plan almost fell through after Linda missed her connecting flight in Dallas.
"I called Cecil and I was crying, and told him I had missed the flight," she says. "He told me, 'Don't worry, Creator will take care of you.' Within an hour, I was able to get on a different flight."
When Linda arrived in Oklahoma, she was both nervous and excited. Cecil was waiting with sons Red and Eagle, excited to meet his love in person for the first time.
The feeling was mutual.
"My stomach would not calm down and I had butterflies," Linda says. "I knew already that he was the one, but I was very shy about meeting in person. I certainly never intended to meet a guy online!"
And Cecil's thoughts as he waited?
"I couldn't wait to plant a big kiss right on her lips," he says. "I asked her beforehand if that was OK to do and she said 'Yes.' But, when I did she acted really shy."
Linda's reaction to seeing Cecil in person for the first time was joyous.
"He was everything I thought he was," she says. "He was perfect to me the whole time I was there."
The couple had their first official date at an Oklahoma steakhouse.
"I fell in love with him all over again during that visit," Linda says.
The two acknowledge that dating and finding lasting love as Elders is challenging, but not impossible.
"It's harder dating when you're older," Linda says. "I was so nervous about everything. I had been in relationships with abusers, so it was very important to me to find someone who didn't use alcohol. Cecil didn't drink so that made me happy. I did not want to deal with that and it seems like a lot of people just drink and don't do anything else."
Adds Cecil, "Don't quit trying to meet someone. Try again if it doesn't work out. I had prayed over things for a long time and had given up meeting anyone. Then, out of the blue Linda was there. Just like a sign. She was everything I thought she was going to be."
In August 2018, the two decided that Cecil would move to Grand Ronde to join Linda. Her mother, Myrna Brandon, lives in the area, along with other family and Linda wanted to remain close by.
En route to Grand Ronde, Cecil's van experienced mechanical problems and they had to leave it in Flagstaff, Ariz., and continue their travels by bus, arriving just before the Tribe's annual Contest Powwow in mid-August.
The two planned to return and retrieve the vehicle a few months later, but life had a different plan when Linda began feeling short of breath and tired. A doctor's visit confirmed heart problems, and she was hospitalized and underwent an operation.
"I was given a new valve," she says. "I healed really fast and I give all the credit to the Creator."
"The way we have looked at it, things were all planned out the way they were supposed to happen," Cecil says. "The doctor told Linda if she had gone back with me to get the car, she would not have made it back."
He adds that while the two share a deep sense of spirituality, he is not religious whereas Linda tends to be more traditionally church-oriented in her beliefs. But it suits them just fine.
"I have a smile on my face and I'm happy," Cecil says. "I figure at our age, there is no point in wasting time so you should enjoy it."
Linda agrees.
"Life is too short and I am very happy I took the chance," she says.