Tribal Government & News
Kennedy receives Community Visionary Award from Salem Health West Valley Foundation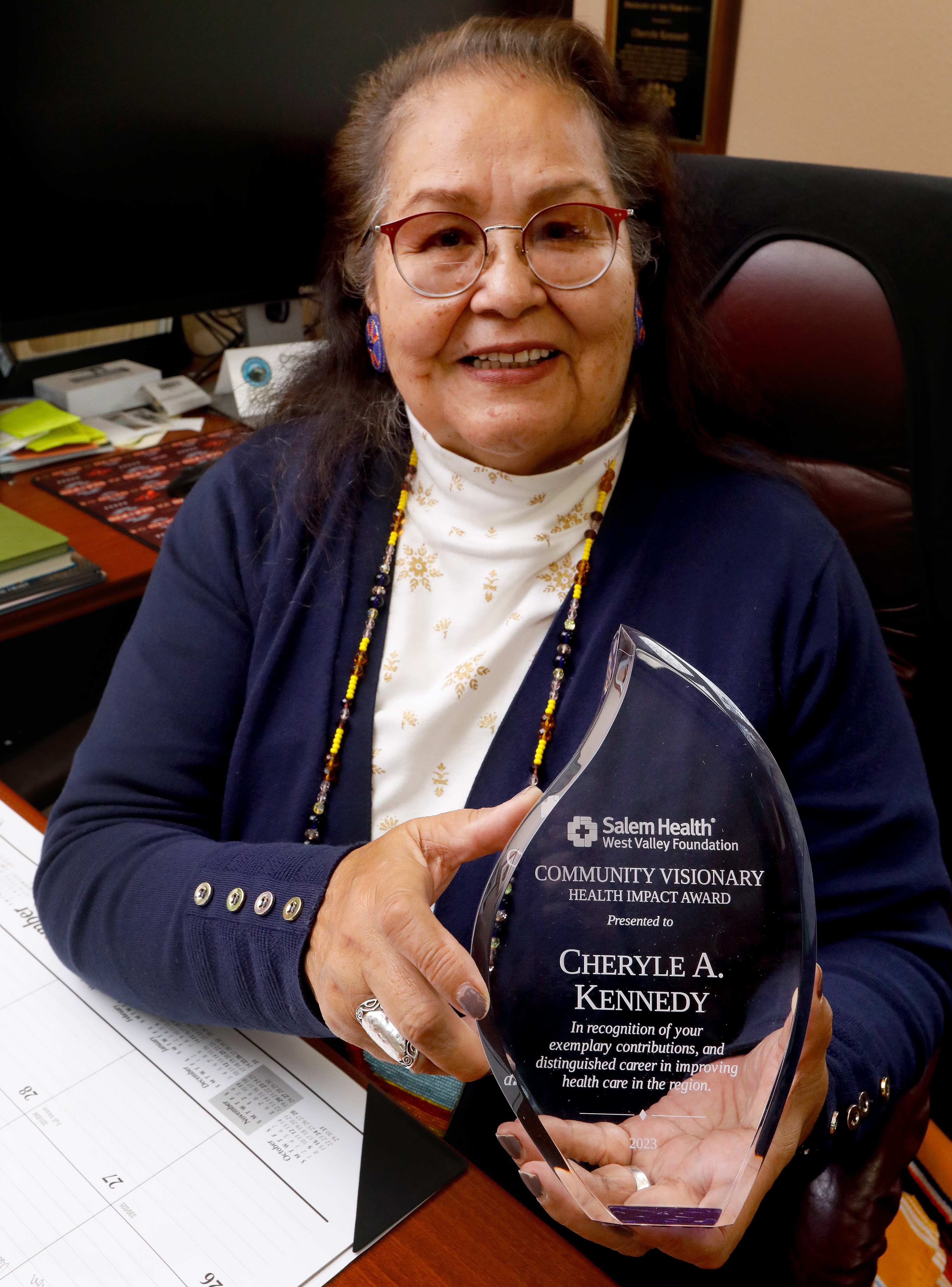 By Sherron Lumley
Smoke Signals staff writer
Grand Ronde Tribal Council Chairwoman Cheryle A. Kennedy received a standing ovation on Friday, Nov. 3, while accepting the 2023 Community Visionary Health Impact Award from Salem Health West Valley Foundation.
The award is in recognition of her distinguished career and exemplary contributions to improve health care in the region.
Western Oregon University President Jesse Peters presented the award during the Foundation Community Impact dinner held on the Monmouth campus.
 "It was my honor to award Cheryle Kennedy the Community Visionary Health Impact Award on behalf of the Salem Health West Valley Foundation," Peters said. "Her career has been dedicated to serving the needs of her community, region and state. The work she has done to promote health within Indigenous communities, the nation of Grand Ronde, and the state of Oregon speaks to her continued commitment to the well-being of others. Her leadership is an example to us all."
 The foundation supports the work of West Valley Hospital in Dallas to improve the health of people in the region it serves, including Tribal members. Focus is placed on programs and initiatives addressing community needs, fundraising for vital hospital equipment, and providing scholarships for local students to pursue health careers.
A healing garden dedicated to the Confederated Tribes of Grand Ronde adds a peaceful place for people at the hospital to meditate and pray.
 Kennedy, a former board member of the West Valley Hospital Foundation, was Tribal Health Director for 15 of her 30-year career. She has also served on the Oregon Health Board and as commissioner of the Rural Health Council of Oregon. She was named Health Administrator of the Year by the Department of Public Health, Indian Health Service, and an Outstanding Leader in Health Care by the Oregon Department of Health.
"My interest in medicine began with my grandparents," says Kennedy. "My grandfather was a medicine man and an expert in medicinal uses of plants. My mother knew medicine through her father, and she showed me where to look for the plants that are healing. In this way, she showed me it was my calling. I do believe there is a purpose for everyone."
The Salem Health Foundation and the Salem Health West Valley Foundation awarded $119,275 in scholarships in 2022 to 131 students from Polk County pursuing degrees in any discipline in the health field.
"I always felt very good that we were helping in the health care field, but also in these families to raise their standard of living," Kennedy said.
The Community Impact Dinner at Western Oregon was attended by leaders from Polk County and featured speaker Chris Gibbons, who delivered the keynote address "Public Health Impact on Street Fentanyl." He is the executive director of the Oregon-Idaho High Intensity Drug Trafficking Area.
Tribal Council member Lisa Leno, as well as other community members, family and colleagues attended the award ceremony.
"She was the only award winner who got a standing ovation from her peers," said Leno, adding it was a "special evening and I was glad I got to witness it – I'm very proud of her."