Tribal Government & News
Man exhibiting 'erratic behavior' found dead during police standoff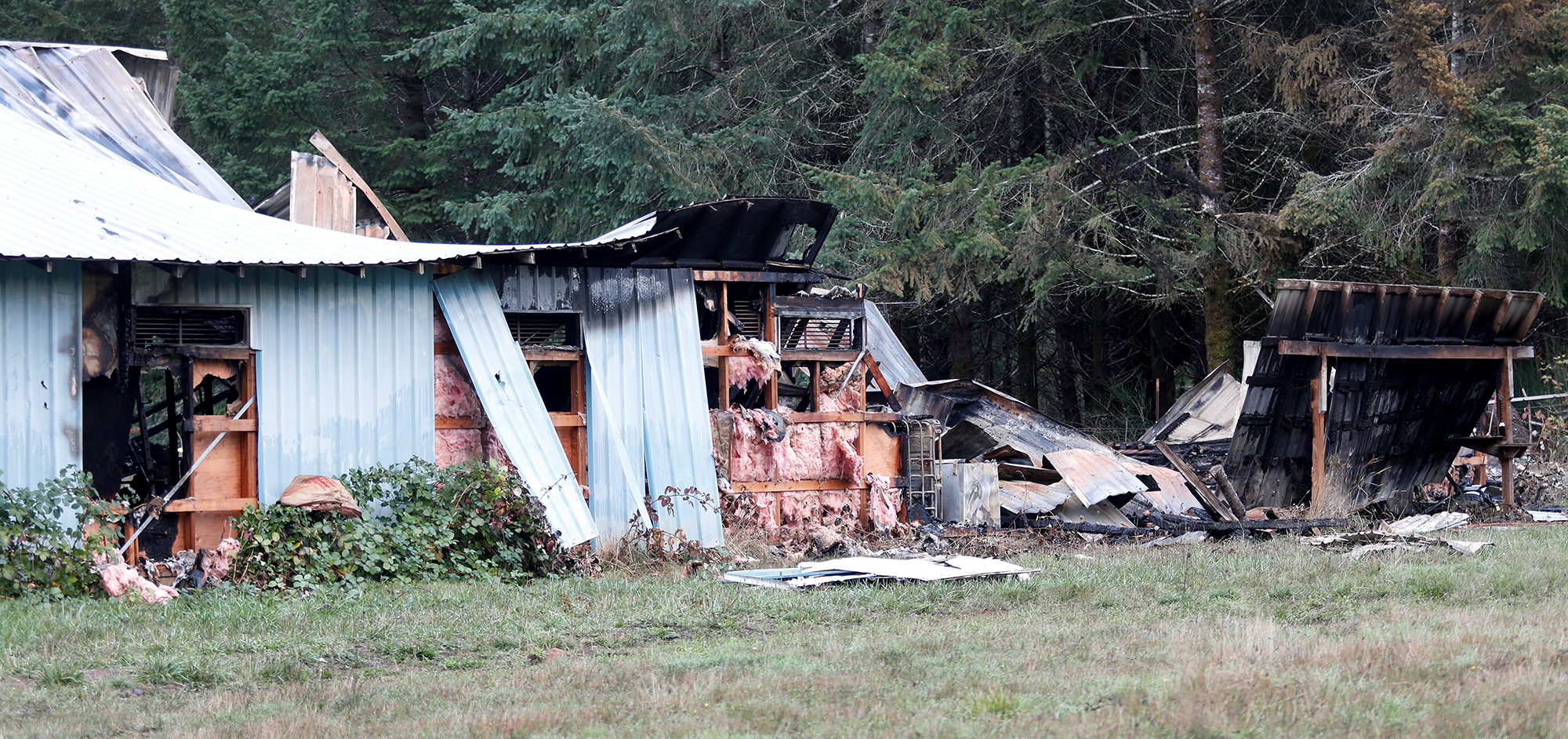 By Dean Rhodes
Publications coordinator
A male who was exhibiting erratic and unacceptable verbal behavior in the Grand Ronde area and prompted the Tribal government to shut down 36 minutes early on Wednesday, Oct. 18, was found dead inside his residence during a police standoff on Thursday, Oct. 19.
Lonny Roy Orman, who owned 2.5 acres off Fire Hall Road in the Grand Ronde area, "committed what appeared to be suicide," said Polk County Sheriff Mark Garton. "The investigation is ongoing, but all appearances lead to a suicide situation."
Many police cars converged on the Grand Ronde area on Thursday. Responding law enforcement personnel were from Oregon State Police, the Grand Ronde Tribal Police Department, the Salem Police Department and Polk County Sheriff's Office.
"The previous day, Lonny Orman was involved in another criminal issue," Garton said on Monday, Oct. 23. "He pulled a knife on a guy. We attempted to arrest him that day, but he slipped away and we weren't able to catch him. We had probable cause to arrest him from that incident on Wednesday. And then somebody reported seeing him on Thursday near his house and that is what started the response."
Garton said police asked over loud speakers for Orman to come out of his residence, but he never responded and then a fire started inside the structure.
"Oregon State Police were assisting the Polk County Sheriff's Office with this incident," said OSP Capt. Kyle Kennedy. "As deputies and troopers attempted to arrest the suspect, he fled into a residence and barricaded himself. Many hours and multiple efforts went into bringing the suspect out of the residence. However, those efforts were not successful. During those efforts, on-scene personnel discovered the residence had an internal fire and quickly became engulfed."
Grand Ronde Tribal Emergency Services Chief Steve Warden said the department responded with two engines, two medics, a battalion chief and other staff. In addition, two water tenders from Sheridan Fire were sent as mutual aid for a total of 17 personnel.
"The fire was brought under control within 30 minutes with extended overhaul and mop up due to the fuels involved with the initial fire," Warden added.
After the fire was under control, police personnel entered the residence and found Orman dead.
OSP's Kennedy said the cause of the fire is currently under investigation.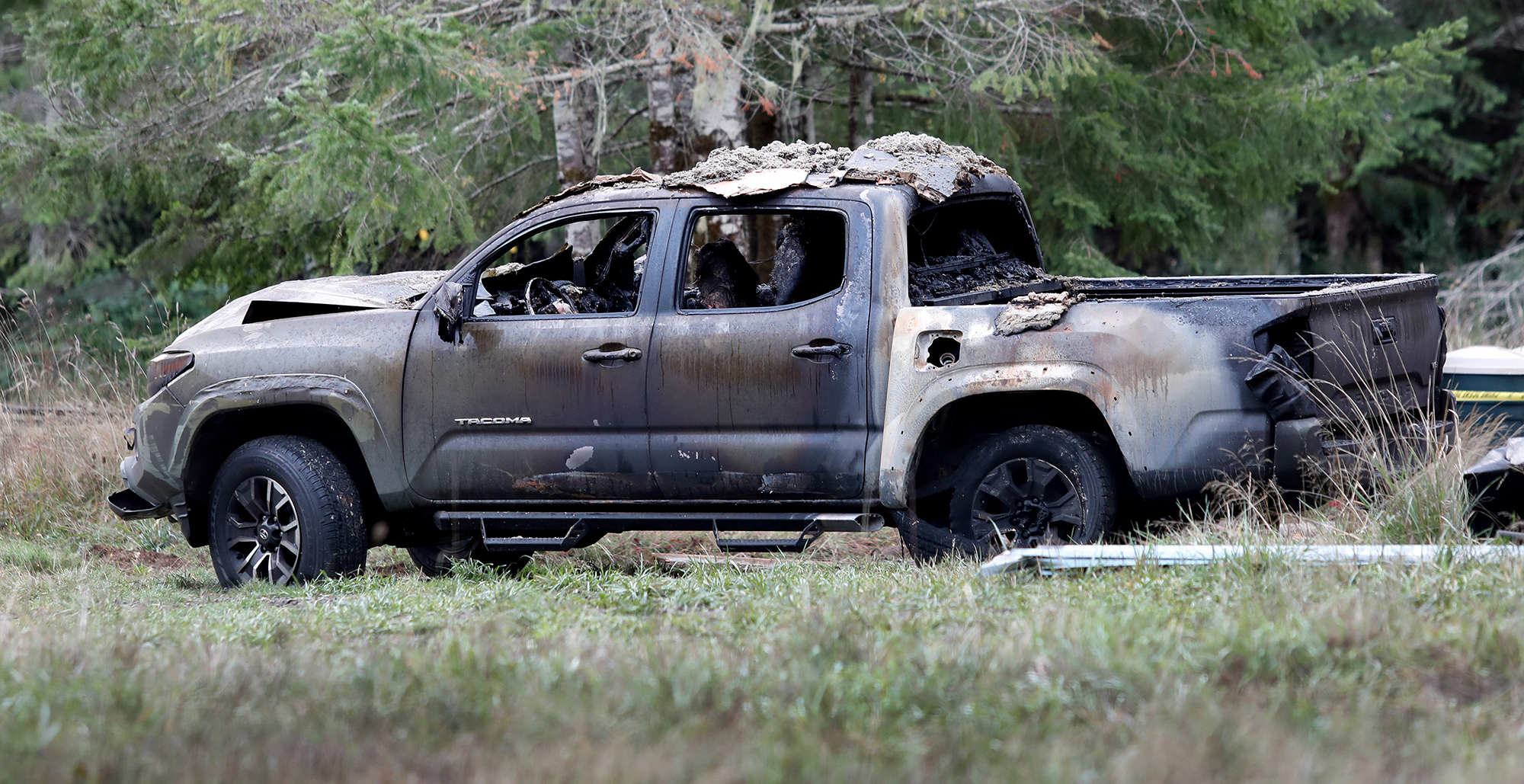 Lonny Roy Orman's burned Toyota Tacoma TRD Sport 4x4 truck is seen outside his home at 7850 Fire Hall Road on Monday, Oct. 23. (Photo by Michelle Alaimo)
On Wednesday, Oct. 18, four hours after Tribal governmental offices closed, Grand Ronde Tribal Police Chief Jake McKnight sent out an email advising employees that if they saw Orman on campus that they should call 911.
The email included a mug shot of Orman and a photo of his Toyota Tacoma TRD Sport 4x4 truck. "DO NOT APPROACH," McKnight added in all capital letters.
"Upon learning of the circumstances of this specific situation late this afternoon, we didn't feel as though there was an immediate safety threat to employees, but we will always err on the side of caution and for what's best for our staff, kids and all those that we serve," Interim General Manager Chris Leno said in announcing the sudden closure of Tribal offices.
Leno said Orman was exhibiting verbal behavior with members of Tribal staff and erratic behavior while in the Grand Ronde community that caused concern.
"Again, out of an abundance of caution, we closed the offices early and sent staff home. As I understand it, there have not been any direct physical threats made against staff, and we are confident in our ability to provide the same safe work environment for staff that we always have," Leno added.
According to the Oregon Judicial Department, a man with the same name only has a 2008 traffic violation in Yamhill County on his Oregon record.
However, Orman was arrested in 2012 on charges of assault with a deadly weapon and attempted homicide in Galt, Calif.
Orman, who was 41 at the time, was believed by his family members to be suffering from delusions, including that his niece was being harmed. Upon being denied entry into his sister's nearby home, he began firing through the front door, according to newspaper reports.
Orman's sister retrieved a handgun and returned fire. Orman's brother-in-law was struck by a bullet in the shoulder during the exchange.
Orman, who also was wounded in the upper leg, was taken into custody by California Highway Patrol and El Dorado County Sheriff's officers on Highway 50 shortly after the incident occurred. He was booked into the Sacramento County Jail on charges of assault with a deadly weapon and attempted homicide.
Orman was living in Oregon at the time, but had been staying with his parents in Galt in the same neighborhood as his sister and her family.
According to the Polk County Assessor's Office, Orman owned property on Fire Hall Road in the Grand Ronde area, but retained a mailing address in Galt. He was not an enrolled member of the Grand Ronde Tribe.
Tribal governmental offices opened on time on Thursday, Oct. 19, and on Friday, Oct. 20, Leno announced that the security concern had ended and that it posed no further threat to the community.
Garton said that Orman's next of kin have been notified and that a cause of death has yet to be determined.