Culture
Yesteryear - Oct. 15, 2023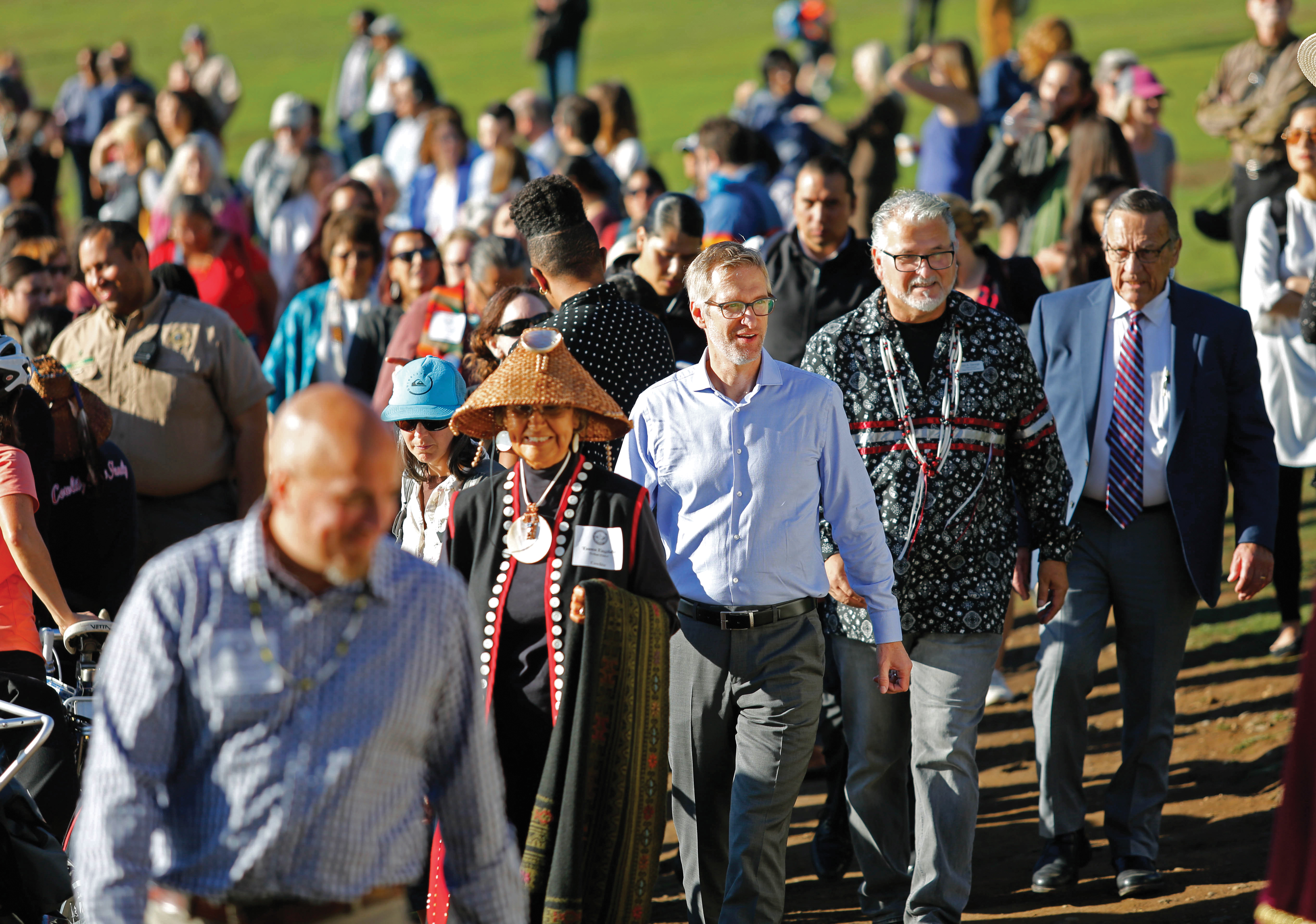 2018 – Grand Ronde Tribal members stood at the banks of the Willamette River at Tom McCall Waterfront Park to welcome canoe families from the Warm Springs and Cowlitz Tribes to their ancestral homelands as part of the first Tribal Nations Summit hosted by the city of Portland. They gathered with other Tribal delegates, drumming and singing, as the canoes approached on what was also National Native American Day. The event, coordinated by Portland's Tribal Relations Director Laura John (Blackfeet/Seneca), marked the first time in the United States that a local city government  engaged with its neighboring Tribes to establish local partnerships.
2013 – Adam Leno was raised taking care of the Tribal cemetery with his grandfather, Russell Leno. So, he felt like he was meant to be in that position when he chose to accept the job as cemetery caretaker. "I worked with grandpa down here since I was 8 years old," he said. His grandfather raised him since the fifth grade.
2008 – Tribal member Jan Michael Looking Wolf Reibach won Flutist of the Year for 2007 at the Native American Music Awards held in Niagara Falls, New York. He also won the same honor at the Indian Summer Music Awards held earlier that year in Milwaukee, Wis. By doing this, Reibach became the only Native American flutist to win both prestigious awards in the same year.
2003 – Tribal members in Grand Meadows were able to cash in on a federal finance program, which saved them $100 or more per month on their homes. This was made possible by Section 184 of the Housing and Community Development Act of 1992 that guaranteed home loans on Tribal property. Until February 2003, however, Tribal members had been unable to refinance their homes.
1998 – Oregon Sens. Ron Wyden and Gordon Smith announced the passage of H.R. 4068, which made long-needed corrections in laws relating to the Native American Tribes of Oregon. It provided authority for the Secretary of the Interior to grant up to 99-year leases to the Grand Ronde Tribe trust lands as well as designate 191 acres of Tribally held community trust land as Reservation.
1993 – Tribal member Guy McCarthy of Bend was named "Entrepreneur of the Month." He owned a successful contracting company, Summer Wind Enterprises, which offered installation, repair and maintenance of garage doors. Summer Wind was also the name of McCarthy's band. Before he owned his own business, he and his wife were entertainers and traveled all over the country.
1988 – President Ronald Reagan signed legislation creating a 9,811-acre Reservation for the Confederated Tribes of Grand Ronde. The president's signature on the bill ended an almost five-year effort by the Tribe to establish a land base and opened the way for the Tribe to build for its future. The bill immediately put the land, located in Yamhill County, into trust for the Tribe with the Department of the Interior. Income from the Reservation, estimated at $800,000 to $1 million per year, would be used to supplement existing Tribal education, housing and health programs, and for economic development.
Yesteryears is a look back at Tribal history in five-year increments through the pages of Smoke Signals.