Tribal Government & News
Tribal Council approves design services for Tumwata Village site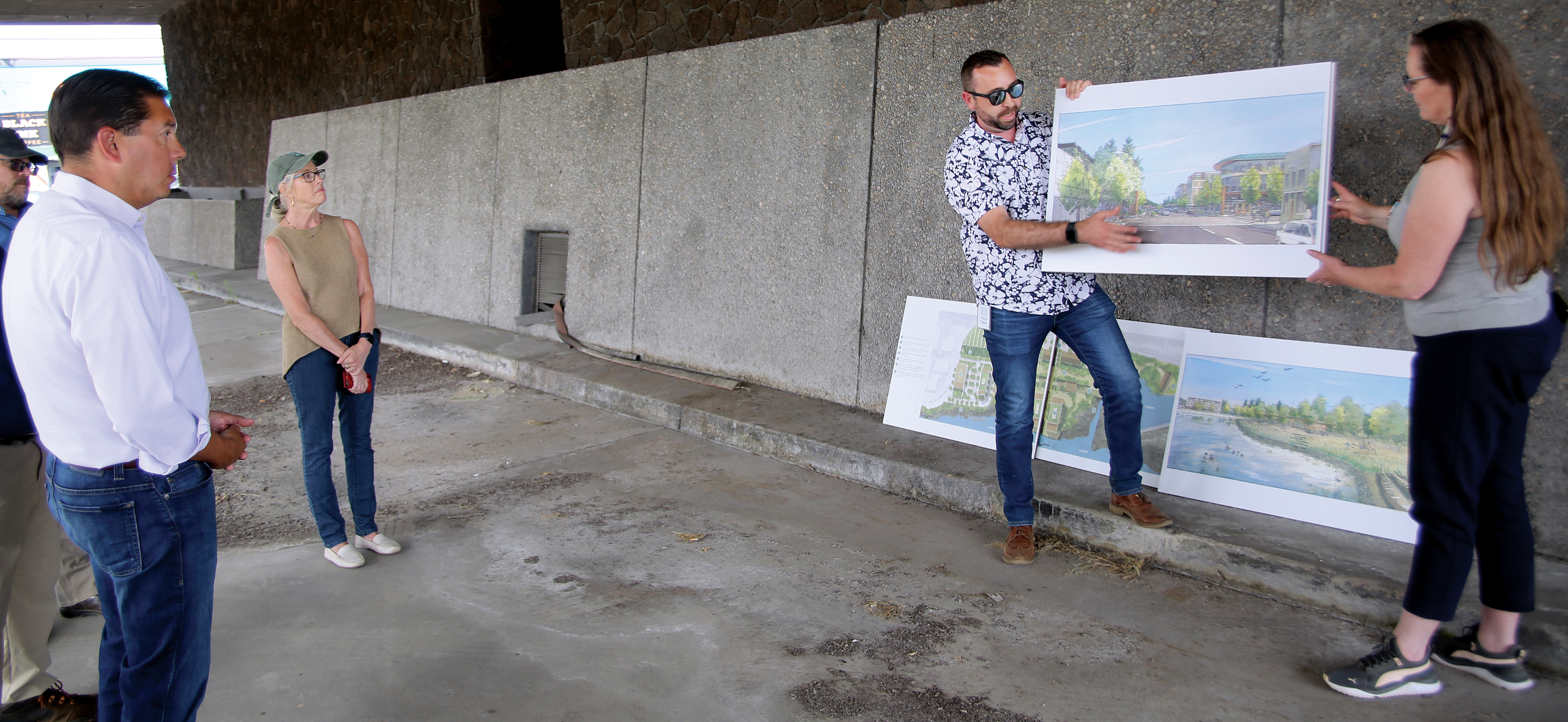 By Danielle Harrison
Smoke Signals editor
Tribal Council approved a design contract with GBD Architects of Portland for a portion of its Tumwata Village site in Oregon City during its Wednesday, Oct. 11, meeting.
The $673,000 contract will include a schematic design for what is known as block one of the former Blue Heron Paper Mill site that the Tribe purchased for $15.25 million in 2019.
"This is pretty exciting work," Tribal Engineering and Planning Manager Ryan Webb said at a Tuesday, Oct. 3, Legislative Action Committee meeting. "This will help with the design and is part of the first phase of redevelopment at this site. It's an exciting milestone. Instead of tearing things down, we're doing design (work)."
However, the demolition portion is not yet complete. Tribal Council also approved a contract increase to $2.7 million for Elder Demolition of Portland to complete demolition work on the former administration building and associated structures. When that work is finished, 26 of the more than 50 abandoned and dilapidated buildings will have been demolished. Tribal Council first approved an almost $850,000 contract with the company in May 2021. Funding has mostly come from a combination of grants, federal money and private donations.
Since purchasing the property, the Tribe released its vision statement for the site in March 2021, started environmental remediation, launched the first phase of building demolition in September 2021, secured federal support by obtaining an $800,000 EPA grant in May 2021 and $2 million in federal funding included in the appropriations bill signed into law in March 2022, and started a third round of demolition work in March of this year. The Tribe also renamed the site Tumwata Village after the Native word for Willamette Falls.
The 23-acre site has been used for numerous industrial purposes since the 19th century.
In other action, Tribal Council:
Approved a credit card authorization in the amount of $2,500 for Warriors of Hope Program Manager Cassie Dandy;
Approved enrolling two infants into the Tribe because they meet the requirements outlined in the Tribal Constitution and Enrollment Ordinance;
Approved appointing Jesse Robertson Jr. to the Veterans Special Event Board for a term ending on March 31, 2025;

And approved a resolution for the Tribe to fund the construction of five homes for phase one of the Tribe's home ownership development. The amendment is due to lender Tribal First backing out of processing the five pre-approved construction loans because of a staffing shortage. The Tribe is working with HUD to find a solution so that the Tribal members can still purchase the homes.
Additionally, Tribal Council Vice Chair Chris Mercier read a statement that council would not be moving forward with proposed amendments to the TERO Ordinance.
The changes would have removed seven executive level positions at the Tribe and Spirit Mountain Casino from the standard minimum preference that is applied in the TERO Ordinance and modified it to a "tiebreaker preference," meaning if there were equally qualified Tribal member and external candidates, the Tribal member would be hired. The amendments also would have removed executive-level applicants from TERO director qualification assessments review.
"We received a number of written comments and great participation from our Tribal membership," Chairwoman Cheryle A. Kennedy said. "No action will be taken on the proposed amendments."  
To watch the entire meeting, visit the Tribal government's website at www.grandronde.org and click on the Government tab and then Videos.