Tribal Government & News
ODFW Commission pulls Grand Ronde MOU from agenda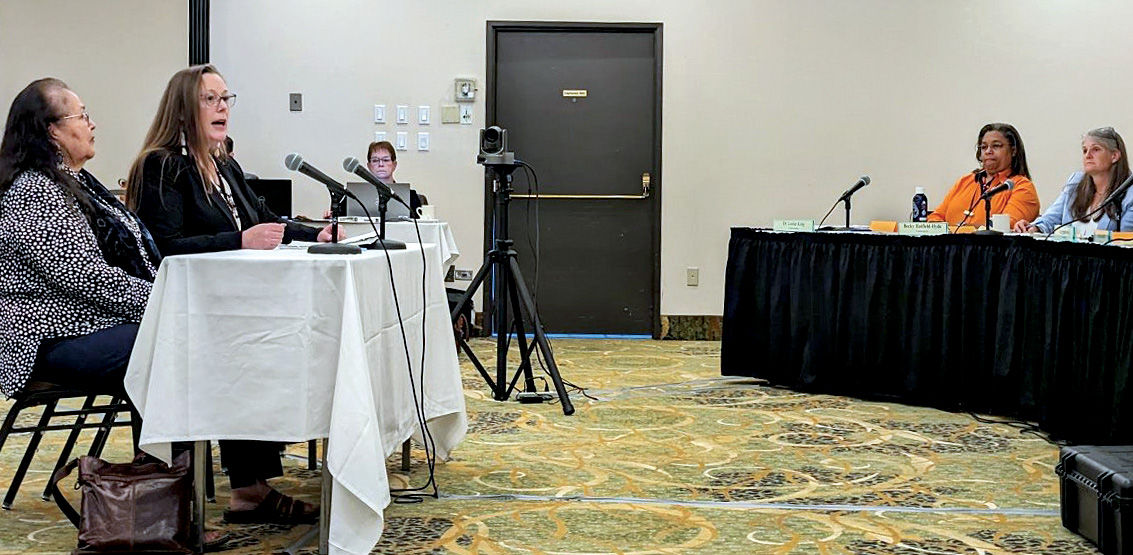 By Danielle Harrison
Smoke Signals assistant editor/staff writer
NEWPORT -- Several Grand Ronde Tribal Council members testified at the Oregon Department of Fish & Wildlife Commission meeting in Newport on Friday, June 16, after the Tribe's proposed memorandum of understanding with ODFW to expand areas for ceremonial fishing and hunting was abruptly pulled from the agenda after two other Tribes voiced concerns that it would interfere with their treaty rights.
"All of this has happened because the state of Oregon has given other Tribes the right to veto, through their objections, an agreement that falls under state law, lies solely between you and Grand Ronde and affects no treaty rights of any Tribe," Tribal Council Chairwoman Cheryle A. Kennedy said. "You are allowing these other Tribes to constantly move the goal posts and in doing so, they will never be satisfied."
Grand Ronde has been working for years to have hunting and fishing rights restored after being forced into a consent degree to get its Reservation approved in 1988.
"As we are all aware, during the Tribe's efforts to secure Reservation lands after our Restoration, we were given one path from the state of Oregon: Sign the consent decree or remain a landless people," Kennedy said. "I think we can all agree that was not a choice, but an ultimatum. Sitting here today, years later, I feel that this history is repeating itself."
The Warm Springs Tribe and Umatilla Tribe voiced objections to Grand Ronde's MOU in letters to ODFW Director Curt Melcher, saying that approving it would violate their treaty rights, particularly at Willamette Falls, as well as violate the consent decree.
"Grand Ronde continues to make repeated attempts to exclude other Tribes from the historical narrative and implementation of a potential National Heritage Area at Willamette Falls," a letter from the Umatilla Tribe stated. "In several bills before the Oregon Legislature, CTGR has argued that the Willamette Falls is their exclusive territory. … This was an effort to exclude the other Tribes from a seat at the table in the discussions regarding the falls."
In response, Grand Ronde Tribal Attorney Rob Greene sent a letter to Gov. Tina Kotek's office.
"Grand Ronde's new MOU with ODFW is a non-exclusive Tribal-state agreement; it does not affect the treaty rights of any Tribe and would operate only under state law," Greene said. "I believe all the recent MOUs, beginning with Coquille in 2022, are clear on this point. The limits and areas of ceremonial and subsistence harvest will be set annually between the Tribe and ODFW. And, as we hope to discuss today, the number of animals Grand Ronde members would harvest under this MOU is very small.
"Umatilla is concerned about the impact of Grand Ronde's MOU on salmon fishing at Willamette Falls. I'm not aware of any Tribe other than Grand Ronde taking salmon at Willamette Falls. Grand Ronde takes 15 salmon each year at the falls pursuant to a state rule. Grand Ronde and ODFW excluded state-owned land at Willamette Falls from the geographic scope of the MOU that's currently before the commission."
Warm Springs Tribal Council Chairman Jonathan Smith said in a May 5 letter to Melcher that Grand Ronde has "failed to meaningfully consult or otherwise discuss with us its effort to negotiate a management agreement with ODFW," a statement that Kennedy says is false.
"Let's be clear," she said. "Any claims about a lack of consultation are an outright lie. The agreement was sent to all Oregon Tribes and no issues were raised. We held public meetings in which the other Tribes, Tribal leaders and legal representatives all attended. Again, no issues were raised."
Smith added that the Tribe also "refuses to acknowledge our sovereign and treaty-reserved interests at Willamette Falls."
"Our ancestors have fished, hunted and gathered around Willamette Falls and the surrounding area since time immemorial, and our members continue to do so," he said. "There can be no doubt that the Willamette Falls area is one of our treaty-reserved, usual and accustomed areas where our members fish at sites, which have been passed down through generations for subsistence and ceremonial harvest purposes."
Greene said that with respect to harvesting of salmon below Bonneville Dam, Melcher wrote in a 2014 letter that there is no treaty fishing rights for the harvest of fish by the four Columbia River Treaty Tribes, of which Warm Springs and Umatilla are included.     
"… The bottom line is Grand Ronde's MOU does not affect the treaty rights of any Tribe. It's a non-exclusive agreement, will be reviewed every five years and contains provisions for ODFW to terminate it should problems ever arise."
During the June 16 hearing, Tribal Council Secretary Michael Langley said that Grand Ronde was held hostage by the consent decree with the state.
"We had to give up our hunting and fishing rights," he said. "There really was no other alternative. … Since we are resilient, we worked with the state of Oregon to restore some of these hunting and fishing rights, and are very proud of those efforts."
"There's other Tribes that believe that's not something we should do, but we believe in government-to-government relationships. We value those. So we entered into those agreements and it has worked really well. I think we've demonstrated that we're fully capable of managing those hunting and fishing units, including getting an agreement that extended to a shellfish as well. … But it seems to me that with our success, people want to pull us back down. That success is actually working against us lately. We see this happening with other Tribes. They want to pull us down. We can see today that we've been an inconvenience to the point of being removed from the agenda. We stand here, proud of our success and will continue in our efforts."
Others who testified included Tribal Council member Kathleen George, former Tribal Council Chair Reyn Leno and Tribal member Desirae Hernandez.
"How long do I have to wait to hunt and fish on my lands? Why do people from central and eastern Oregon get to say where I can hunt and fish, and when will you do the right thing?" Hernandez, 11, said.
After hearing the testimonies, Melcher said he expected the Grand Ronde MOU to be on the agenda for the commission's next meeting in Salem on Friday, Aug. 4.
"We go way back and work well together, and I look forward to continuing that work with you," he said. "I understand your disappointment and our commitment to you is that we did file the notice for August and we expect (the MOU) to be on the agenda. … Just sharing with you a little bit from my perspective, we have been engaged with several other Tribes and we're just trying to take a small pause to take away any criticisms of this process."
Later that day, the commission approved agreements with the Coos, Lower Umpqua and Siuslaw as well as the Siletz Tribe. The agreements are similar in scope to what the commission adopted with the Coquille Indian Tribe and Cow Creek Tribe in 2022.
Each agreement sets up a framework under which Tribal members, within certain areas, can participate in subsistence and ceremonial harvesting of fish and wildlife licensed and managed by Tribal governments in conjunction with ODFW and Oregon State Police. Annual limits and harvest areas by Tribal members will be agreed upon between the Tribe and ODFW.
For more information on existing agreements, visit dfw.state.or.us/tribal_relations/.