Health & Education
General Council briefed on fentanyl dangers and awareness efforts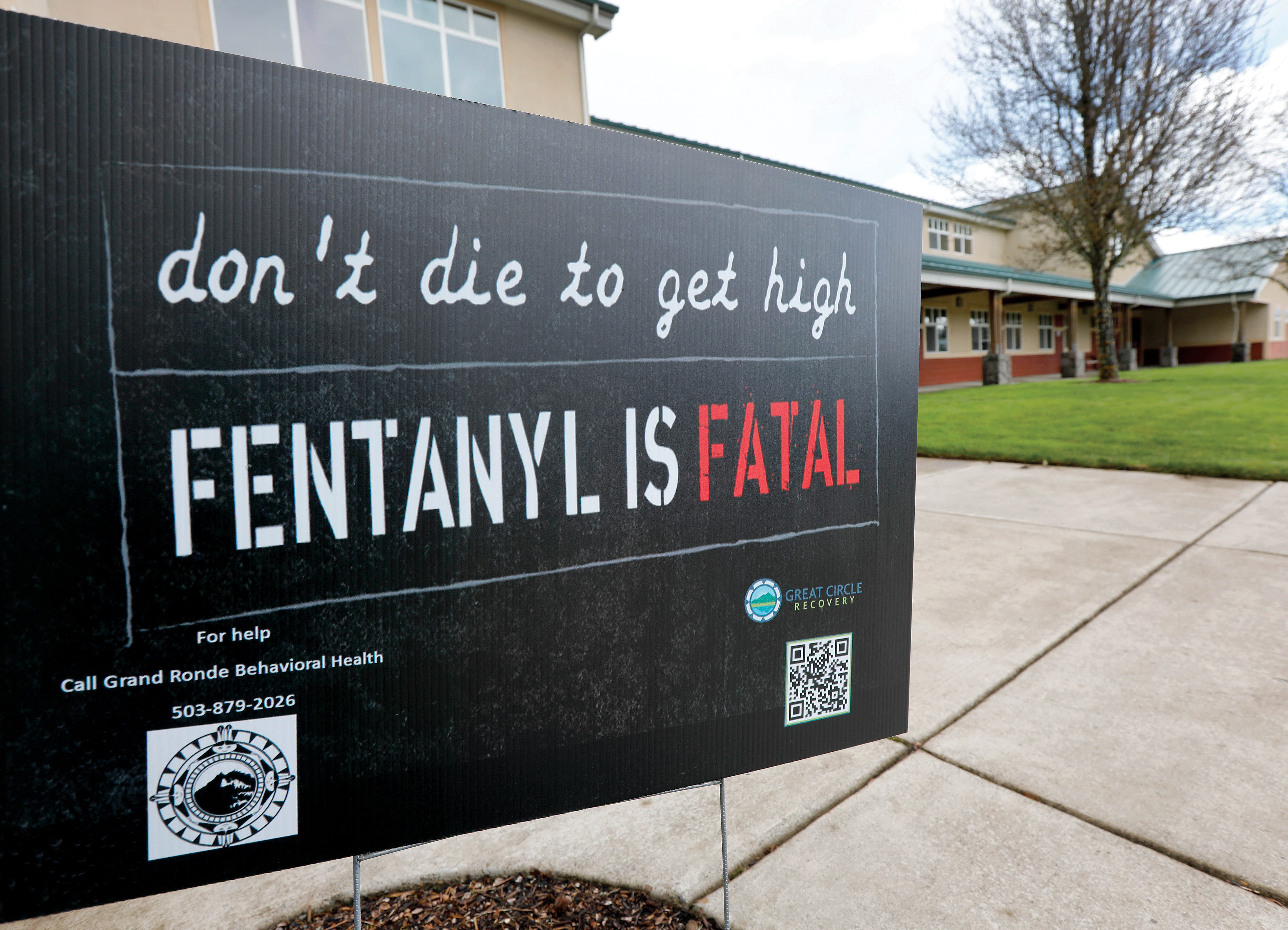 By Danielle Harrison
Smoke Signals staff writer
EUGENE -- Health Services Executive Director Kelly Rowe briefed Tribal members on the dangers of fentanyl and efforts the Tribe is undertaking to combat the deadly drug during a Sunday, April 2, General Council hybrid meeting held via the Zoom video conferencing application and in the Lane Community College Longhouse.
"The fentanyl crisis that is going on is truly in every community, it isn't just in Grand Ronde," Rowe said. "It is only one of the opioids out there that is impacting families, loved ones and friends. It's everywhere. It's a horrible thing."  
According to the Centers for Disease Control and Prevention, Fentanyl is a synthetic opioid that is 50 times stronger than heroin and 100 times stronger than morphine. It's a major contributor to fatal overdoses in the United States.
Fentanyl comes in both pharmaceutical and illicitly made forms, both of which are considered synthetic opioids. Pharmaceutical fentanyl is prescribed by doctors to treat severe pain. As per CDC statistics, most recent cases of fentanyl-related overdose are linked to illegally manufactured fentanyl, which is often added to other street drugs because of its potency and makes those drugs more dangerous and addictive.
"When I first began working in health care, one of the first places I worked was a hospital and fentanyl was a hospital drug. … But like other illicit drugs, it made its way out of there and is being manufactured illicitly and being distributed in every format you can think of onto the street," Rowe said.
Currently, the most common form of fentanyl is a powder form that is put into tablet form, or crushed up to be smoked or injected.
"It is very powerful and people are trying to use it and it takes over the neuro receptors in a person's body, and they will do anything to get ahold of it," Rowe said. "We see their struggles at Great Circle Recovery and at the clinic in Grand Ronde. We're trying to do everything we can, collaborating with the Tribal Police and Social Services to put supports around it, but continue to see people struggling and we're trying to respond accordingly. … There is no way to know what is in the pills. That is why we have started the 'One Pill Can Kill' awareness campaign and have been giving out Narcan at the pharmacy and teaching people how to use it."
Narcan is a medication that reverses opioid overdoses and can be easily sprayed into someone's nose in a similar manner as one would use an allergy spray. Even if someone hasn't overdosed, using Narcan is not harmful, Rowe said.
The federal Food and Drug Administration approved Narcan for over-the-counter use last month.
"Drug overdose persists as a major public health issue in the United States, with more than 101,750 reported fatal overdoses occurring in the 12-month period ending in October 2022, primarily driven by synthetic opioids like illicit fentanyl," the FDA stated in a press release announcing the decision.
In addition to giving out Narcan at the clinic, Rowe said that mandatory training was recently provided for all Tribal employees on how to use Narcan properly if they suspect someone is experiencing a drug overdose.
"It only takes a very small amount (of fentanyl) to trigger a lethal overdose," Rowe said. "When it's being illicitly created, there is lots of mixing with other drugs and we have even seen it mixed into marijuana."  
During her presentation, Rowe shared several slides with the audience, including one that tracked fentanyl-related deaths in Oregon from 2019 to 2020. These skyrocketed from 75 to 298. Although the number itself is not large, the percentage increase is telling. Compounding this is Oregon ranking number one in the country for the highest rates of drug addiction, but the lowest for its access to treatment options, Rowe said.  
"It's like the perfect storm of horrible," she said. "We have all the people who need services and no services to give to them. For Native people, we are disproportionately impacted by substance use and overdose. You have the perfect storm and then the storm within the storm."
In response, the Tribe increased its prevention programming and training, and also implemented good medicine programming to offer traditional activities and offerings to promote healing. There are also two outpatient medication-assisted treatment centers – Great Circle Recovery – in Salem and Portland, which opened to the public in 2021 and 2023, respectively. There is also a mobile treatment clinic that makes stops in Grand Ronde, McMinnville, Willamina and other areas of the West Valley.
In addition to the medication, the centers offer a cultural component that is often missing in traditional drug treatment, as well as wound care and referrals for other services. 
"Having these options available is critical," Rowe said. "What we found is fentanyl is so addictive and so hard to treat that having multiple tools in our tool belt is necessary. We have to have as many options as possible to get people to wellness."
After her presentation, Rowe took 16 questions and comments from the online and in-person audience.
"Thank you for the presentation and for the recent staff training," Tribal Council member Kathleen George said. "When in doubt, use Narcan if you see someone unresponsive. It won't hurt them if they aren't overdosed and it could save their life." 
Tribal Police Chief Jake McKnight urged caution even when accepting aspirin or Advil from someone.
"These fentanyl pills come in many forms, which can even look like Adderall and Xanax," McKnight said. "Don't be surprised if we start seeing them in vitamin or aspirin form next. If you didn't buy the medicine, don't use it."
In other action, it was announced that the next General Council meeting will be in a hybrid format at 11 a.m. Sunday, May 7, on Zoom and in Tribal Council Chambers.
Door prize winners were Boaz Wolpe, Karon Chapman, Tonya Gleason-Shepek, Bill Stephens and Mike Portwood, $50 each; and Robert Wiggs, Elias LaGoy and Tyla LaGoy, $100 each.
After the General Council meeting concluded, a community input meeting was held at 1 p.m. to seek advisory vote topics to possibly be placed on the September Tribal Council ballot. After a list of topics is compiled, Tribal Council will select the questions to be placed on the ballot.
The entire meeting can be viewed by visiting the Tribal government's website at www.grandronde.org and clicking on the Government tab and then Videos.