Tribal Government & News
Tribal youth serves as grand marshal for Ski & Ride for a Cure's parade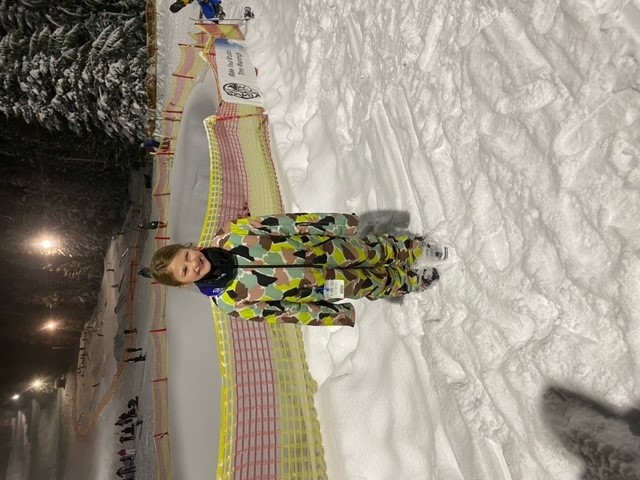 MOUNT HOOD -- Eight-year-old Tribal member Violet Zimbrick served as grand marshal for the annual Ski & Ride for a Cure's torchlight parade at Mount Hood on Saturday, March 4.
The event is part of a 24-hour fundraiser to benefit local cancer nonprofits. It is held for 24 hours to illustrate the fact that "cancer never sleeps." Individual skiers collect pledges from friends and family.
This year's event, held at Skibowl West, had 140 participants who raised more than $45,000 for McMinnville-based cancer charities Seeds of Hope and Willamette Valley Cancer Foundation, which is also a past Spirit Mountain Community Fund grant recipient.
"With help from both of these organizations, patients can concentrate on their health and healing rather than worrying about their bills," the event website stated. "Rent and mortgage payments, utility bills, prescriptions, insurance, co-pays and prescriptions are just some of the ways these organizations help those in need."
Zimbrick led 55 skiers and snowboarders as they carried torches down the slope in remembrance of those who are fighting cancer or those they have lost to cancer. At the end, they placed the flares into the snow around candles that spelled out the word "hope."
Two years ago, Zimbrick was diagnosed with rhabdomyosarcoma, a childhood cancer where malignant cells form in muscle tissue.
During her treatment, Seeds of Hope provided financial support. Today, Zimbrick is healthy and has stable scans. She lives in Grand Ronde with her family. Her aunt, Caitlin Zimbrick, is the Tribe's Community Programs manager.
Includes information from The Oregonian