Health & Education
Tribe updates membership on efforts to combat opioid addiction during Facebook Live event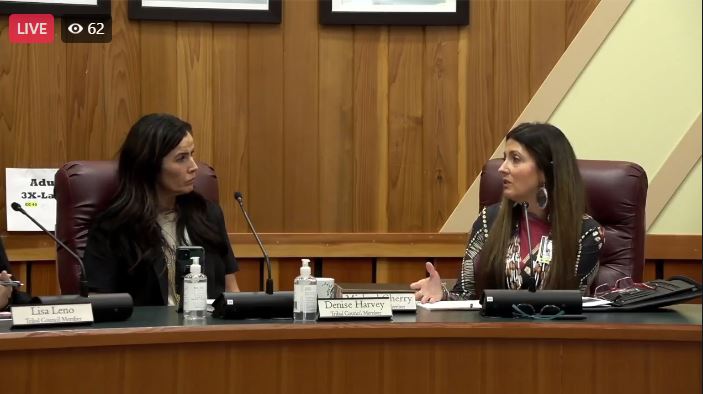 By Dean Rhodes
Smoke Signals editor
The Confederated Tribes of Grand Ronde is getting closer to opening its second medication-assisted treatment clinic to combat opioid addiction in east Portland, Tribal Health Services Executive Director Kelly Rowe said during a Wednesday, Dec. 14, Facebook Live event.
The Tribe opened its first clinic, Great Circle Recovery, on Commercial Street Northeast in Salem in April 2020. Rowe said that clinic is currently serving about 250 patients.
"We're constantly having people churn in and out," Rowe said. "That's the nature of recovery where people have to seek (treatment) many times before they're really ready to settle into it."
The Salem clinic also addresses other needs, such as offering a shower and laundry trailer and helping patients sign up for Medicaid and obtain housing, food, clothing and jobs.
There also is a mobile clinic to help those in the Grand Ronde area access opioid treatment instead of having to travel the 30 miles to Salem.
The second clinic, a former dental office at 3580 S.E. 82nd Ave., is nearing the end of renovation and should open in early 2023. After construction crews finish, then comes the process of certification from the state of Oregon, the federal Drug Enforcement Agency and the U.S. Department of Health & Human Services' Substance Abuse and Mental Health Services Administration.
"It's sequential," Rowe said. "We can't do this out of order."
Rowe said the Tribe has already started hiring staff for the Portland clinic, several of whom are already training in Salem at Great Circle Recovery.
The Tribe decided to open the two MAT clinics because of the epidemic of fentanyl drug use disproportionally affecting Native Americans.
"Fentanyl is 100 times more potent than morphine and readily available from illicit sources," Rowe said. "We know this because we see it. We are helping people with it daily at Health & Wellness and at Great Circle Recovery."
Rowe said the treatment offered at Great Circle is culturally sensitive and staff members view opioid addiction not as a moral failing, but as "a dirge on our people."
At Great Circle, patients are prescribed FDA-approved medications to help lessen cravings and reduce withdrawal symptoms, as well as receive supportive, culturally appropriate counseling. The services are open to Grand Ronde Tribal members, other Native Americans and community members.
The Facebook Live event was moderated by Tribal Council Secretary Michael Langley and fellow Tribal Council members Lisa Leno, Brenda Tuomi and Michael Cherry attended. About 65 Tribal members tuned in to hear the briefing.
Langley closed the 24-minute Facebook Live event. "We have certainly come a long way in how we talk about drugs and addiction," he said. "… It just reminds me that one of the things I have learned over the years is that the opposite of addiction is connection. It's not going through punishment and shaming. I just think, especially this time of the year with the holidays, it's even more important to reach out to people. That small connection sometimes is just the spark that some people need."
For more information about Great Circle Recovery or to seek help with opioid addiction, call 1-888-983-9866.