Culture
Tribe celebrates 39 years of Restoration in person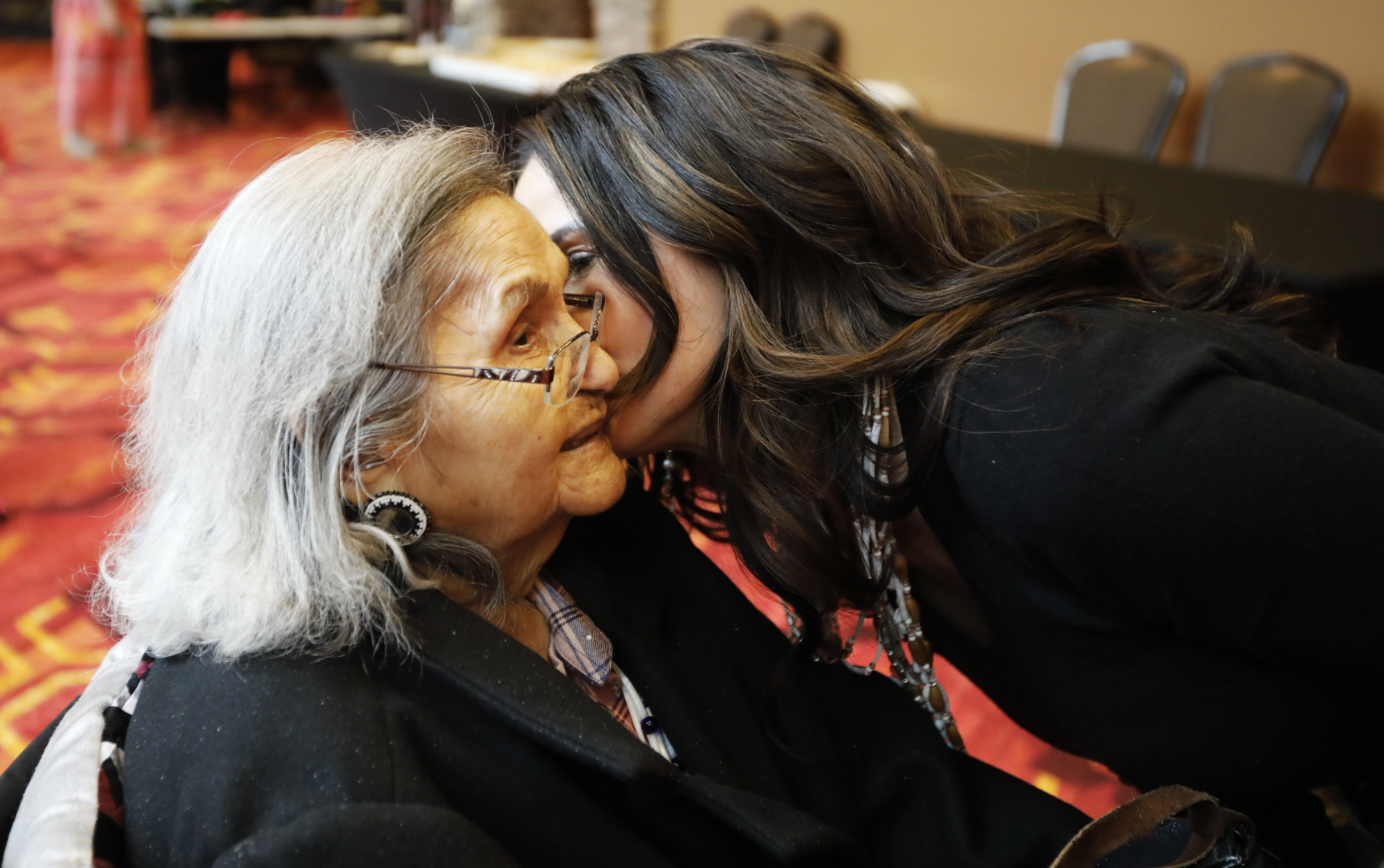 By Danielle Harrison
Smoke Signals assistant editor/staff writer
Tribal members, family, friends and others gathered at Spirit Mountain Casino's Event Center to fete what many call the most important day in the Tribe's history on Tuesday, Nov. 22.
The first in-person Restoration celebration since 2019 because of the COVID-19 pandemic drew more than 200 eager attendees on a blustery day.
"Take a look around and acknowledge everyone who is here," Tribal Council member and Restoration co-emcee Michael Cherry said. "It's a beautiful day and we haven't been able to gather in person for so long. Happy Restoration Day and we'll celebrate all day long."
The celebration began with a Canoe Family procession of singing and drumming led by Cultural Advisor Bobby Mercier. Approximately 30 Tribal members from toddlers to adults joined him.
After Grand Ronde Royalty and Veterans Royalty members introduced themselves, Tribal Council Chairwoman Cheryle A. Kennedy welcomed the crowd to a day of celebration.
"How great is this (to gather in person)?" she said to claps and cheers from the audience. "This is a wonderful time. It's such a great time to get together, to celebrate what Restoration means to us. It was not a small accomplishment. It was a great accomplishment. We were just ordinary people like you, people who came together and said we will not remain a faceless people. … We know who we are. We're the great people who are the Confederated Tribes of Grand Ronde."
Kennedy acknowledged key Restoration figures Marvin Kimsey, Margaret Provost and Merle Holmes, who have all walked on and asked for a moment of silence to remember them and others who worked tirelessly on Restoration efforts.
 "In the spirit world, I believe they are able to hear us," she said. "I want to thank all of them as it was truly a gift that they have given all of us here. Tell your children who these people are. There are very few of us left here today."
The three key Restoration Elders are commemorated with a life-sized bronze sculpture "Visionaries" at the entrance to the Governance Building. It serves as a permanent reminder of their life's work and was designed by Tribal Elder and former Tribal Council member Steve Bobb Sr., who walked on in August 2022.
When Restoration efforts were in full swing, Kennedy recalled late nights attending meetings with local, state and federal officials to advocate for the Tribe, not knowing for sure how the message would be received.
"We would be unexpectedly called in to talk to people and sometimes we would feel awkward, like we were shy, but we knew we had to do it. We persisted. We knew the desire and love in our heart for all of you here, that you could enjoy being a Tribal member, being a person with an identity. We celebrate today because of that. … Restoration was done to restore you: The culture in you, the memories and history, so you know what we did, how we lived and how important that is."
Kennedy also acknowledged past and current Tribal Council members in attendance. She also noted that throughout its 39-year history, there have only been six Tribal Council chairs, including herself.
Past council members in attendance included Reyn Leno, Candy Robertson, Angie Blackwell and the Tribe's eldest Elder and key Restoration figure Kathryn Harrison, who is 98 years old.
Harrison was also gifted with a necklace for the honor of eldest Elder.
All Tribal Council members attended Restoration. They are Cherry, Kennedy, Jon A. George, Kathleen George, Lisa Leno, Secretary Michael Langley, Denise Harvey, Vice Chair Chris Mercier and Brenda Tuomi.
"Thank you for being here," Kennedy said. "Your service is greatly appreciated. … Never will we ever put our destiny in another's hands. We're making it with the help of Creator and moving forward."
At the 35th anniversary event in 2018, Kennedy issued a challenge for all Tribal members in attendance: Find out which Tribal Chief they are descended from. She reissued that challenge at this year's event.
"It's still on the books," she said. "I want you to continue to work on that."
After co-emcee Jon A. George gave the invocation, attendees lined up to feast on fruit, smoked salmon, shrimp, potatoes, biscuits and gravy, roast beef, ham, eggs, sausage, bacon, pasta salads, cheese and crackers, pastries and dessert bars served by casino staff members, who took two days to prepare all of the food.
Raffle drawings were held throughout the event, which included water bottles, Chachalu Museum & Cultural Center gift bags, stuffed animals, a bike and other items.
Restoration ended at approximately 1 p.m. with Jon A. George thanking everyone who had worked to make it a success. After he finished, tables and dishes were quickly whisked away and the Event Center was transformed for the Restoration Powwow.
After the Tribe was terminated by the federal government in 1954, a vast majority of Tribal members were forced to relocate from Grand Ronde in order to survive.
Tribal leaders saw the realization of a dream when the Grand Ronde Restoration Act was signed on Nov. 22, 1983, by President Ronald Reagan. Since then, the Tribe has gone from having little money and only five acres of land to operating a successful casino that generates millions in revenue every year, having its hunting and fishing rights restored, and rebuilding Tribal institutions and culture.
Every year since the Tribe was restored, it has held a celebration that includes a meal, giveaways, speeches, dancing, drumming, singing and a Restoration Powwow. However, in 2020 and 2021 those celebrations were held virtually due to the pandemic.