Culture
Yesteryears - Oct. 15, 2022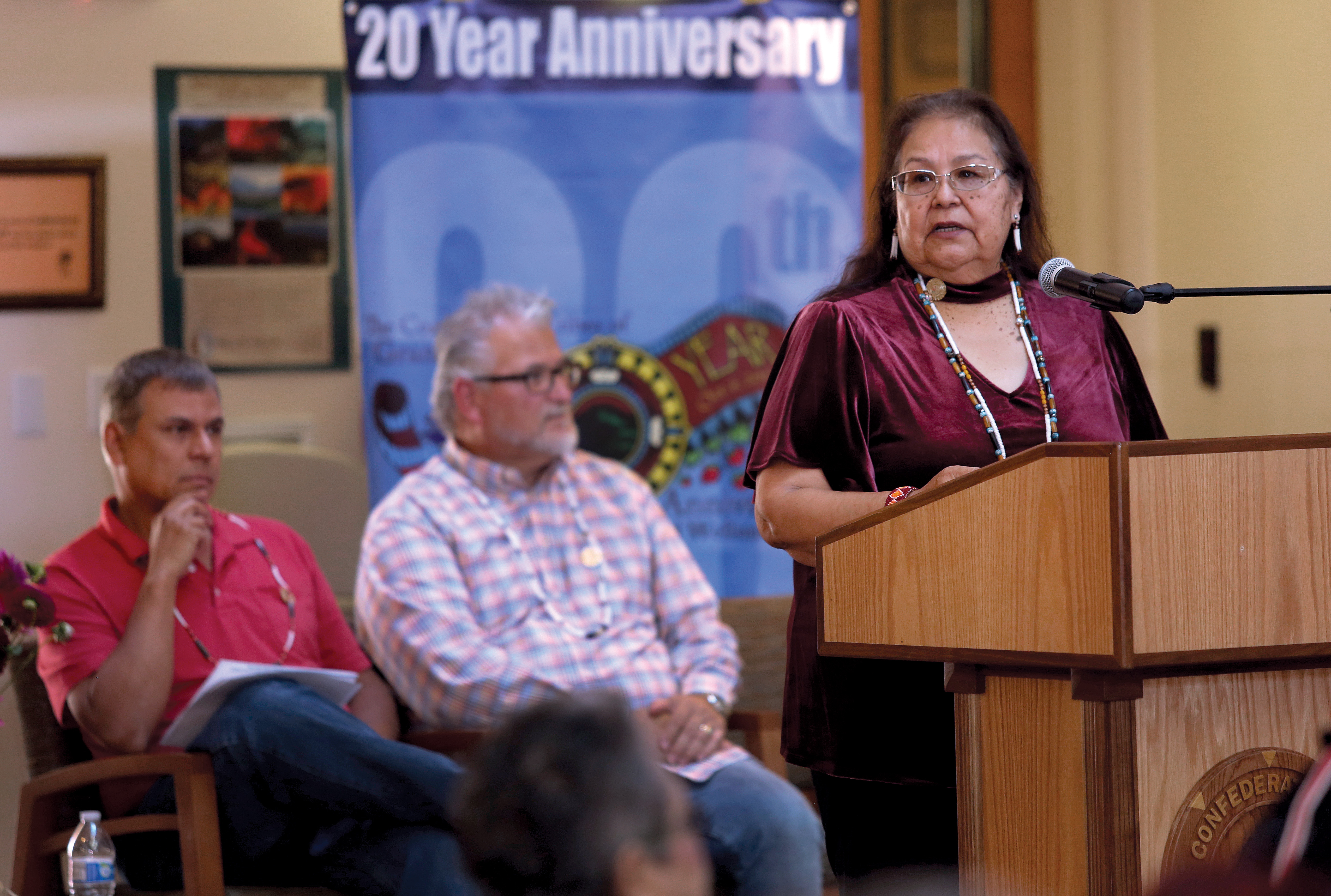 2017 – The Health & Wellness Center feted 20 years of healing with an anniversary celebration. Approximately 100 people attended the event. Grand Ronde Health Services Executive Director Kelly Rowe said it was an honor to serve her Tribe and that the last two decades had been an amazing time of growth and opportunity. Tribal Council Chairwoman Cheryle A. Kennedy, the former Health & Human Services director for the Tribe, gave the keynote address.
2012 – Tribal Elder Kathryn Harrison was named "History Maker" and "Woman of the Year" in the same week. "Nobody has shown more grit," Oregon Historical Society Executive Director Kerry Tymchuk said at the History Maker event. The next night, at the Governor Hotel in Portland, Harrison accepted the 2012 Betty Roberts Woman in Leadership Award from Emerge Oregon, a Portland-based training program for Democratic women.
2007 – A recent shooting at Tribal housing was believed to be gang related, which increased concern among Prostar Security personnel and Tribal Housing authorities. Two bullet holes were found in a stop sign on Tyee Road after unidentified men in a vehicle fired two shots and sped off. No one was injured, but the spike in criminal activity was cause for concern during a housing meeting.
2002 – Employees at Spirit Mountain Casino celebrated seven years of operations with Interim Chief Executive Officer Bill Pierce. A plaque honoring the 1,480 employees recognized them for "exemplary service, commitment to quality and dedication to duty." A separate plaque was presented to Organizational Development and Training Manager Laurie Roe.
1997 – Members of Tribal Council honored health staff and other guests at the dedication ceremony for the new Health & Wellness Center. Royalty and the Grand Ronde Honor Guard were also there to post flags and participate in drumming and dancing. Molly Rimer performed "The Lord's Prayer" in sign language and Nora Kimsey said the blessing. Tribal Council Chairwoman Kathryn Harrison spoke about the importance of health care for Tribal people and how proud she was that the dream of a health center had been realized.
1992 – Newly elected Tribal Council members Kathryn Harrison, Ed Larsen and Andrew Jenness were sworn in at the Tribal offices by Judge Les Marston. Twenty percent of the eligible Tribal voters cast ballots in the election.  
1987 – Samson Simmons, a member of the original "Trail of Tears" families, passed away in September and was buried at the Grand Ronde Cemetery. During the memorial services, Karen Harrison sang "Amazing Grace," the Rev. James Crunican gave a blessing and a eulogy written by Eula Petite was read aloud by Tribal Chairman Mark Mercier.
Yesteryears is a look back at Tribal history in five-year increments through the pages of Smoke Signals.