Tribal Government & News
Facebook Live event explains Nov. 2 constitutional amendment election timeline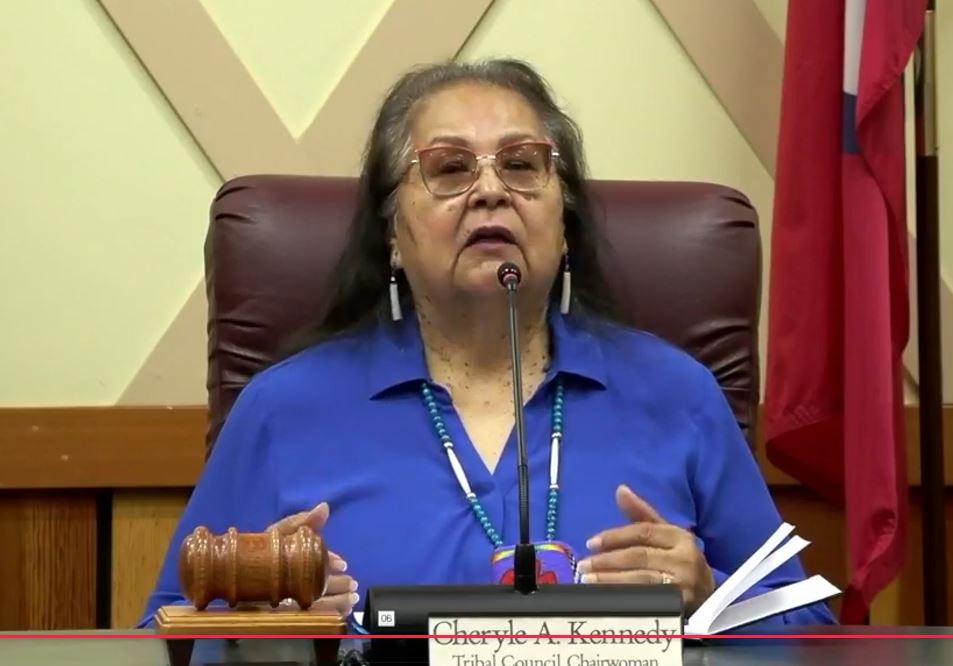 By Dean Rhodes
Smoke Signals editor
Tribal voters will be asked on Wednesday, Nov. 2, to amend the Tribal Constitution to restrict how a Tribal member can be disenrolled to only cases of proven fraud or dual enrollment.
A "unified" Tribal Council approved sending the proposal out to voters during its Aug. 10 meeting and held its first educational meeting regarding the proposal via Facebook Live on Wednesday, Sept. 21. About 80 people listened to the 21-minute presentation.
It will be the eighth time since 1999 that Tribal voters will be asked to amend the Constitution. Only two proposals out of those previous seven votes that included 11 suggested amendments received the required two-thirds majority to alter the Tribe's Constitution.
The proposed constitutional amendment would amend Article V, Section 5 to limit involuntary loss of membership to fraud and dual enrollment, and remove the current language regarding loss of membership for failure to meet enrollment criteria.
Section 5 currently reads, "The Tribal Council shall by ordinance prescribe rules and regulations governing involuntary loss of membership. The reasons for such loss shall be limited exclusively to failure to meet the requirements set forth for membership in this Constitution."
Tribal Council Chairwoman Cheryle A. Kennedy said the creation of the proposed constitutional amendment has been a long process and a response to Tribal members saying there needs to be a remedy to disenrollment.
"We came to this decision based on you, our membership, voice who basically said we need a remedy here, we need a fix," Kennedy said. "Our heart is breaking because our Tribal members are subjected to disenrollment. They're subjected to feeling like they are alienated from their people because of disenrollment."
The proposal comes in reaction to the divisive disenrollment proceedings that occurred in 2015 during which Tribal members were provisionally disenrolled. Eventually, the Tribal Court of Appeals ruled that the Tribal members who were identified for disenrollment because they allegedly did not meet enrollment criteria were to remain in the Tribe because the government had waited too long to start proceedings against them.
Unlike regular Tribal Council elections, a constitutional amendment election will be run by the Bureau of Indian Affairs, which will require Tribal members to register separately to vote. From there, at least 30 percent of those who register to vote must cast a ballot for the results to count and 66.7 percent of those voting must approve the amendment before it can change the Constitution.
In March 2015, Tribal voters were asked to remove the Bureau of Indian Affairs from supervising Grand Ronde constitutional amendment elections, but voters overwhelmingly rejected the idea with 62.4 percent wanting to retain federal oversight.
Senior Tribal Attorney Holly Partridge said that registration packets were scheduled to be sent out by Friday, Sept. 23, and Tribal members must return their registration forms to New Mexico by Tuesday, Oct. 4.
"That is the shortest registration process timeline we have had for an election," she said.
Partridge said that if Tribal members had not received their packets from the BIA by Tuesday, Sept. 27, they should contact Greg Norton at the BIA at 503-231-6723 or via e-mail at greg.norton@bia.gov.
A voter list will be posted on Oct. 7 and Tribal members should ensure that their name is on the list. Ballots will be mailed out no later than Oct. 10 and must be returned by Nov. 2. There is no in-person voting for a BIA constitutional election.
Tribal Council Chief of Staff Stacia Hernandez said there would be two meetings held on Tuesday, Sept. 27, and Thursday, Sept. 29, via Zoom to review the timeline and process for the election. Four longer hybrid in-person/Zoom educational meetings will be held at 5:30 p.m. Thursday, Oct. 13, at Portland State University's Native American Student & Community Center, Room 110; in Tribal Council Chambers in Grand Ronde at 5:30 p.m. Tuesday, Oct. 18; in Salem at 5:30 p.m. Thursday, Oct. 20, in a location yet to be determined; and in Tribal Council Chambers in Grand Ronde at 5:30 p.m. Wednesday, Oct. 26.
"I would say this is one of those decisions that will have repercussions for generations to come," said Tribal Council Vice Chair Chris Mercier. "I happen to be one of the council members who was here for most of the disenrollment proceedings … It was just a very negative experience in watching the way Tribal members turned on each other and the way it just divided this Tribe. I don't want to leave that for future generations. … This is just something that we need to close the door on."
Tribal Council members Michael Cherry and Brenda Tuomi also spoke in support of the proposed amendment.
For more information, visit the Tribal government's website at www.grandronde.org or contact Hernandez at stacia.martin@grandronde.org.