Culture
New West Linn sign celebrates Tomanowos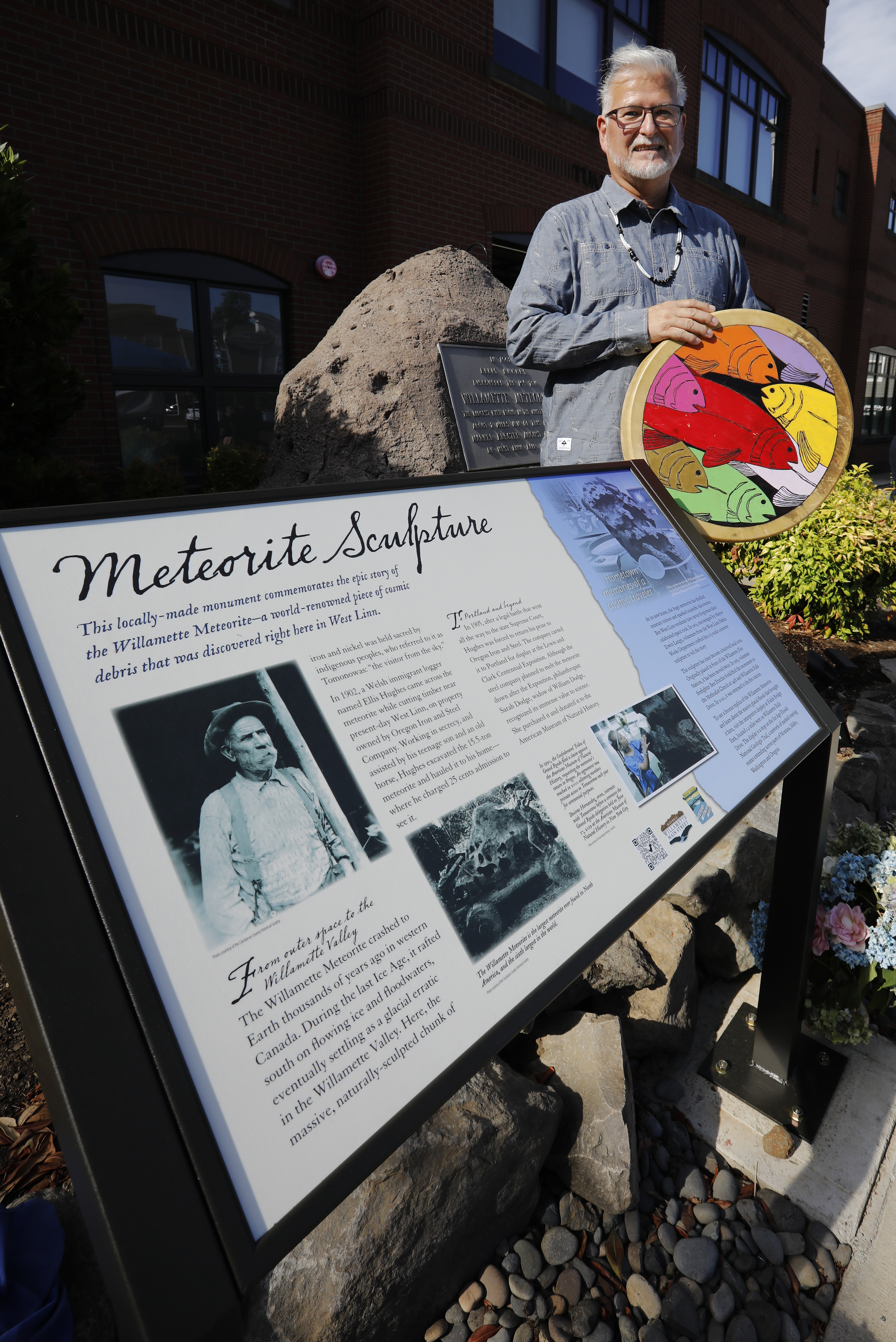 By Danielle Harrison
Smoke Signals assistant editor/staff writer
WEST LINN -- Sixty years ago, the city of West Linn erected a replica marker of the famous Willamette Valley meteorite, Tomanowos. However, there was no mention of the Confederated Tribes of Grand Ronde anywhere in the marker's inscription.
In an effort to tell a more complete story of the meteorite's history, new interpretive signage was unveiled exactly 60 years later on Thursday, Aug. 4, outside the Tualatin Valley Fire & Rescue Station 59 in West Linn, near where the meteorite ended up thousands of years ago.
Grand Ronde Tribal Council member Jon A. George opened the ceremony, which attracted approximately 30 people, with a prayer song and invocation.
He explained to the crowd that the meteorite's name, Tomanowos, means "sky people" in the Chinuk Wawa language. Tomanowos fell from the sky more than 10,000 years ago and came to what is now West Linn by way of the Bretz Floods. Clackamas Chinook Tribal peoples, who lived in the area, believed the meteorite was invested with divine properties and frequently visited it for ceremonial purposes.
"It's a being with power, we recognize that," George said. "The meteorite has always held significance for our people and continues to hold great spiritual and cultural meaning for our people. … The Clackamas Tribes would place their hunting arrows in the meteorite for good fortune, and it also helped with medicinal healing. Today, it still holds a significant place in our hearts."
The new signage came about through the efforts of Historic Willamette Main Street, an organization whose mission is to "celebrate and preserve the rich history and natural beauty of the area."
Thursday's event was spearheaded by the group's secretary, Seaneen Rudkin-Manning.
"I'm very pleased and thankful you came here today," she said. "It takes a lot of people doing a lot of hard work to make something look easy. There are a lot of people who have made this possible."
The new signage includes information about the origins of the name Tomanowos, how the meteorite came to rest in the Willamette Valley and how a Welsh immigrant logger name Ellis Hughes removed the 15.5-ton sculpted chunk of iron and nickel in 1902 and took it to his home nearby, charging visitors 25 cents admission to see it.
Hughes was forced to return the meteorite to Oregon Iron and Steel, which claimed ownership because it was removed from company-owned property. The company planned to melt it down, but that was averted after a New York philanthropist purchased Tomanowos for $20,600 in 1906 and shipped the 31,000-pound meteorite by train to New York City, where it was donated to the American Museum of Natural History.
In November 1999, the Grand Ronde Tribe filed a claim for the meteorite, citing the Native American Graves Protection and Repatriation Act of 1990. In 2000, the Tribe and museum reached an agreement that keeps Tomanowos in New York City and allows annual ceremonial access to Grand Ronde Tribal members.
The new signage mentions this agreement and includes a Smoke Signals photo of Tribal member Desirae Hernandez, then 7, interacting with Tomanowos before the last in-person private ceremony in 2019.
"I've had the honor to go to the Museum of Natural History and perform the ceremony," George said. "Tomanowos will always remain a very important spiritual object and someday may return to our homelands. Thank you for allowing us to be a part of this today."
West Linn City Manager John Williams thanked the Tribe for its partnership.
"You have been incredible partners and we're proud to be a part of that," he said.
Williams also mentioned his own connection to the meteorite.
"I have clear memories of visiting the Museum of Natural History and seeing the meteorite when I was young," he said. "I recall putting my hand on it and I think it is a very powerful thing. It also represents the heart and timelessness of this place."