Health & Education
Great Circle Recovery goes mobile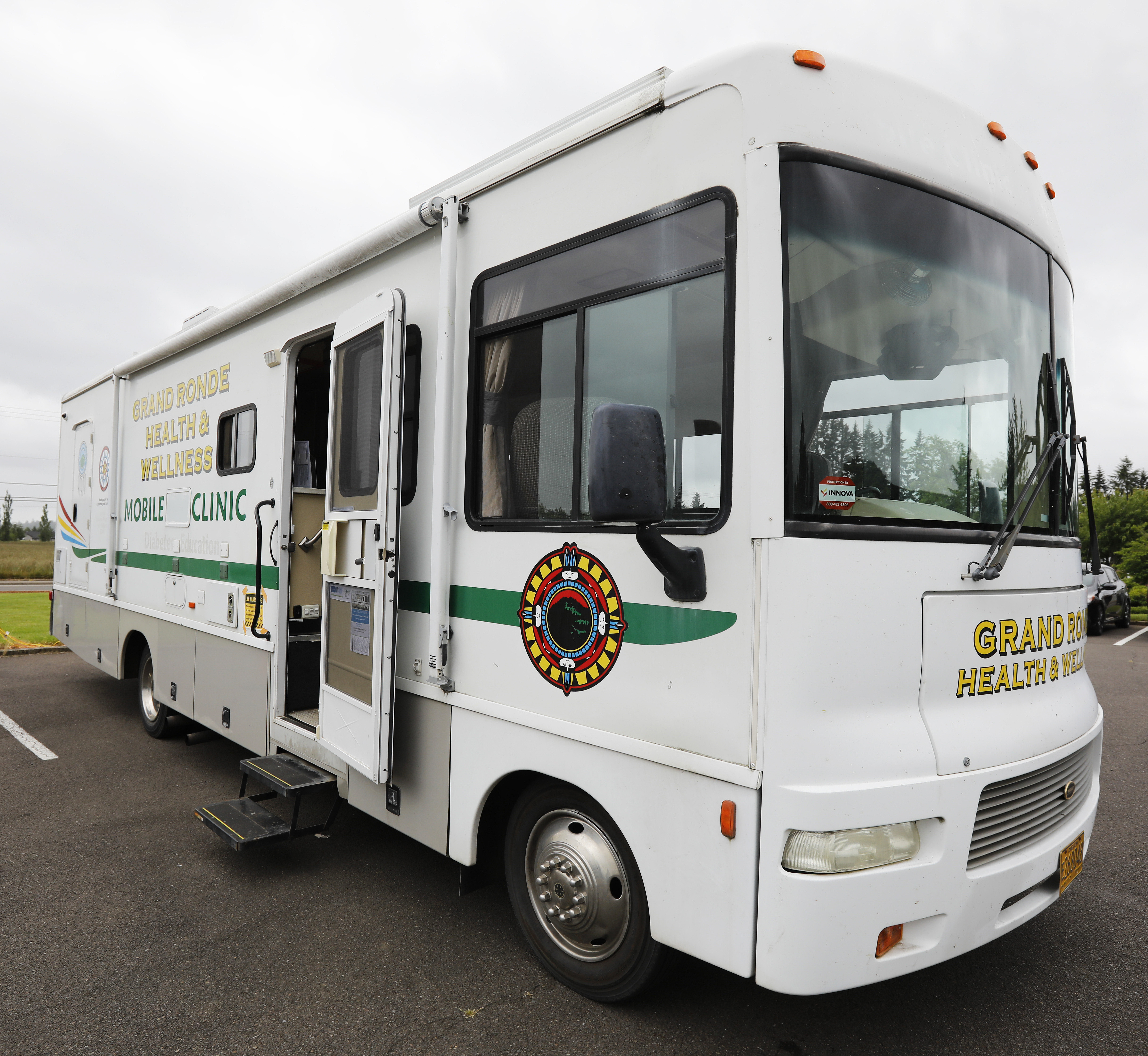 By Danielle Harrison
Smoke Signals assistant editor/staff writer
In its quest to eliminate barriers for those suffering from opioid addiction, Great Circle Recovery Center has added a mobile clinic to its offerings.
The converted motor home includes the same services as the stand-alone clinic in Salem, with remote onsite options for doctor consultations and support groups. The 30-by-10-foot vehicle, a former mobile diabetes unit, was a donation from the Tribe's Health & Wellness Department.
The new service was launched recently in Grand Ronde and is the first of its kind in Oregon or Tribally.
"Once you have a mobile unit, the data shows that you have the ability to increase your [reach] by 50 percent," Great Circle Recovery Operations Director Jennifer Worth said in an e-mail. "We are working on local community partnerships for other services in some of the communities farther out from Salem we will be serving. We are [also] working on a route between Grand Ronde and McMinnville."
Great Circle Recovery Center in Salem is an outpatient medication-assisted opioid addiction treatment clinic and the first Tribally operated facility of its kind in Oregon. It opened to the public in 2021 and by early 2022 it had served more than 200 clients. Plans are underway to open a second clinic in Portland.
Great Circle Recovery worked with Forest River RV of Dallas to redesign the inside, Worth said, as building an opioid treatment program inside a mobile unit is a very new concept overall.
"I know how to build, design and operate [opioid treatment programs], but wanted to work with experts of RV and design," she said. "We contracted with a build team from Forest River [and] our team designed the clinic based on the current requirements … which are very strict and specific. We have to have all the same security in our current clinic in Salem with the mobile unit."
The grant-funded project took three months to complete and was inspected by the Drug Enforcement Agency, which also conducted testing before issuing Great Circle a full license to operate. Additionally, the state of Oregon had to develop and draft guidelines for the mobile unit.
"The Grand Ronde Tribe is doing amazing work helping to support Tribal members, their families and the wider community with their commitment to seeking grant dollars [for] innovative ways to help with addiction and all recovery services," Worth said. "Great Circle Recovery will continue fighting the opioid crisis in Indian Country and across rural and underserved areas with our mobile unit."
She added that the biggest benefits to offering this service are immediate access without travel to Salem for Grand Ronde Tribal members, same day walk-in services available, daily medical observation, intakes, medical visits, urine analysis, counseling visits and help with insurance paperwork.
The mobile unit is in Grand Ronde at the upper Health & Wellness parking lot from 9 to 11 a.m. Monday through Friday. Hours may be expanded based on client need.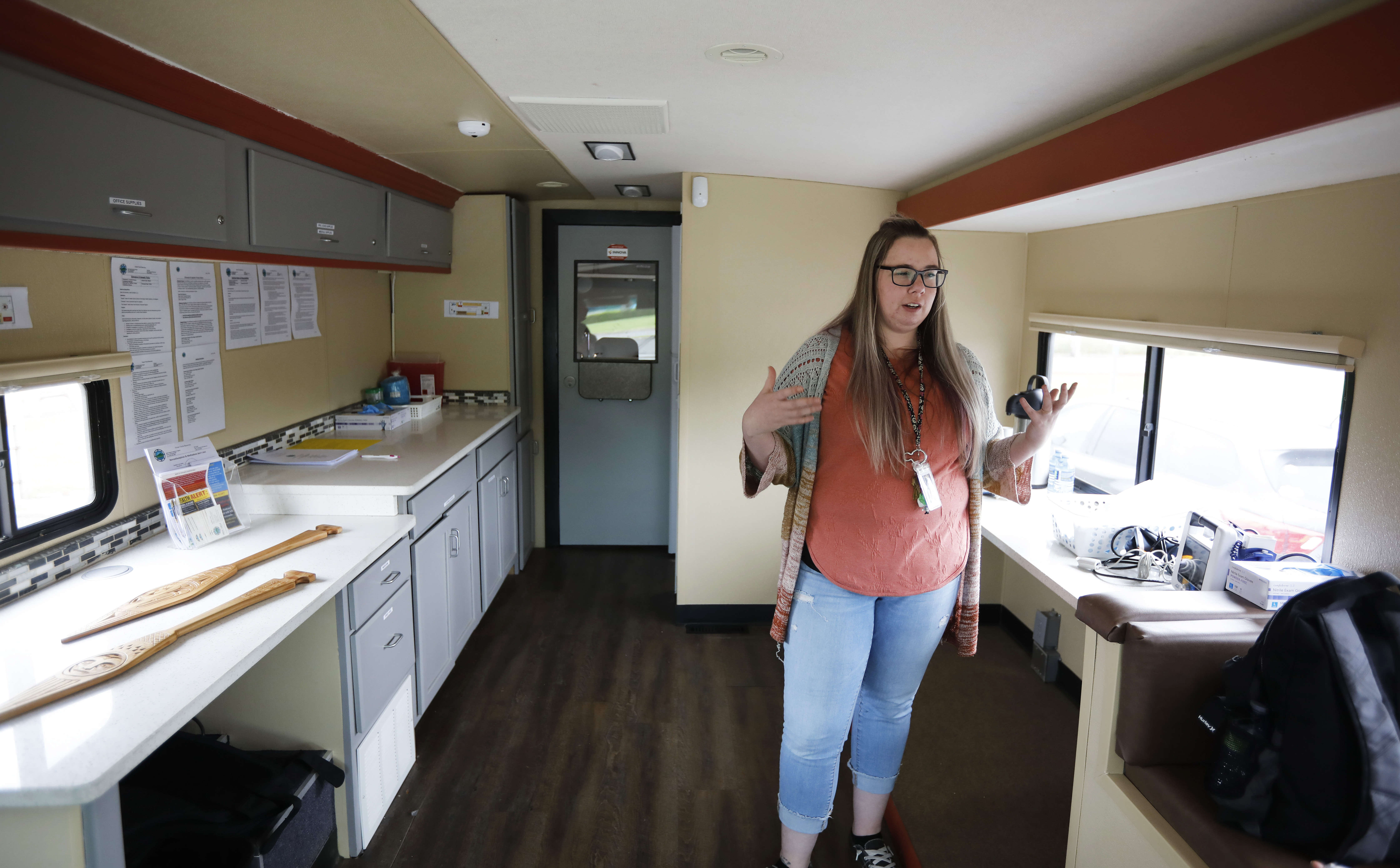 Great Circle Recovery Licensed Practical Nurse Emily Jones talks in the protected nurse's station in the mobile unit the Salem-based clinic uses to provide medication-assisted opioid treatment services on the Grand Ronde campus on Tuesday, June 28. (Photo by Timothy J. Gonzalez/Smoke Signals)
Great Circle Recovery Licensed Practical Nurse Emily Jones works at the mobile unit and says client feedback has been positive so far.
"They appreciate the quick access to medication and that it is close to home," Jones said. "We're trying to eliminate the transportation barrier to getting services. Transportation is an issue for our clientele and having that barrier lifted is huge for people. … We have all the medication here and clients can talk to a counselor in a separate area if needed. This is open to everyone."