Health & Education
85 Tribal graduates honored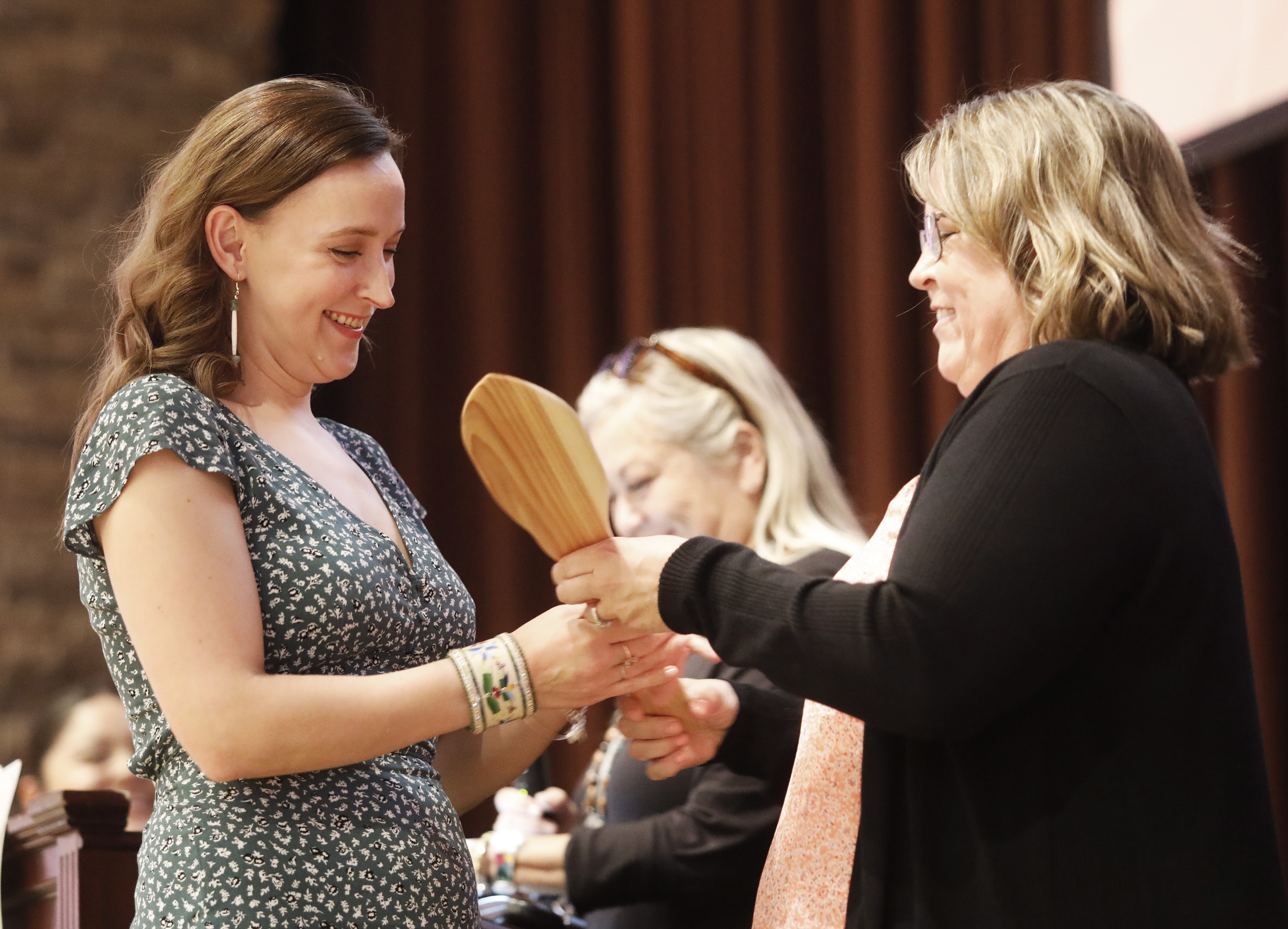 By Dean Rhodes
Smoke Signals editor
The Tribe's Education Department honored 85 Tribal members who graduated from eighth grade through earning doctorate degrees during a graduation celebration held Thursday, July 7, at Spirit Mountain Casino.
Education Department Director Angela Fasana welcomed attendees and Tribal Council Secretary Michael Langley gave the invocation.
Following a dinner, University of Oregon graduate Kayla Kneeland gave the keynote speech before graduates were honor.
Those honored included:
Eighth grade promotions: Gracee Allen, Lilly Bigelow, Aiden Campbell, Ayianna Haller, Ezra Haller, Shaiyla Krebs, Rosenda Lachelle Soto, John Marrufo, Tyler Mercier, Sophia Ortiz, Juliana Peters, Alex Pittman, Orrin Reid, Adriana Sanchez, Dominic Shaw, Clara West and Jerome Williams.
High school graduates: Zachary Allen, Eli Davis, Daysia Duran, Cameron Fugate, Noah Gerbrandt, Kylie Gonzalez, Stormy Griffin, Dane Haller, Aiden House, Talia Marrufo, Audrey Mercier, Mason Mercier, James Pena, Nakai Rock, Noey Sanchez, Brooklyn Schweitze, Jacey Smith, John Stryker, Jaysson Swirtz Ferdig, Zachary Tasa, Braxton Tucker, Madalyn Volz and Mckenzie West.
Certificates: Joseph Suderman and Jamie Upton.
Associate degrees: Joshua Biery, Teresa Henry, Amanda Langley, Tara Leno, Reschele Markey and Dakota Zimmer.
Bachelor's degrees: Noah Bean, Justine Cooney, Justin Fasana, Brooke Flores, Izayah Hall, Evan Harvey, Tayler Hill, Sacheen Lampert, Brayden Langley, Faith Leas, Julie Lomboy, Jordan Montgomery, Ryan Ness, Brooke Reibach, Emily Reibach, Sabrina Shandy, Allegra Simmons, Carolyn Smith, Jonathan Tasa, Star Weatherall and Travis Wilson.
Master's degrees: Hailey Biagi, Kara Bonham, Christopher Dickie, Shawn Haggerty, David Holmes, Kayla Kneeland, Jesse Lippold,  Jennifer Murphy, Luke Parazoo, Heather Rasmussen, Angelina Speltz, Jillian Terry, Gracen Tichelaar and Ashlee Webb.
Doctorate degrees: Maya Frost and Lenae Rose.
Fasana also gave the closing remarks and program gave special thanks to the current members of the Education Committee – Valeria Atanacio, Tammy Cook, Christopher Mansayon, Peter Grout, Michael Herrin, Tyla Lagoy and Shelby Maerz.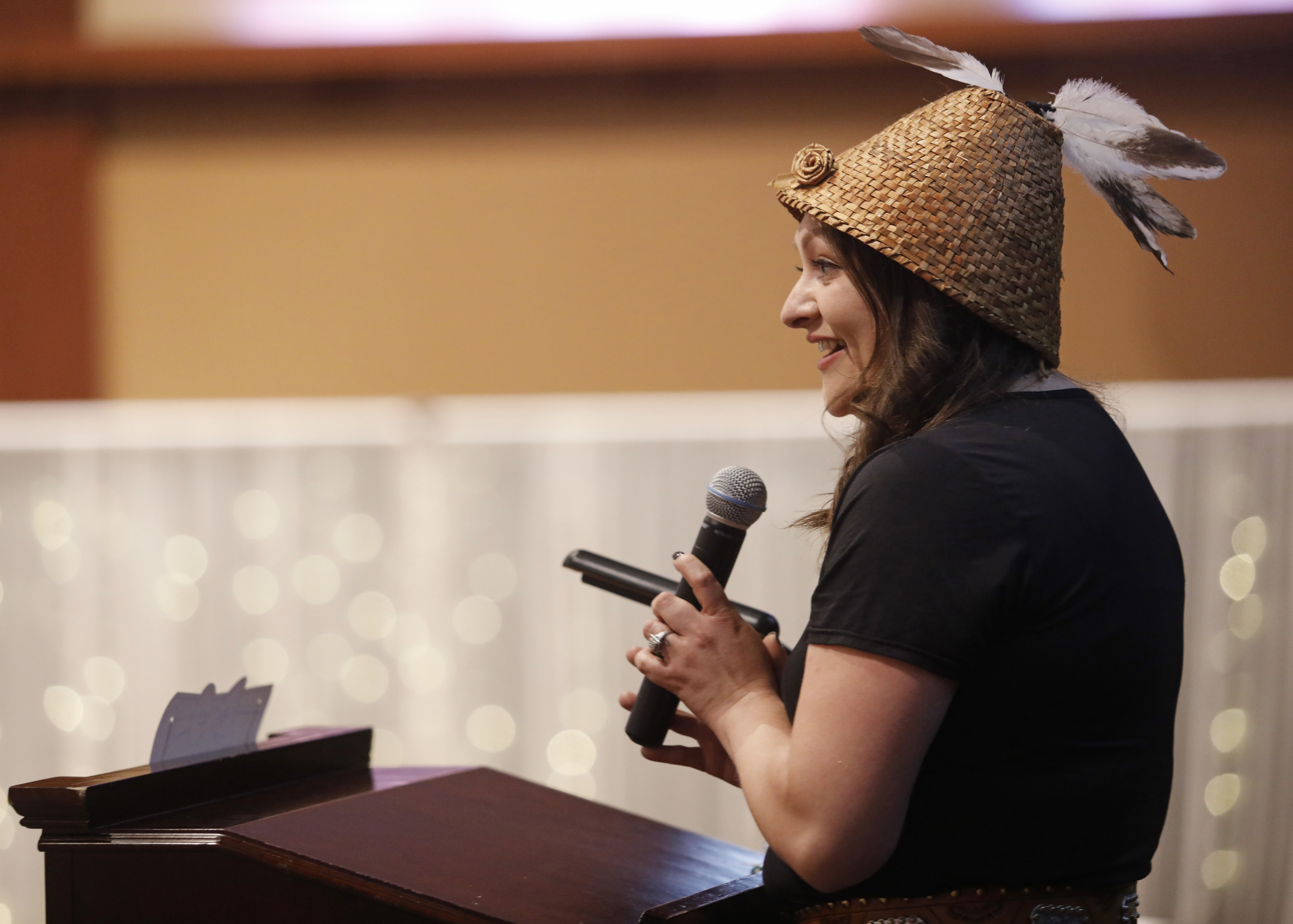 Tribal member and 2022 University of Oregon graduate Kayla Kneeland gives the keynote address during the 2022 Honor and Recognition event at Spirit Mountain Casino on Thursday, July 7. Kneeland was one of 85 Tribal members honored during the event, which recognized students from eighth grade through doctorate level. (Photo by Timothy J. Gonzalez)