Health & Education
Tribe honors 78 graduates during virtual celebration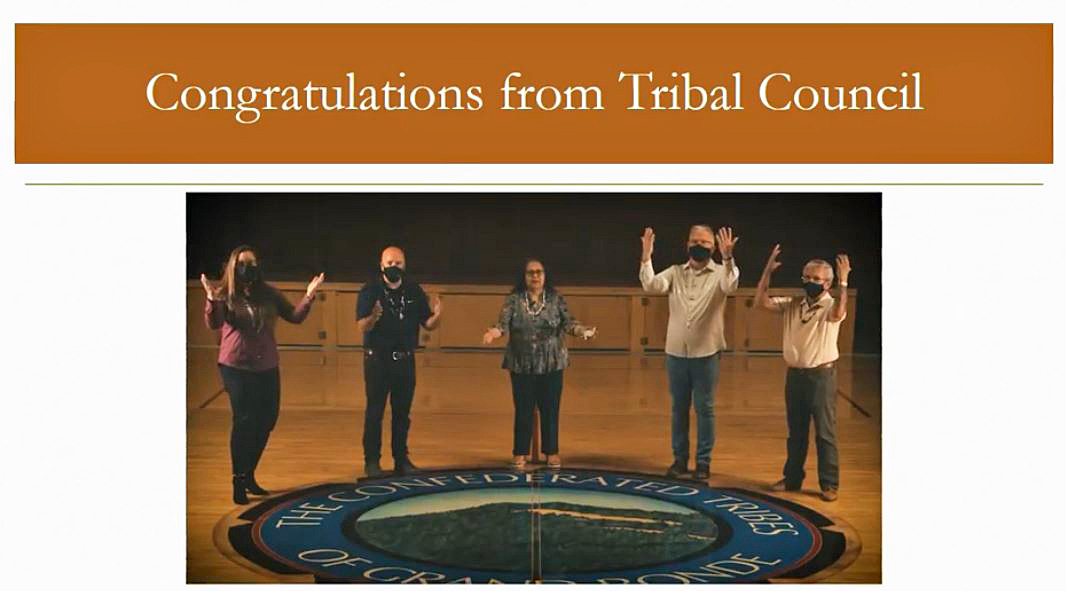 By Danielle Harrison
Smoke Signals staff writer
The Confederated Tribes of Grand Ronde honored 78 graduates earning eighth-grade promotion certificates through graduate degrees during the virtual Honors and Recognition Graduation Celebration held Friday, June 18.
Due to continuing COVID-19 restrictions, the ceremony was held virtually for the second year in a row. Two videos, one featuring GED and college graduates and another featuring high school graduates and eighth-grade promotions, were streamed on the Grand Ronde Education Program's Facebook page.
The videos began with Education Department Manager Angela Fasana offering graduates congratulations.
"Congratulations on reaching this milestone in your life," she said. "It's a huge accomplishment and it is lots of work. You have given us something to celebrate this year. We hope someday your journey will bring you back to the Tribal campus, working with Tribal government, but wish you well wherever your journey leads."
Education Committee Chair Tammy Cook and other members also congratulated all of the graduates, along with Higher Education Manager Brian Langley, Youth Enrichment Manager Tim Barry, the Youth Empowerment Prevention Team and other staff members.
Tribal Council Chairwoman Cheryle A. Kennedy said that this past school year has been like no other.
"This year has been a year of obstacles," she said. "You as students have gone through a time no other students have had to. For all of your hard work, you've come to this day and this time of your graduation. Tribal Council stands before you to honor you and celebrate you."
All graduates' names will be added to a plaque with other graduates that lines the wall in the Adult Education Building.  
Tribal graduates honored this year were:
Eighth grade: Owen Graham, Izzy Youso, Taytum West, Daneyella Davis, Michael Smith, Katherine Stryker, Sean Gerbrandt, Madison Grant, Matthew Trump-Torres, Austin Carrasco, Gracie Mercier, Braxton Stonebrink, Grayson Farr and Moriah Langley.
High school: Kaleb Allen, Dominik Briant, Olivia Hughes, Joshua Rye, Gabriel Keith, Liam O'Gallachoir, Sophia Morning-Star, Isabelle Grout, Jason Page, Makai Simmons, Inatye Lewis, Moses Mercier, Vivyan Lopez, Aiyanah Larsen, Mabel Brisbois, Ian Davis, Caty McCormick, Prommisse Thornley and Neeko Gilbert.
GED: Dillon Gibbons.
Associate degrees: Isabell Bobb, Jessica Fore, Nathan Fugate, Kaelyn Gleason, Joseph Ham, Taylina Jeffers, Keri Kimsey, Madison Leno, Megan Love, Justin Parazoo, Tisha Pellett, Nathan Rolston, Trinity Sherwood, Mike Smith and Jessica Winder.
Bachelor's degrees: Anthony Ahedo, Taylor Bradford, Gabrielle Colton, Bailey Daniels, Samantha Furtado, Dustin Hawks, Zoey Holsclaw, Cassandra Hughes, Jesse Norton, Abigail Portwood, Michael Reyes, Samuel Riding In, Katie Schmitt, Thomas Schmitt, McKenna Thomas, Christian Trimpe, Gary Westley, Crystal Goldade  and Allison Wockenfuss.
Master's degrees: Valeria Atanacio, Melinda Bonson, Bradly Dorman, Tricia Gray, Christopher Mercier, Veronica Montano, Bryanna Trevino, Lela Weeks, Lindsay McCue and Charlotte Weiss.
Those earning a GED, certificate or associate degree received a Pendleton saddle blanket. Bachelor degree graduates received a Pendleton blanket and those who earned a graduate degree received a Pendleton blanket and carved paddle.