Culture
Veterans Powwow slated for July 8-10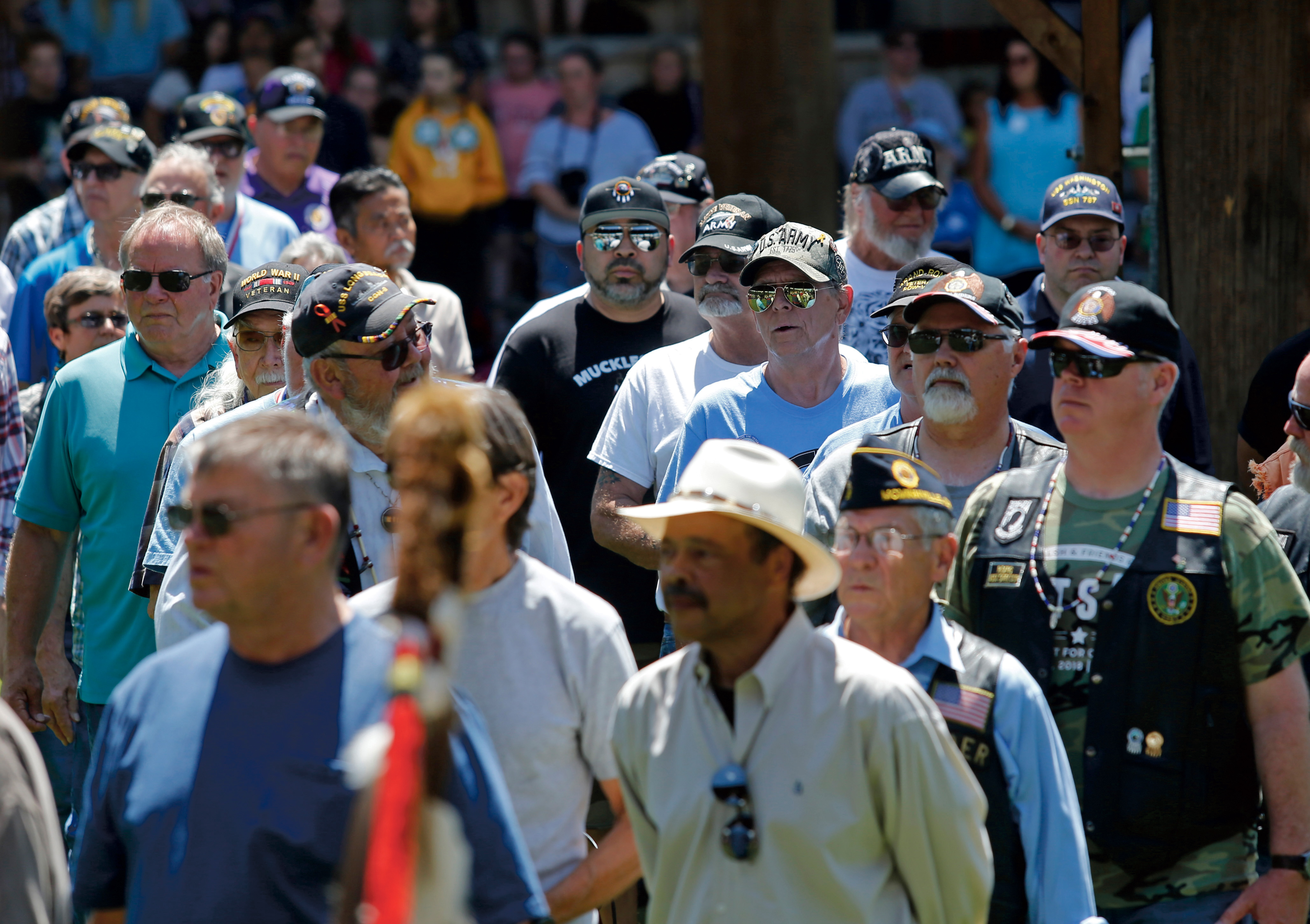 Marcellus Norwest Memorial Veterans Powwow
When: Grand entries at 7 p.m. Friday, July 8; 1 and 7 p.m. Saturday, July 9; and noon Sunday, July 10. Royalty pageant at 11 a.m. Friday with coronation at 5 p.m.
Where: uyxat Powwow grounds, 9600 Hebo Road
Cost: Free
---
By Danielle Harrison
Smoke Signals assistant editor/staff writer
The first big event to return to Grand Ronde since the outbreak of the COVID-19 pandemic in March 2020 will be the Marcellus Norwest Memorial Veterans Powwow, and organizers are preparing for a crowd.
"What I'm thinking is that as more people hear that we're having the powwow, we might have a lot of people here," said organizer and Grand Ronde Tribal Elder Steve Bobb Sr., who is also a Vietnam War-era Marine Corps veteran. "There haven't been any big events for quite a while."
The powwow will begin at uyxat Powwow Grounds off Hebo Road with a Veterans Royalty pageant at 11 a.m. Friday, July 8, and conclude with a grand entry at noon Sunday, July 10.
The last Veterans Powwow was held in 2019, and few things have changed for this year's format, except there won't be an official Veterans Summit that began in 2013 in an effort to connect veterans with their federal benefits. Instead, organizers and volunteers are encouraging informal group discussions. In the past, the summit included several guest speakers from various veterans' organizations and government agencies, but due to consistently low attendance, organizers decided to shift to a more casual format.
"They still wanted to participate in some way so we are doing that," Bobb said.
Additionally, meals will not be served, but attendees will have a variety of onsite food vendor selections.
Bobb added that excitement is building for the first large post-COVID event.
"It's exciting that we finally have some sort of normalcy," he said. "We're not sure how it will all go, but we're trying to get things into place to make sure we are covered if lots of people show up."
Bobb said that it is important to honor and recognize veterans.
"Especially in today's world, it's even more important," he said. "The nation is hanging on the edge of something happening and it's always the young people who bear the brunt of those decisions. We need to be there for those who served their country."
This year's host drum will be Indian Hill with master of ceremonies Nick Sixkiller and Grand Ronde Tribal member Anthony Quenelle serving as arena director. His wife, Ramona Quenelle (Pit River), who serves as the Tribe's first Veterans Service Officer, will have a booth at the powwow dedicated to veterans.
The Navy veteran usually dances at the powwow, but she will be dedicating her time at this year's event to helping veterans with whatever assistance they may need. This includes filling out benefits claims, making appointments, clothing allowance applications or interviews to determine what an individual veteran should receive in compensation for service.
"During the past two years, face-to-face interactions with veterans was extremely limited," Quenelle said. "In 2021, I did a lot of outreach to Tribal veterans via mail, phone and e-mail, but I am very excited about this in-person event because this will give me the opportunity to see and visit with many veterans who I've only gotten to meet with distantly prior to now."
She added that every veteran who visits her booth will be entered into a drawing for various prizes including T-shirts, lap saddle blankets and gift cards.
"I am hoping it will be a lot of fun for veterans, but one of my main goals this year is to identify veterans in our local area, identify which (ones) are already service connected and assist those veterans who are not service connected with filing claims for compensation," Quenelle said.  "One thing I would like veterans to know is that I can assist them with filing their claim and I will walk with them through the entire process."
Quenelle adds that Veterans Affairs systems can be overwhelming, confusing and frustrating to navigate.
"My job is to cut through all that and focus on assisting the veteran with their claim because if service connection is granted, it benefits the veteran and his/her family directly," Quenelle said. "That is the most important thing: Veterans who have served our country get connected to the benefits they have earned. But to get there, they must apply for those benefits, which is what I will assist them with doing."
Powwow attendees may also notice some improvements to the physical location itself.
"The powwow grounds have gone through an array of upgrades over the past two years," Tribal Engineering and Planning Manager Ryan Webb said. "Some are very visible while others are not."
Upgrades include:
An expansion of the powwow arbor, which added an additional 14 feet of covered area to the perimeter and a new concrete sidewalk installation. The roof also was upgraded with new water-proofing and a cedar roof.
Additional bleachers around the perimeter for Elder seating.
Upgrades to the Wi-Fi service to provide better connectivity.
Reseeding and leveling the powwow grounds, which make them easier to navigate.