Culture
Yesteryears - June 1, 2022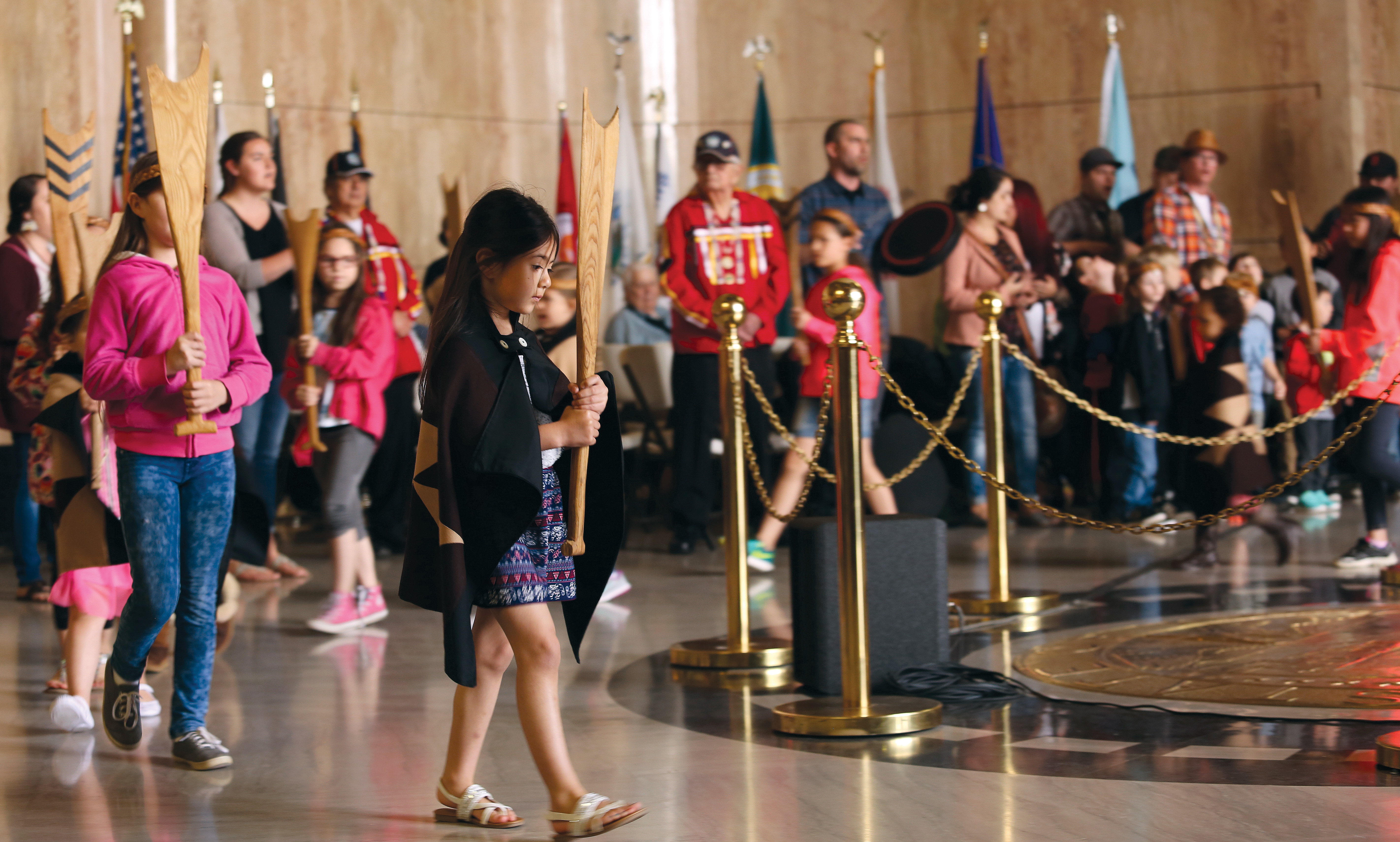 2017 – Tribal children took center stage at the State Capitol during the Legislative Commission on Indian Services/Nine Tribes Spring Celebration. Tribal children in the K-3 and Lilu programs in Grand Ronde performed two dances and a song, and five members of the Grand Ronde Youth Council accompanied Tribal Council Vice Chairwoman Cheryle A. Kennedy when she spoke to approximately 200 people gathered under the Capitol's Rotunda. The theme of the Spring Celebration was "Sharing Our Traditions: Teaching Our Children to Build Strong Tribal Nations."  
2012 – The annual Grand Ronde Memorial Day ceremony focused on Vietnam-era veterans with Tribal Council Vice Chair Reyn Leno and Tribal Council member Steve Bobb Sr. serving as the primary speakers during the event. Both served in the Marine Corps during the Vietnam War. Jim Willis, director of the Oregon Department of Veterans Affairs, read a national proclamation that honored the 50th anniversary of the start of the Vietnam War.
2007 – Oregon's nine federally recognized Tribes all endorsed Sen. Gordon Smith, a Republican from Pendleton, for re-election at a news conference held outside the World Trade Center in downtown Portland. "Senator Smith has always promoted Tribal sovereignty, has promoted economic development and has always expressed a willingness to sit down with Tribes and hear their concerns," Grand Ronde Tribal Council Chairman Chris Mercier said.
2002 – Grand Ronde Tribal youth put on a strong show of force at the state track and field finals in Monmouth representing Willamina High School. At the state meet, Tribal member Matt Zimbrick won second place in the triple jump while Tribal member Caitlin Zimbrick took first place in the long jump.
1997 – Grand Ronde Tribal representatives met with Oregon congressional representatives and aides in Washington, D.C. The meeting's purpose was to educate the senators and representatives on federal Indian law and Tribal issues. Oregon Rep. Elizabeth Furse led the briefing with an overview of Northwest Tribal history. Tribal Council Chairwoman Kathryn Harrison testified about Tribal history from the Trail of Tears to Restoration and current times.
1992 – The Tribal Health Department was planning a wellness and spirituality conference at the Red Lion Inn in Portland. The theme was "Walk in Balance: Wellness & Spirituality," and would include workshops, speakers, recreational activities and a powwow. Grand Ronde Tribal member Cecile Kneeland was planning to present a seminar called "Traditions and the Cradleboard."
1987 – Tribal Council was meeting with local residents from Sheridan, Willamina and Grand Ronde who had concerns and questions regarding the Grand Ronde Reservation Plan. "Although we can't give a specific date for introduction of congressional legislation yet, we hope it will be quite soon," Tribal Council Chairman Mark Mercier said.
Yesteryears is a look back at Tribal history in five-year increments through the pages of Smoke Signals.