Tribal Government & News
Tribal Council approves purchasing Wiseman Island property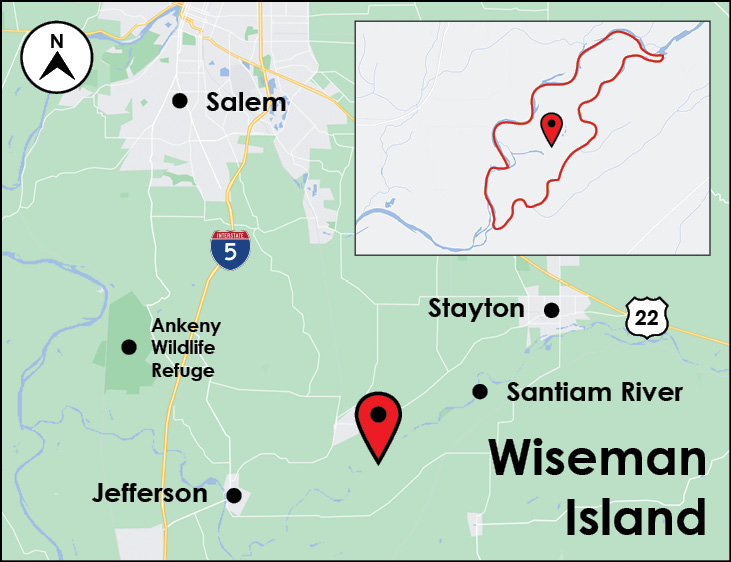 By Dean Rhodes
Smoke Signals editor
Tribal Council approved a purchase and sale agreement for approximately 71 acres of Wiseman Island located in the North Santiam River southeast of Salem during its Wednesday, May 18, meeting.
Wiseman Island is about 300 acres and consists of a series of small islands and gravel bars created by the meandering river. Much of the area is owned by the Oregon Department of Fish & Wildlife.
The property, which is being purchased from the Michael C. Harbison Trust, boasts floodplain habitat for fish and wildlife and will be an "excellent" addition to the Tribe's conservation efforts regarding natural and cultural resources, a staff report says.
It also is about five miles southwest of the Tribe's Chahalpam conservation properties.
The Tribe is purchasing the property for $200,000, Tribal Lands Manager Jan Michael Reibach said.
In other action, Tribal Council:
Approved a per capita distribution date of June 10;
Sent proposed amendments to the Enrollment Ordinance out for a first reading, which will give Tribal members 30 days to comment. The amendments would allow Tribal Children and Family Services staff members to have access to kinship reports and birth records for use in protecting Tribal children and serving their families;
Appointed Jenny VanAtta to the Election Board with a term expiring in March 2023, appointed Tim Holmes to the Fish & Wildlife Committee with a term expiring in March 2024 and appointed Joanna Brisbois to the Enrollment Committee with a term expiring in March 2024;
Approved a memorandum of agreement with the Indian Health Service to accept a maximum $429,840 to upgrade the Tribe's waste water treatment plant. Engineering and Planning Manager Ryan Webb said the upgrades will update the plant's software system, increase capacity and purchase backup equipment;
Approved the draft language for residential leases at Tipsu-ili'l, the Tribe's first homeownership development currently being constructed at the east end of McPherson Drive off Grand Ronde Road;
Approved a utility easement agreement with Portland General Electric for Chemawa Station in Keizer, which is co-owned by the Confederated Tribes of Grand Ronde and Confederated Tribes of Siletz;
And approved increasing a Willamette Anchor Habitat Investment Opportunity Grant application from $300,000 to $401,294 because the Tribe was the only applicant for the funds. Tribal Council previously approved applying for the grant that would be used to replace two failing stream crossings and modify a berm on the Tribe's Chahalpam conservation properties located in Marion County during its April 20 meeting.
Also included in the May 18 Tribal Council packet were approved authorizations to proceed that increase the lifetime amount a Tribal member can receive from the Down Payment Assistance Program to $20,000 and increases the amount a Tribal member can receive from the Property Improvement Matching Grant program from $4,000 to $5,000.
To watch the entire meeting, visit the Tribal government's website at www.grandronde.org and click on the Government icon and then Videos.