Culture
Memorial Day event returns to almost normal on May 30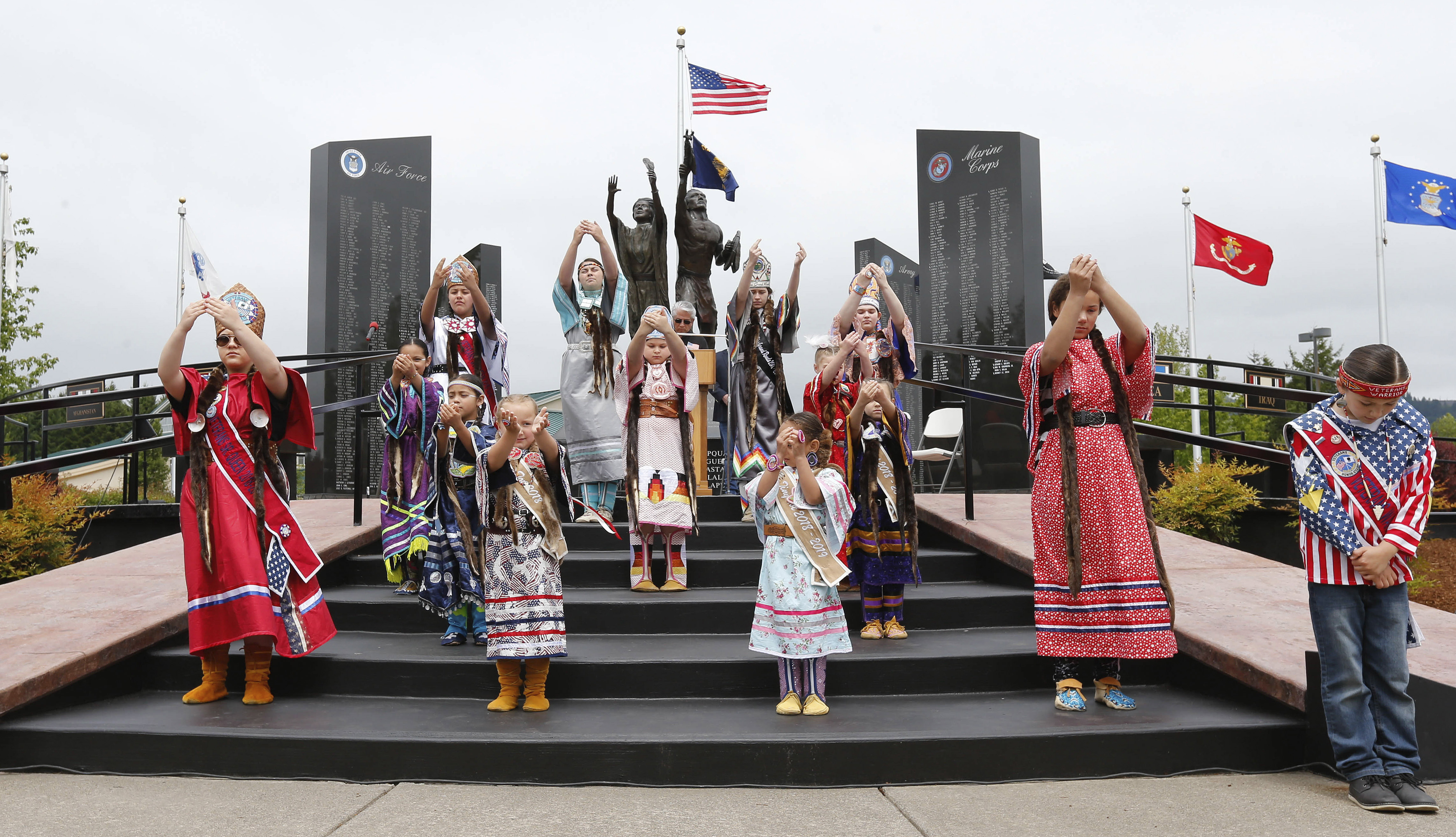 By Dean Rhodes
Smoke Signals editor
Unlike many annual Tribal events, the Memorial Day celebration at the West Valley Veterans Memorial only took a one-year break after the beginning of the COVID-19 pandemic in March 2020.
The event returned in May 2021, but it wasn't quite back to normal.
Attendance was limited to 50 people with invited guests only. The usual meal that precedes the event held inside the Community Center was canceled and boxed lunches were handed out for consumption onsite or later.
In addition, everything occurred outdoors with mask wearing and social distancing encouraged.
But this year's event on Monday, May 30, will be almost back to pre-pandemic normal with the noon meal held outside the Community Center served under a tent by Tribal Nutrition Program employees. It will be followed by the 1 p.m. ceremony, which will be open to the public with no attendance restrictions or mandatory mask wearing or social distancing.
The four pillars at the West Valley Veterans Memorial feature the names of Tribal and community members from Grand Ronde, Willamina and Sheridan who served in the four major branches of the U.S. military – Army, Navy, Air Force and Marine Corps. The addition of 12 names total in 2020 and '21 increased the number of those honored on all four pillars to 2,374.
This year, four names will be added – Air Force veterans Henry Edwin Sjogren and Chester Dale Bowyer, Navy veteran William Albert Hulling and Army veteran Larry Eugene Darling – and increase the number of names to 2,378. Darling is the sole Tribal member being honored this year.
The memorial was designed by Tribal Elder Steve Bobb Sr., a Vietnam War-era Marine Corps veteran, and features a man and woman dressed in traditional Native clothing standing side by side while reaching for the sky.
Bobb will once again serve as the master of ceremonies and provide the invocation. The Grand Ronde Color Guard will bring in the colors and Tribal youth JC Rogers returns to sing the national anthem. Tribal members Anthony Quenelle and Travis Stewart will provide the drumming and Bryan Shirley has been tapped to play taps.
This year's keynote speaker will be Marine Corps Sgt. Maj. Rod Beach, who served two tours of duty in Vietnam and worked for the Oregon State Police.
This will be the 19th Memorial Day celebration at the West Valley Veterans Memorial because the 2020 event was not held because of the pandemic.