Tribal Government & News
Tribe begins second round of demolition work at Blue Heron site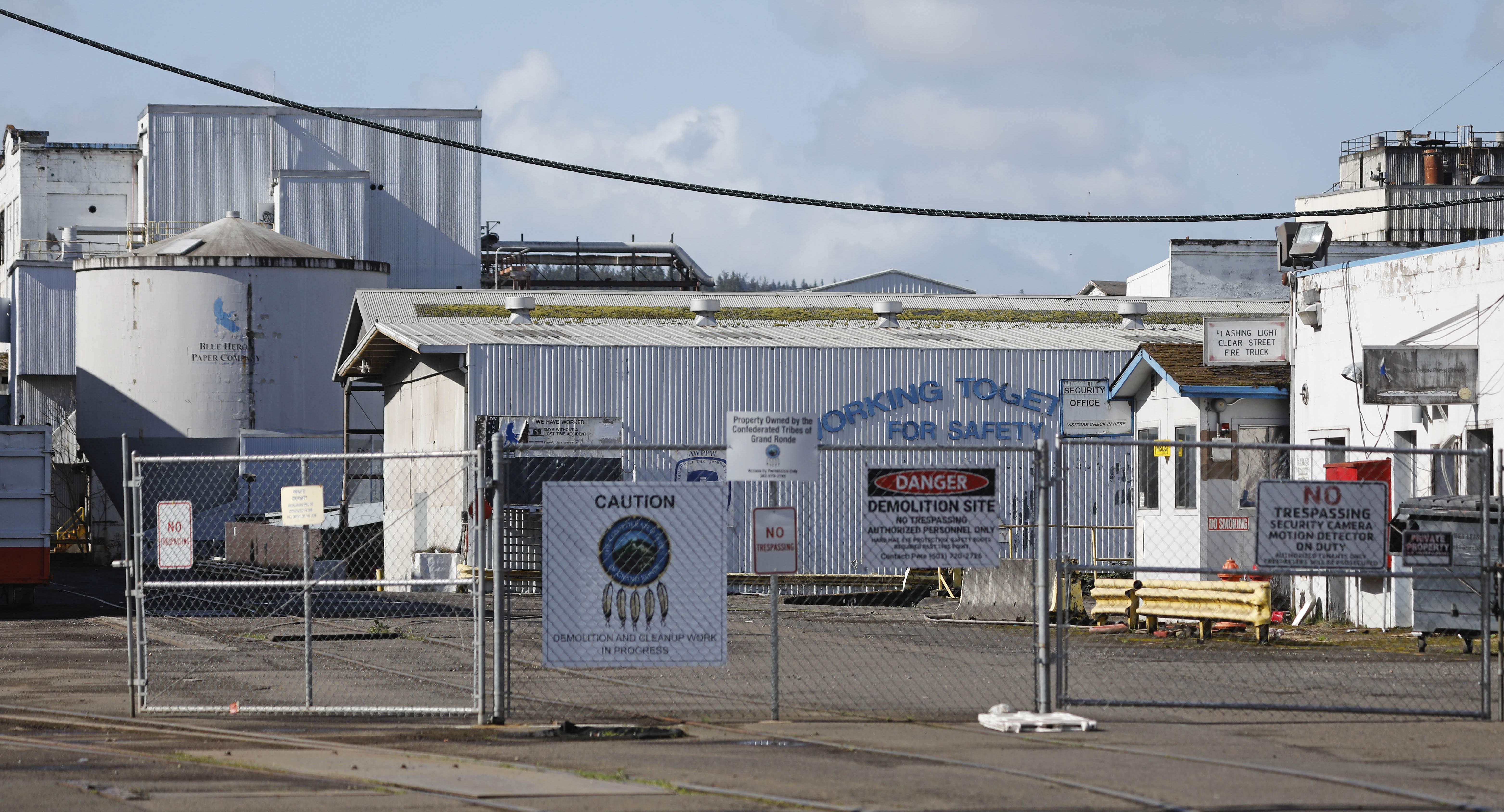 By Dean Rhodes
Smoke Signals editor
OREGON CITY – The Confederated Tribes of Grand Ronde started the second round of demolition on Monday, April 4, at the former Blue Heron Paper Mill site it purchased in August 2019.
The continued demolition will take down the site's water filtration plant, millwright shop, auto shop and carpentry shop.
Oregon City staff approved some demolition permits in March and the Tribe is expecting the permits for the auto and carpentry shops will be approved by Friday, April 15.
The structures in this demolition phase are visible from Main Street in Oregon City.
In total, the Tribe stated in a press release, the second round of demolition will take seven to eight weeks and work on the water filtration plant is expected to take the longest time at four to five weeks. The other three buildings are expected to take a week each.
"The demolition of these buildings provides visual progress on the site all the while much hard work, planning and visioning has been done by the Confederated Tribes of Grand Ronde since their purchase of the former Blue Heron paper mill," said Oregon City Mayor Rachel Lyles Smith. "The Oregon City community is looking forward to the next phases and future developments on the site, and excited by the speed and pace of progress."
As the demolition continues, public spaces will begin to take shape as one of the site's main gathering places for Tribal members and the public will begin to emerge. Currently, that space is taken up by three of the four buildings targeted for demolition.
"We are pleased to start the second phase of demolition and make further progress toward implementing our vision – restoring the land and creating opportunities for all Oregonians to access this special site," Tribal Council Chairwoman Cheryle A. Kennedy said in a press release.
Since purchasing the property for $15.25 million in August 2019, the Tribe has released its vision statement for the site in March 2021, started environmental remediation in August 2019, launched demolition in September 2021 and secured federal support by obtaining an $800,000 Environmental Protection Agency grant in May 2021 and $2 million in federal funding included in the appropriations bill signed into law in March.
Tribal Council approved an almost $850,000 contract with Elder Demolition of Portland in May 2021 to begin demolishing the more than 50 abandoned and dilapidated buildings on the 23-acre site.
The Tribe also has scheduled a Blue Heron Project update for Tribal members at 5:30 p.m. Wednesday, April 13. The update will be conducted in executive session.