Tribal Government & News
Beer recognizes Grand Ronde's ancestral homelands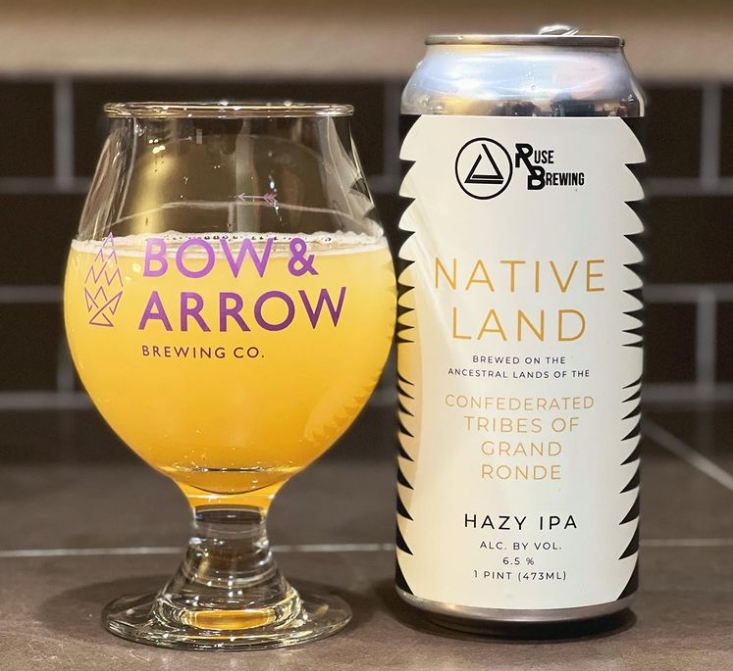 PORTLAND -- Ruse Brewing introduced a new collaboration beer called "Native Land" to its taproom at 4784 S.E. 17th Ave. in Portland on Thursday, Dec. 23.
With gold lettering that matches the color of its hazy IPA, the beer's label reads "brewed on the ancestral homelands of the Confederated Tribes of Grand Ronde."
According to Ruse Brewing's tap list, proceeds from sales of the beer will be donated to the Confederated Tribes of Grand Ronde.
The "Native Land" beer project was announced on Indigenous Peoples' Day in 2021 by Bow & Arrow Brewing, an Indigenous female-owned brewing company in Albuquerque, N.M.
Almost 35 breweries across the country are listed on Bow & Arrow Brewing's website as participating breweries releasing a "Native Land" beer with their respective land-acknowledgment labels through March.
Bow & Arrow Brewing's website says that to participate, each brewery has to research which Tribe's ancestral lands their brewery sits on and commit to donate proceeds to an Indigenous organization.
The website also states the objective of the "Native Land" project is to "further visibility of Native people and to generate resources to support Native organizations whose work focuses on ecological stewardship and strengthening Native communities."
Tribal Council Vice Chair Chris Mercier calls himself as a beer enthusiast and hopes the beer label recognizing Grand Ronde will help make the Tribe's name more familiar.
"What I want to see is more public awareness – not just in Oregon but around the country – of the people that came before and the role the land played in their lives, cultures and histories," Mercier said. "If this helps, then that's a good thing."
Ruse Brewing co-owner and brewer Devin Benware said he has been a fan of Bow & Arrow Brewing and follows them on the social media app Instagram. When he saw the "Native Land" project posted online, Ruse Brewing quickly signed up to participate.
"We know white European people were not the first people here," Benware said. "We are trying to learn about the people who were here before us. As little as it is, we are just trying to do something."
Benware also said that for years he has been encouraged to make a beer that acknowledges Native Americans and their homelands by his best friend who grew up on a Reservation. When this collaboration came up, Benware thought it was perfect and said he was thinking of his friend while crafting the beer.
Ruse Brewing's "Native Land" beer is limited with only one batch brewed, equaling around 2,500 cans and 16 to 20 kegs. It was being served at The Bitter Monk taproom in downtown McMinnville over the Jan. 8-9 weekend.
"We are a pretty small brewery. We mostly sell our beer in our taproom. Especially with beers like this, we will try to sell as much as possible out of the taproom because we make the most margins that way so we can have the most money to give back," Benware said.
Mercier said he thinks the craft beer culture is a defining characteristic of Oregon, but acknowledges alcohol addiction is prevalent in Tribal communities.
"I think there is a little reluctance from the Tribe because of Tribal peoples' history with alcohol," Mercier said. "So while this is great and I will continue to be a beer enthusiast, I can't give an interview like this without acknowledging alcohol hasn't always been kind to Native people and continues to be a problem in Indian Country."
The Tribe was not involved in Ruse Brewing's collaboration, Communications Director Sara Thompson said.
 "We became of aware of it in late December when they reached out about donating and have not received a donation yet," Thompson said in an e-mail.
Benware said once all the beer is sold and the final amount is tallied, Ruse Brewing will make the donation. He also hopes his brewery will inspire larger Portland breweries to participate in the "Native Land" beer project.
"Hopefully by the time our beer is sold through, there will be a couple of breweries that will jump on," Benware said. "I hope the breweries that are going to do it after us are a little bigger as well. We hope our little tiny brewery can help get some of these bigger guys to put it up."