Culture
Yesteryears - Dec. 1, 2022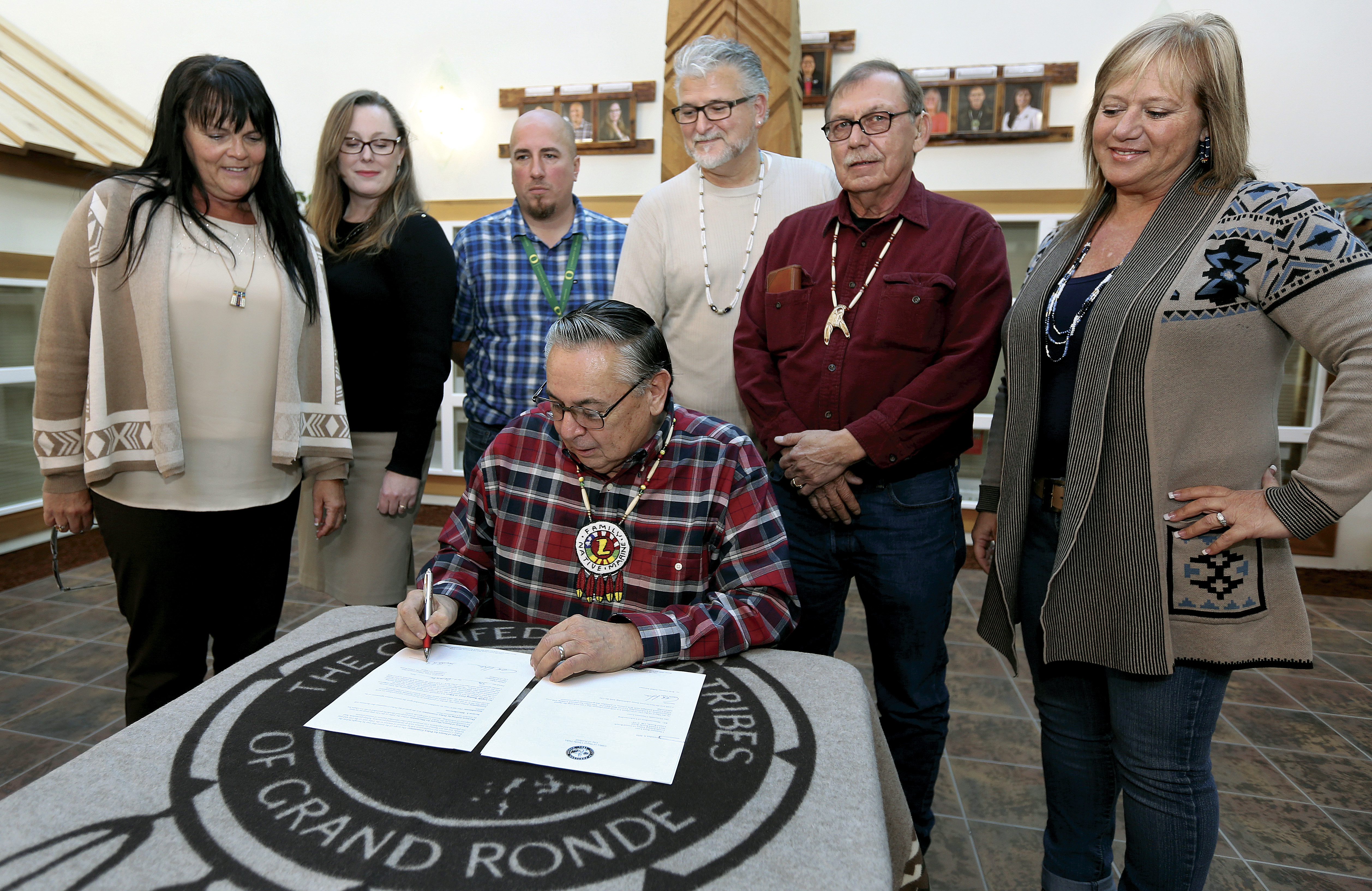 2017 – Tribal Council approved a memorandum of understanding with Oregon's largest city, Portland, to formalize coordination and consultation with the Tribe. Portland lies within Tribal ceded lands. The agreement was designed to strengthen the government-to-government relationship, and to facilitate communication and cooperation on matters of mutual interest to both entities. "This has been a long time in coming," Tribal Council Vice Chair Cheryle A. Kennedy said. "I appreciate all of the hard work our staff has done."
2012 – The Tribe held its first ever Grand Ronde Salmon Celebration as a time to say thanks to the many state and federal partners for their support, to show off the results of Tribal rehabilitation efforts and use the event to show how important salmon are in Tribal life. Tribal Council Vice Chair Reyn Leno said the return of gathering and ceremonial hunting rights, and the salmon celebration were part of one effort since Restoration to bring cultural practices back. "It all fits together," he said. "It amazes me to see things coming back."
2007 – Tribal member John Waters was excited to graduate from air traffic control school in Pittsburgh, Pa., and was preparing to enter the Pan-Am International Flight Academy and begin directing air traffic. "I've always been fascinated by anything with aviation," he said. "I knew I'd be there somewhere."
2002 – Spirit Mountain Casino President and Chief Executive Officer Mike Moore was featured in the Jan. 1 edition of Smoke Signals after the casino was named the top tourist attraction in the state of Oregon. He came to Grand Ronde after a stint with the Foxwoods Casino in New England, and had more than 30 years' experience in Las Vegas and Atlantic City. "Spirit Mountain Casino is an environment of good people focused on providing a high level of consistent, friendly service to our guests," he said.
1997 – The third group of Tribal security guards celebrated the end of their training with a graduation ceremony, which included a meal for all the graduates and their families, as well as certificates and instructor speeches. The training required 24 hours of classes per week at Clackamas Community College in addition to participants working their full-time jobs. Graduates were Lila Musso, Duane Manyhides, Glenda Lytle, Mary Waggoner, Nathanial McGee and Jesse Robertson Jr.
1992 – The Tribal Family Math and Science Program earned international recognition during a Family Math conference in California. Tribal Education Director Dean Azule conducted a presentation on what the program was accomplishing in the way of math and science curriculum and activities, while also reflecting Native influence and culture.
Yesteryears is a look back at Tribal history in five-year increments through the pages of Smoke Signals.