Tribal Government & News
Community conversation focuses on emergency food preparation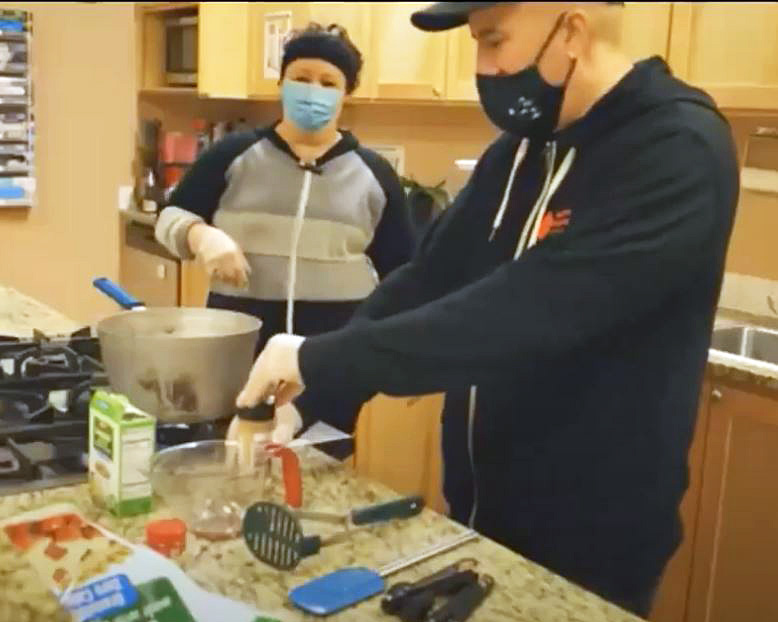 After last February's ice storm ripped through the Willamette Valley over Valentine's Day weekend, it left some residents without power for up to eight days.
How to prepare food in emergency situations and items to make in advance to ensure there is something healthy to eat were the topics of the Thursday, Dec. 9, Community Conversation hosted by Tribal Council Vice Chair Chris Mercier.
Approximately 22 people logged into the virtual event held via the video conferencing app Zoom. The conversation was sponsored by the Grand Ronde Food Bank (iskam mek mek haws), Marion-Polk Food Share, the Willamina Food Bank and the Oregon State University Extension Office.
It was the second consecutive year Mercier has held an online event, a substitute for the popular Mek Mek Mania, which highlights and celebrates food services and resources in the Grand Ronde and West Valley communities.
"We focus on food challenges in the west Willamette Valley and our goal is to raise awareness and educate people on the challenges we face here," Mercier said. "People don't always know what is around and available to them. Our goal is to keep having these events and let people know what is out there."   
The virtual event focused on different ways to prepare food if the power goes out and featured different speakers, recipes and presentations by Marion-Polk Food Share, the Oregon State University Extension Service, Food Hero, Master Gardeners and Tribal Cultural Resources employees. Mercier was featured in a final video, which showed him and Cultural Education Specialist Flicka Lucero demonstrating how to make beef jerky and fruit leather.
"This year has been a big challenge, especially with the February ice storm," Mercier said. "There was no refrigeration and limited means to cook food. These instructional videos on food preparation are useful in those situations. … When you make your own food, you won't get a lot of chemicals like pre-prepared store items. You know exactly what it is because you made it with your own hands. These are the types of food you want to fall back on in case of an emergency."
Mercier and Food Bank Coordinator Francene Ambrose also conducted a raffle throughout the event, giving away items that are useful to have in case of an emergency: Propane cook stoves, cook sets, a non-electric espresso maker, camping survival kit, first aid kit, food dryer, air fryer, wood burning stove and a beef jerky gun. Gift cards to Grocery Outlet, Bare Farms, Mama Tee's Farm and an artificial Christmas tree also were raffled off.    
All attendees received a seed starter kit and cookbooks, which can be picked up at the Food Bank, 9675 Grand Ronde Road.
Before the pandemic, Mek Mek Mania was held four times in the Tribal gym and averaged 80 to 100 people in attendance. Food-related vendors and service providers set up informational tables, conducted cooking demonstrations and provided food to attendees. 
At the conclusion of the online event, Mercier thanked participants and attendees.
"I hope that next year we can do this in person," he said. "But doing so over Zoom and having the videos is fun, too."
In addition to Mercier, Tribal Council Secretary Michael Langley attended the virtual event.
"This is my first one and I'm impressed and also really proud that Chris does this," Langley said. "It's especially important for those of us in leadership."
To view the 87-minute video of the event in its entirety, visit https://youtu.be/bTHTSSBjHCw.