Tribal Government & News
Yesteryears -- Sept. 1, 2021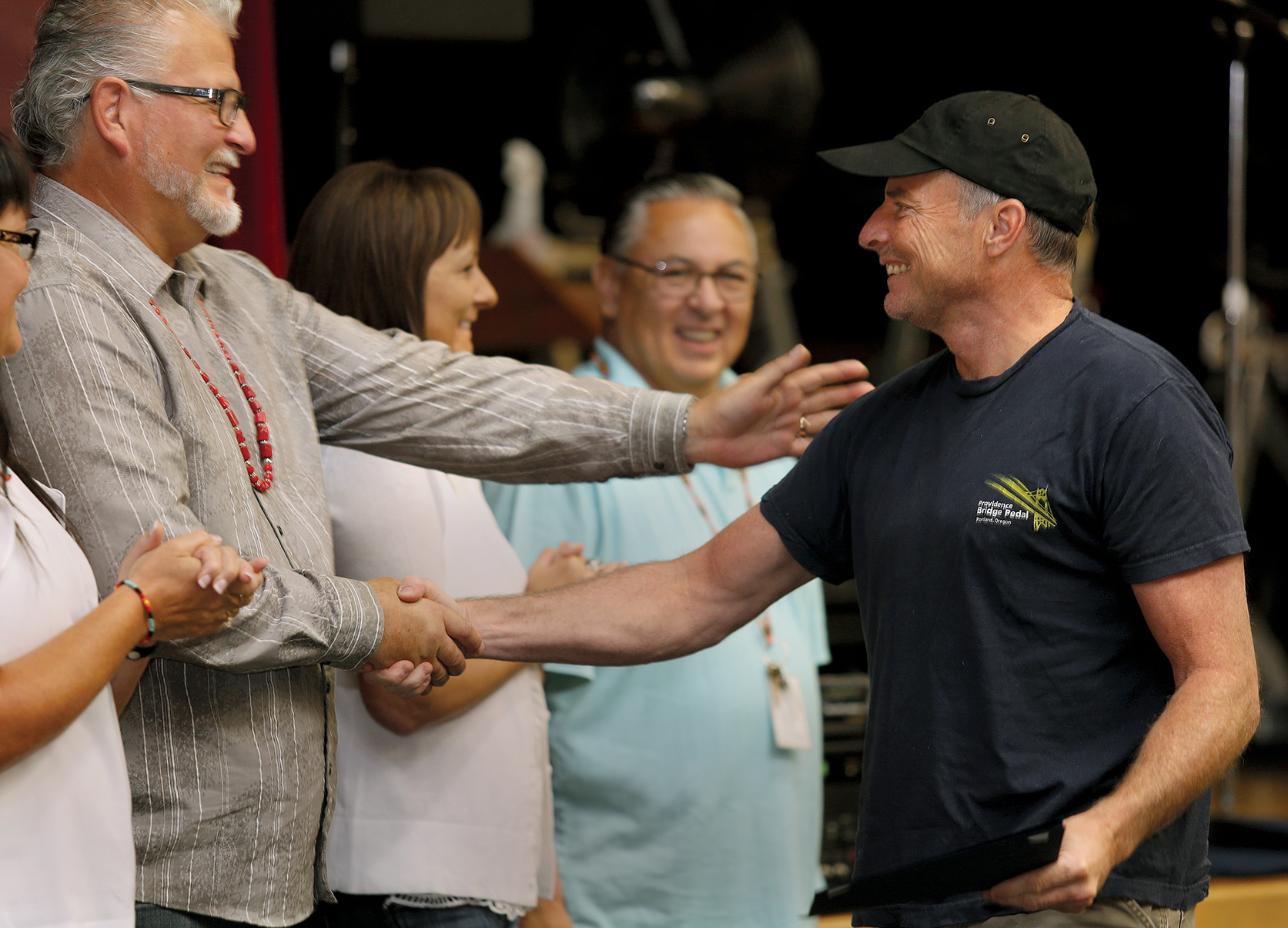 2016 – Sixty-eight employees were honored for a combined 861 years of service to the Grand Ronde Tribe during a morning ceremony held in the Tribal gym. A record 10 employees were honored for serving 20 years or more, led by Lead Groundskeeper Greg Leno, who hit the 28-year mark. Tribal Council Chief of Staff Stacia Hernandez handed out certificates and checks, and in the case of employees reaching 10 years of service she also distributed Tribal Pendleton blankets.
2011 – The Confederated Tribes of Grand Ronde became the official owner of the eight-acre Grand Ronde Middle School property. The Tribe agreed to buy the land and 27,443-foot facility for $675,000 from the Willamina School District. The property was part of the Tribe's original reservation given to it in an 1857 Presidential Order in exchange for ceded lands that included most of western Oregon. The property was zoned as Grand Ronde Public Assembly by Polk County, which allowed for a variety of uses.
2006 – Ntsayka Ikanum, which means "Our Story" in Chinuk Wawa, was launched online. It was an ongoing virtual experience created by the Tribe's Cultural Resources Department, and included sections covering the Tribe's past, present and future. "Nothing will ever be taken down," said Lindy Trolan, the department's Cultural Collections Coordinator. "It will only be added to." The project was close to two years in the making, according to Trolan, who developed content for the project along with Special Projects Coordinator Kim Mueller and Cultural Education Specialist Leslie Riggs.
2001 – The Tribal Housing Department was planning to construct a 36-unit family housing development across the street from Tribal offices on a 20-acre site. Construction of the homes was expected to start in the spring of 2002, with the street and site work to begin within a month. The completion date for everything was set for early 2003. Units included one- to five-bedroom options. Each home would include a yard with paths throughout the development. A main community gathering area with picnic tables, benches and a fireplace also was being planned for the site.
1996 – A groundbreaking ceremony for the Tribe's new Health & Wellness Center was held with approximately 100 people in attendance. "All the land and everything mentioned in the treaties … we're getting it now. But we've already paid in advance," Tribal Council Vice Chair Kathryn Harrison said. A comprehensive health care facility had been a long-held dream for many Tribal members and leaders in Grand Ronde, both because of the need and to provide services for future generations of Tribal members.
1991 – The seventh annual powwow drew approximately 5,000 people who participated in a variety of activities. During the Royalty Pageant, Deana Gardner was crowned Miss Grand Ronde and Courtney Galligher was named Junior Miss Grand Ronde. Other activities included a parade, fun run and walk, and a plethora of Tribal drumming and dancing, including guest Native dancers from New Zealand. The Tribe provided a meal which included salmon, elk and fry bread.
Yesteryears is a look back at Tribal history in five-year increments through the pages of Smoke Signals.