Health & Education
Science, history and racialization of U.S. drug policy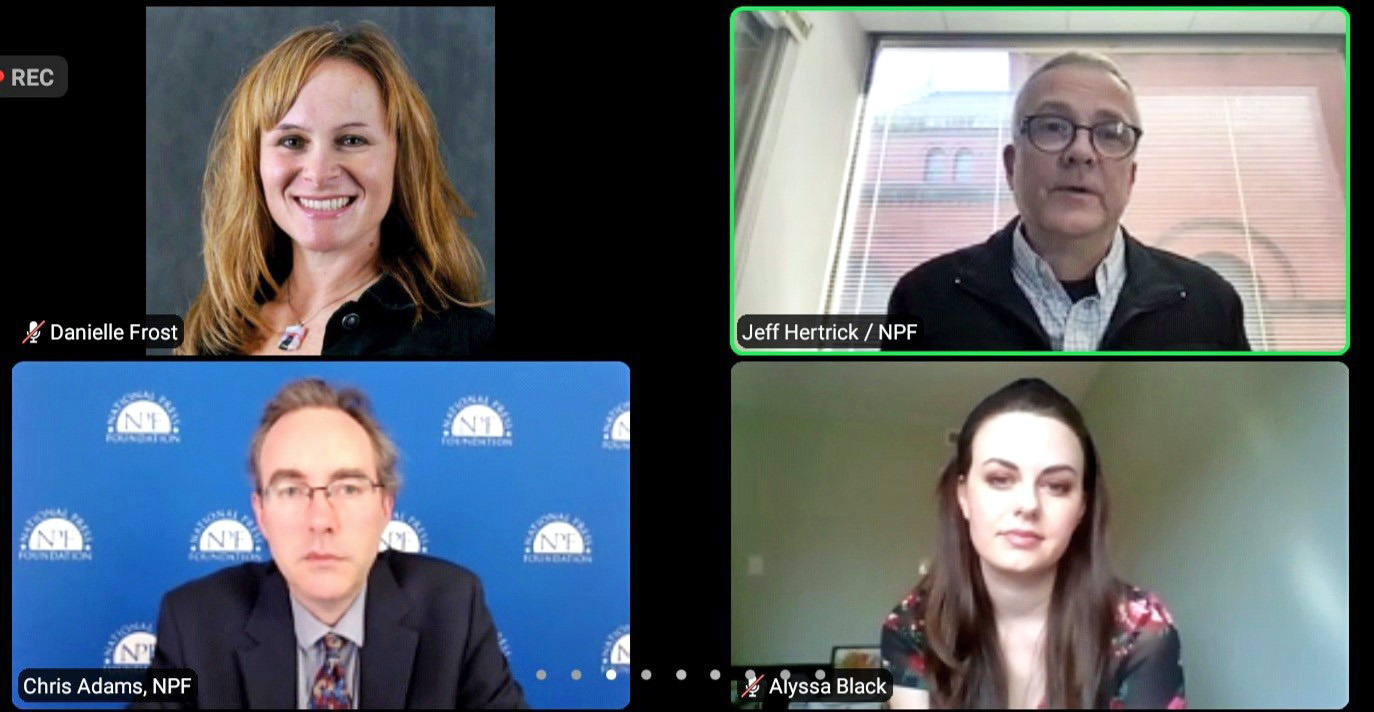 By Danielle Harrison
Smoke Signals staff writer
When the National Press Foundation's Director of Training Chris Adams reached out via e-mail last month to ask if I was interested in applying for an opioids reporting fellowship, I said "yes" without hesitation.
I had originally applied for the training in 2018, about a year into my tenure as staff writer at Smoke Signals. At the time, there were few slots available and I wasn't selected. But opportunities sometimes arise out of otherwise unfortunate circumstances: Due to the COVID-19 pandemic, the training switched to an online format, enabling the Press Foundation to have 23 spots available. This time, I made the cut.
The Press Foundation conducts trainings throughout the year for journalists in the United States and around the world. The nonprofit's mission is to "make good journalists better." It seeks out a diversity of gender, age, ethnicity and type of media, which results in a mix of journalists who can potentially reach millions of readers and listeners.
The "Covering Opioids and Addiction" fellowship consisted of six training sessions, five of which occurred in April and a final wrap-up in May. Fellows also attended the April 22-24 national virtual conference of the American Society of Addiction Medicine, which sponsors the program.
Hosting the virtual Press Foundation training sessions were Adams, Program Manager Alyssa Black and Director of Digital Strategy Jeff Hertrick.
"We want to help you continue to do good stories," Adams said.
Adams and his colleagues carefully selected speakers with various background experience in opioid epidemic and addiction medicine, ranging from law enforcement to social workers, doctors, nurses, addiction researchers and other specialists. From them, fellows learned about the science and history behind addiction medicine, as well as the racialization of American drug policy.
The first speaker on April 7 was Quincy, Mass., Lt. Detective Patrick Glynn, who discussed new strategies for policing opioids and how arresting people struggling with addiction did little to curb the epidemic, so police came up with a different solution.
In 2010, Quincy became the first police department in the country to train and deploy Naloxone (an anti-overdose drug) on the streets. At first, there was pushback and concern, both from the public and some officers.
"We also had to look at the fact that society wasn't ready for police officers to be administering medication because they always looked at us as enforcers of the law as opposed to people that were out there to really assist," Glynn said.
Arresting and jailing those with addiction issues doesn't help reduce crime or expenses. Humanizing them, using Naloxone and connecting with their families does, he said.
The second speaker was San Francisco's VA Medical Center Addiction Consult and Opioid Safety Director Dr. Tauheed Zaman, who noted that the leading substance for illicit drug use by those 12 and older is marijuana.
Tauheed discussed an unnamed client, a 16-year-old boy who was eating a cannabis brownie daily and using hash oil in his vape pen. The teen didn't think his habit was unsafe since a friend bought the products from a licensed dispensary.
"I told him that only 17 percent of products are properly labeled for the amount of THC," Zaman said. "That is improving as more states legalize marijuana. However, it can be very bad for a developing brain, which doesn't stop fully growing until you are 26."
The takeaway? Marijuana can be physically as well as physiologically addictive. Using it to treat mental health issues usually worsens outcomes. Also, abstinence isn't the only approach. Moderation can be utilized as well.
The first speaker on April 12 was Wilson Compton, deputy director of the National Institute on Drug Abuse. He discussed the role of science and research in addressing drug concerns and focused on three areas: Overdose with opioids, vaping and cannabis.
It has been well publicized that overdose rates have accelerated during the COVID-19 pandemic, which highlights the importance of science to offer solutions to this public health crisis.
The second speaker was Dr. Ruth Potee, director of Addiction Services for Franklin County (Mass.) House of Corrections. She spoke about the science behind addiction and the brain, the organ that is harmed most by addiction.
The level of community knowledge around addiction being a disease of the brain has really increased, and Potee credits good journalism for much of that.
"We need to (continue to) change perceptions about drugs, and acknowledge that smoking, which is legal, is the number one cause of death and that one return to drug use doesn't make you a failure," she said. "We also need to improve availability and access to medication-assisted treatment, not make it so challenging that people cannot have a job, take care of their families and get treatment."  
The first speaker on Wednesday, April 14, was Dr. Helena Hansen, a professor at the David Geffen School of Medicine at UCLA. She focused on a study she conducted called "How Racial Capital Changed the Color of Heroin in America."
She began the study after the opioid epidemic "surprised" the media that addiction could be a problem for White America as well as minorities. Since the pandemic, the issue has only increased as overdose rates have increased by approximately 40 percent, as per Centers for Disease Control statistics.
"What has also changed people's minds is how the portrayal of white suffering has been perceived," Hansen said. "Whites were portrayed as sympathetic characters, compared to the portrayal of 'welfare, minority, crack mothers with addicted babies' in the 1980s."
She added that in the United States, narcotics have long been associated with criminalization through marginalized groups. Examples include media portrayals of Chinese opium users, Mexican marijuana smokers, and Black heroin and crack cocaine users.
Hansen said potential ways to address this problem are to realize that a "magic bullet" solution doesn't exist, understand that the problem of drug use is also biosocial, determined by social conditions people live under and to address the racialization of drug policies.
The second speaker was Dr. Paul Earley, medical director for Georgia Professionals Health Program and president of the American Society of Addiction Medicine. He discussed alcohol use disorders.
He said that countries with a high amount of alcohol use, including the United States, have negative medical and social effects as a result.
Also, addiction and alcohol misuse, as well as treatment modalities, are culture specific: Many people are heavy alcohol users for a time and it doesn't escalate to addiction. Examples of temporary heavy alcohol use include during a divorce, trauma, death of a loved one, job loss and the COVID-19 pandemic.
Worldwide, alcohol is the seventh leading cause of death and the leading risk factor of death for those 15 to 49 years old. Cancer is also related to alcohol use as a cause of death. Study results have shown the only safe level of drinking is zero.
The COVID-19 pandemic has created a multiple health and addiction crisis. Things that help people heal, like being with other people, were taken away and many were socially and physically isolated for months.
"This will resonate in our culture for the next decade," he said.
The third speaker was Byrce Pardo, a policy researcher with Rand Corp. He discussed research about stopping the spread of fentanyl.
Since prescription opioids became harder to access, people turned to street heroin. Synthetics began arising as they were quicker and cheaper to make, and can easily be sent through the mail. They are much more potent than regular heroin though, and there has been an unprecedented rise in the death rate.
The first speaker on Friday, April 16, was Dr. Stephen M. Taylor, chief medical officer for Pathway Healthcare and head of the National Basketball Association's player assistance program.
Taylor discussed the American Society of Addiction Medicine's statement on advancing racial justice. He has been a member for 20 years and co-chaired the committee that drafted the statement, an effort to respond to recent events around racial injustice.
"Addiction is a brain disease, but it is also an interaction with other factors," he said. "Life experiences, including racism and drug policies, have supported systemic racism."
The second speaker was Dr. Grant Baldwin of the Centers for Disease Control, where he is the director of the Division of Overdose Prevention.
The overdose epidemic has changed over time. Now, 70 percent of deaths are from synthetic opioids. There have been three waves: Prescription opioids, heroin and then synthetics.
The COVID-19 pandemic has worsened overdose deaths because there is limited access to treatment, increased drug use to cope with stress and boredom, and drug users are isolated. Baldwin noted that 100,000 people are projected to have died of drug overdoses in 2020, compared to 70,000 in 2019.   
The first speaker on Monday, April 19, was Dr. Lisa Marsch, director for the Center for Technology and Behavioral Health at Dartmouth College. She spoke about the development of technological tools in addiction treatment.
"Digital technology has transformed how our society works, and we wanted to know how we could leverage that in the treatment and management of a substance use disorder," she said.
The study found that benefits of digital technology included extending clinicians' reach, functioning as a 24/7 virtual therapist and expanding treatment access to those who live in rural areas or are otherwise homebound.
 "If digital therapeutics are developed well, they are useful and acceptable to a diverse population," Marsch said.
The second speaker was Dr. Jessica Isom, who addressed criminality vs. medication in addiction treatment.
She said the way society and clinicians view drug use over the years has changed: The view of addiction is driven by social, biological and economic value we assign to a particular group. Media portrayals have affected policies. Race can connect you to privilege or barriers, and a primary barrier is structural racism.
She added that the war on drugs was used to subjugate minorities and their communities beginning under the Nixon administration. Many people have been separated from their families and loved ones for simple possession of drugs and given long sentences.
Decriminalization of drug possession would remove one aspect of over-policing communities of color, Isom said. Decriminalization, however, does not solve the structural racism integrated into American society.
The third speaker was Dr. Pierluigi Mancini, project director of National Latino Behavioral Health Association, an organization that provides training and technical assistance to entities that are already serving the Hispanic/Latino community.
Absorbing all of this information has helped me rethink how to cover opioids and addiction in the future, something I hope will serve the Tribe and readers of Smoke Signals in the years to come.
The Tribe recently opened Great Circle Recovery in Salem, the first Tribally operated medication-assisted treatment clinic in Oregon, and is due to open a second in east Portland in early 2022. I now have a much greater understanding of the science behind addiction and racial barriers to treatment, as well as innovative potential solutions. This will help enhance my reporting when writing about these clinics and their services. I'll know when to ask questions, when to listen and, most importantly, what stories to tell.