Tribal Government & News
Tribal Council continues board, committee appointments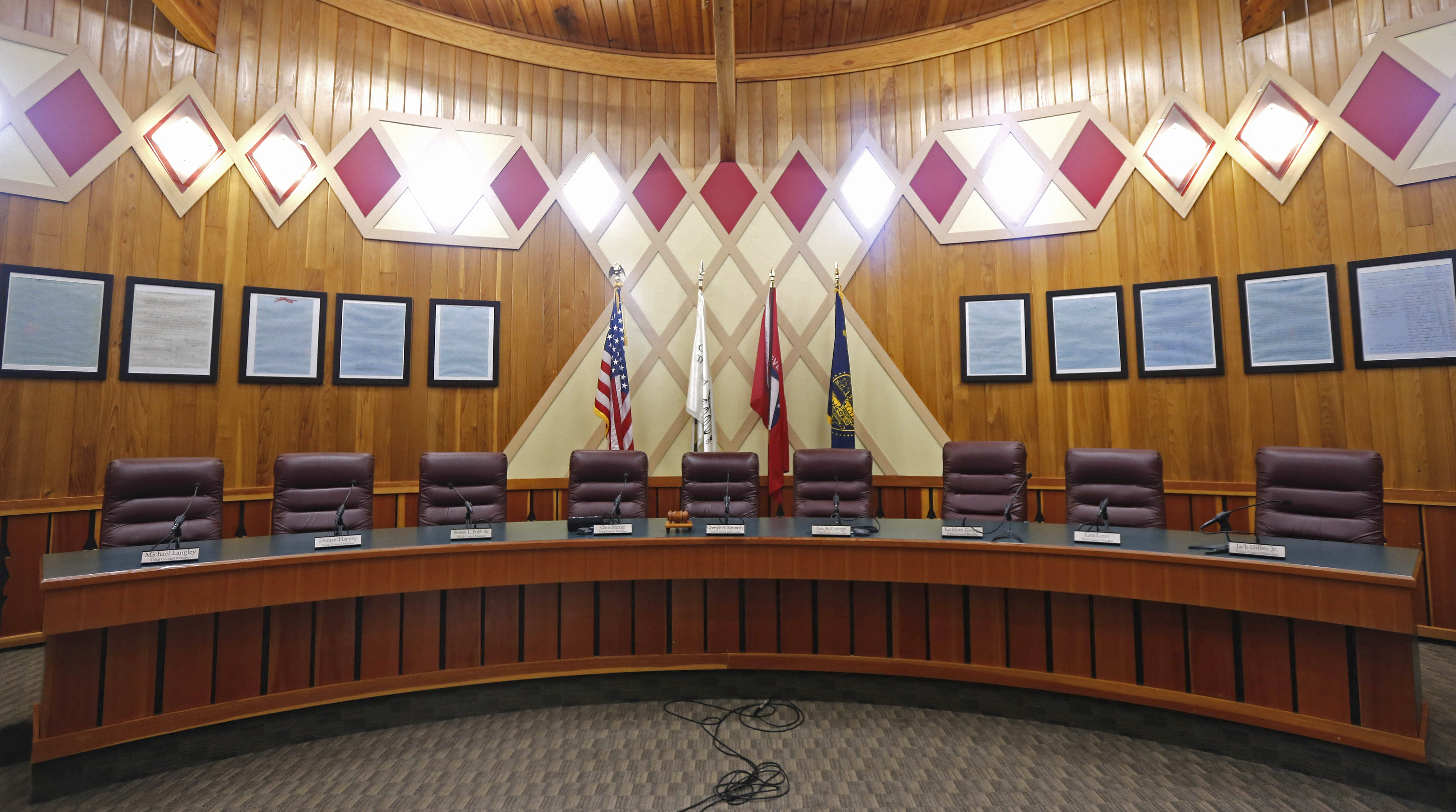 By Dean Rhodes
Smoke Signals editor
Tribal Council's Wednesday, April 21, meeting seemed very much like its April 7 meeting in that numerous special event board and committee appointments and reappointments dominated the proceedings.
Former Tribal Council member Andy Jenness was reappointed to a three-year term on the Editorial Board, which oversees the editor of Smoke Signals and supports an independent Tribal newspaper for the Grand Ronde Tribe. Jenness' term will last through March 2024.
Smoke Signals has been a free press since January 2017, which is when the Independent Tribal Press Ordinance took effect. The law prohibits Tribal administrative or elected officials from influencing Tribal newspaper coverage and requires staff to cover Tribal news in a professional, ethical and impartial manner.
Jenness, who also serves on the Spirit Mountain Gaming Inc. Board of Directors, started serving on the Editorial Board in June 2017.
Other appointments and reappointments included:
Reappointing Valeria Atanacio to the Education Committee with a term expiring in March 2023;
Reappointing Guy Schultz, Jade Unger and Steve Rife to the Ceremonial Hunting Board with terms expiring in March 2023;
Reappointing Sarah Ross and Shayla Myrick-Meyer to the Culture Committee with terms expiring in March 2023, and appointing Kelly Tarr to the Culture Committee with a term expiring in March 2023;
Reappointing Steve Bobb Jr. to the Fish & Wildlife Committee with a term expiring in March 2023 and appointing former Tribal Council Chairman Reyn Leno to the Fish & Wildlife Committee with a term expiring in March 2023;
Appointing Jackie Many Hides and Debby Larsen to the Enrollment Committee with terms expiring in March 2023;
And reappointing Alton Butler, Richard VanAtta and Lorraine Lash to the Veterans Special Event Board with terms expiring in March 2023, and appointing Daniel Helfrich to the board with a term expiring in March 2023.
Tribal Council also set the agenda for the 11 a.m. Sunday, May 2, General Council meeting with a presentation scheduled from the Tribal Employment Rights Office and Human Resources Department via the Zoom teleconferencing program. Tentative plans for a hybrid in-person meeting were canceled after an outbreak of COVID-19 coronavirus occurred in the West Valley, shutting down the Tribal government center and Willamina School District.
In other action, Tribal Council:
Added 24 more names to the Restoration Roll, bringing the total for the year to 70. Tribal Council added 204 names to the historically important roll in 2019 and 127 in 2020. The names are now forwarded to the Department of the Interior for approval;
Approved a Tribal credit card for Jennifer Worth, new operations director for the medication-assisted treatment clinics in Portland and Salem;
Approved the enrollment of an infant into the Tribe because he or she meets the requirements outlined in the Tribal Constitution and Enrollment Ordinance;
Approved an agreement by Chemawa Station LCC, which is co-owned equally by the Grand Ronde and Siletz Tribes, to sublease of portion of the Keizer property to Chick-Fil-A, a Georgia-based fast food operation that is opening a restaurant there;
Approved a grant application to the U.S. Department of Health and Human Services' Substance Abuse and Mental Health Services Administration that would help fund the opening of the Portland medication-assisted treatment clinic scheduled to occur in early 2022. The grant would last for five years;
Approved an application to Spirit Mountain Community Fund for $100,000 that would be used to design and construct language immersion classrooms as part of the Tribe's Language Education Building project;
And approved an application to the Oregon Office of Emergency Management that would bring the Tribe $25,407 to improve homeland security issues, such as cybersecurity, violent domestic extremism, and information and intelligence sharing.
The entire meeting can be viewed by visiting the Tribal government's website at www.grandronde.org and clicking on the Government tab and then Videos.