Tribal Government & News
Blue Heron fire suspect has trial date set for June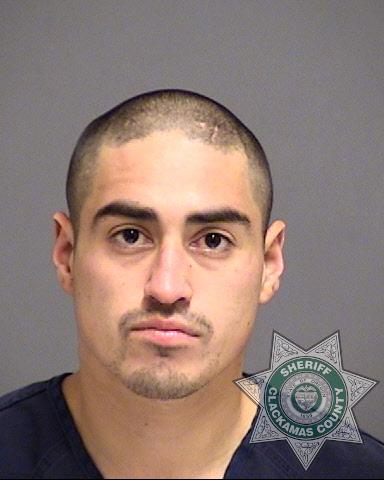 By Dean Rhodes and Danielle Harrison
Smoke Signals staff writers 
OREGON CITY – The man suspected of starting a fire that damaged the Grand Ronde Tribe's Blue Heron property has a trial date set for June 1, after being found fit to proceed by Clackamas County Judge Heather Karabeika. 
Karabeika previously ordered a mental health examination by Oregon State Hospital personnel on Jan. 4 after finding there was reason to doubt Enrique Omar Mejia's mental ability to proceed with a criminal defense against the arson charge filed against him.
Oregon City police arrested Mejia, 29, for the Dec. 5 fire at the former Blue Heron Paper Mill site that the Tribe purchased in August 2019. He was originally scheduled to go on trial on Wednesday, Feb. 3.
Mejia's court-appointed attorney Ruben Medina Jr. requested a psychiatric/psychological examination, saying that a criminal trial could violate his client's "fundamental right to competency."
Mejia reportedly made "concerning statements" that call into question his ability to stand trial, Medina said. He added that his client's family members said that he has been having mental health issues for some time.
Medina told the court that Mejia claimed to have had a chip implanted in his head and wanted to know what would happen when the chip was discovered. He also asserted that he has since been followed around by a cult that is trying to frame him for a crime.
According to a Dec. 29 court filing reported by The Clackamas Review, Mejia said that because of his brain implant "a group of people can see what I'm thinking; they can see what I see, and they can hear what I hear. … I'm not sure exactly what it is, but I think it's part of a cell phone or Google eye or something."
Mejia's previous convictions include a 2018 disorderly-conduct charge in Lincoln City. According to the Lincoln City News Guard, he also was cited and released by the Lincoln City Police Department in July 2020 after police received a report of a man with a beer pushing a crosswalk button over and over again.
Oregon law states that a person may be found incapacitated if, as a result of a qualifying mental disorder, he or she is "unable to understand the nature of the proceedings against the defendant or to assist and cooperate with the counsel."
Mejia remains in the Clackamas County Jail in Oregon City on $100,000 bail on one count of second-degree arson. He has been previously denied release because of failure to appear charges, the felony arson charge, having adult convictions and being unemployed.
His next scheduled court date is a status check set for May 13. 
Includes information from Pamplin Media Group