Tribal Government & News
Tribal Council Chambers, conference room receive substantial technological upgrade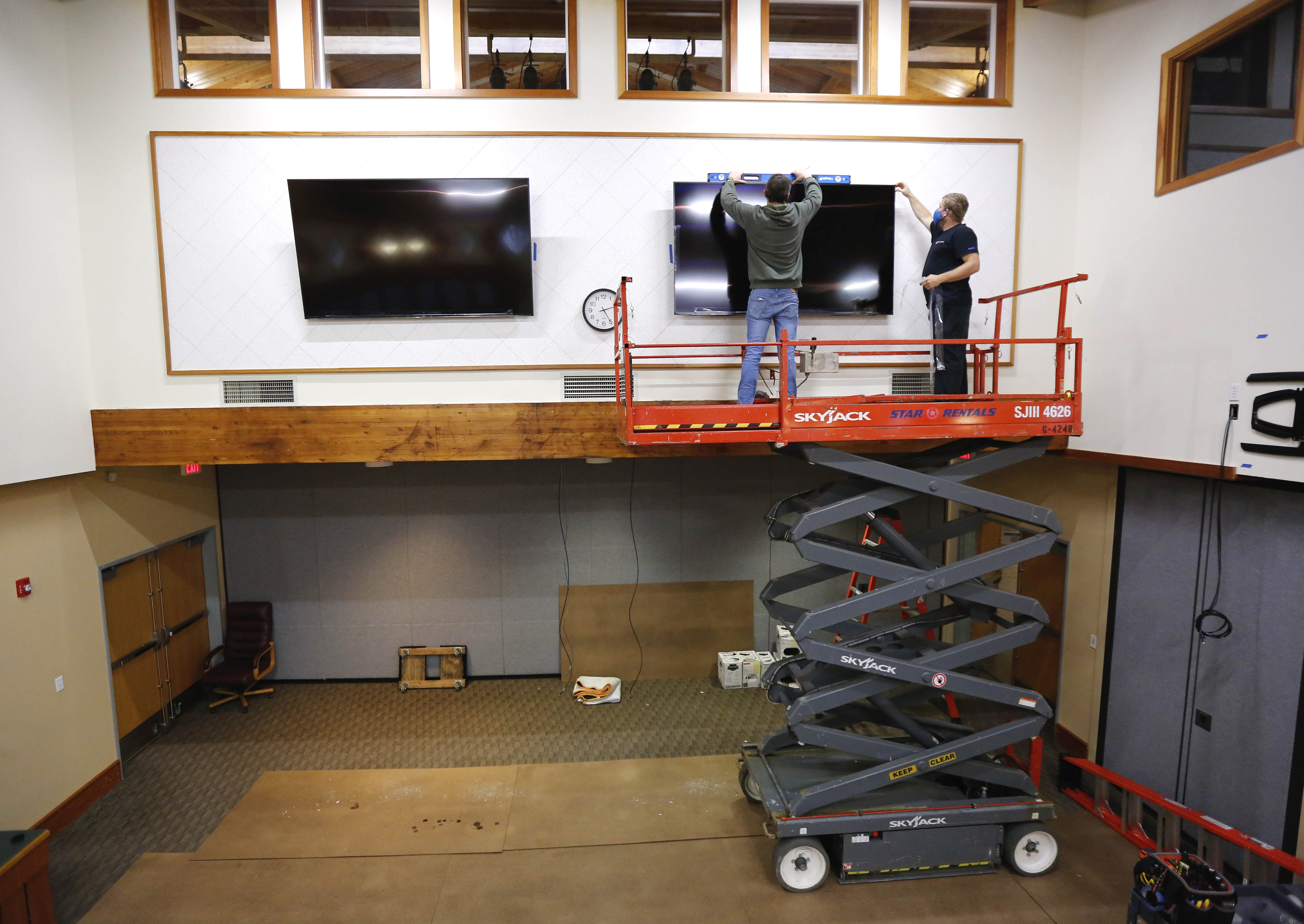 By Danielle Harrison
Smoke Signals staff writer
The Tribal Council Chambers and conference room have undergone significant technology upgrades in January that will allow the audience and Tribal Council members to more fully participate remotely in meetings.
The upgrades, completed by LightWerks Communications Systems Inc. of Carson, Calif., cost $182,000 and were paid for with Coronavirus Aid, Relief and Economic Security Act funds. The Tribe received $45 million in emergency aid funding from the federal government in 2020.
The meeting room improvements include a room scheduling system, an electronic sign to replace the bulletin board and a video conference system with a central control panel for ease of access.
With the COVID-19 pandemic necessitating the use of virtual meetings, streamlining the process was key.
Tribal Audiovisual Network Technician Wendell Olson said that the system allows Tribal Council members to remain in their office or home and actively participate in the meetings hosted from the meeting room, which was being utilized while Tribal Council Chambers undergo similar, but more substantial, upgrades.
"The video conference system is PC-based so it can be used with most videoconferencing systems by simply installing the software on the PC," Olson said. "This system is also integrated into our phone system and parts of it can be utilized for teleconferencing without the need for separate equipment."  
Tribal Council Chambers is getting all of the same features as the meeting room and also will include a public address system, new wireless microphones for Tribal Council members with built-in speakers and headphones that can be attached to the station to help those with hearing impairments.
The PA system also will directly connect to the videoconferencing system, teleconferencing and the livestream for virtual attendees, which is the primary way a meeting can be attended by non-employees during the pandemic. 
Additionally, a camera to enable livestreaming will be permanently mounted overhead so that floor space currently taken up by camera equipment and videographer can be utilized for seating and will no longer obstruct the view for those seated further back once in-person meetings resume.
Both the audience and Tribal Council members will be able to view the videoconference attendees and presentations on monitors located overhead.
"In addition to the four new monitors, the audience will enjoy clearer sound from the new PA system, which includes more and better speakers located much closer to the audience, substantially reducing the echo and other acoustical anomalies of the room," Olson said.
Tribal Council member Kathleen George said she is grateful for the upgrades. Since the pandemic began, she has been doing a combination of working from home and in-person to reduce potential exposure because she has a vulnerable family member in the same household.
"The new technology improvements will help our meetings be more effective when we have to work remotely, either due to COVID concerns or simply when we have to be away from the office on business in the future," George said. "I think we have all experienced some technology failures before this. I have just been dropped in the middle of meetings, sometimes over and over on the same meeting, or been able to see and hear everyone but nobody could hear me. I have seen the same things happen to other council members. Also, being able to see the other meeting participants adds an important component to effective communication."  
George said that she is particularly happy with the expanded use of remote connecting allowing more Tribal members to participate in meetings no matter where they live.
"We have had greater participation on average than in our in-person meetings," she said. "I'm sure that Zoom meetings and similar remote options will continue so that we can expand Tribal member access to our Tribal business."   
Tribal Communications Director Sara Thompson said CARES Act funding has allowed the Tribe to make important technology upgrades.   
"The Tribe was able to bring the wiring up to today's standards as well as incorporate new technology with improved teleconferencing capabilities," she said. "(It) can incorporate livestream events and provide higher quality audio and video for Tribal members who join business meetings from home. Technology has changed significantly over the years and we're excited to see how these improvements will help us connect with each other."