Health & Education
Tribe doubles COVID-19 testing capacity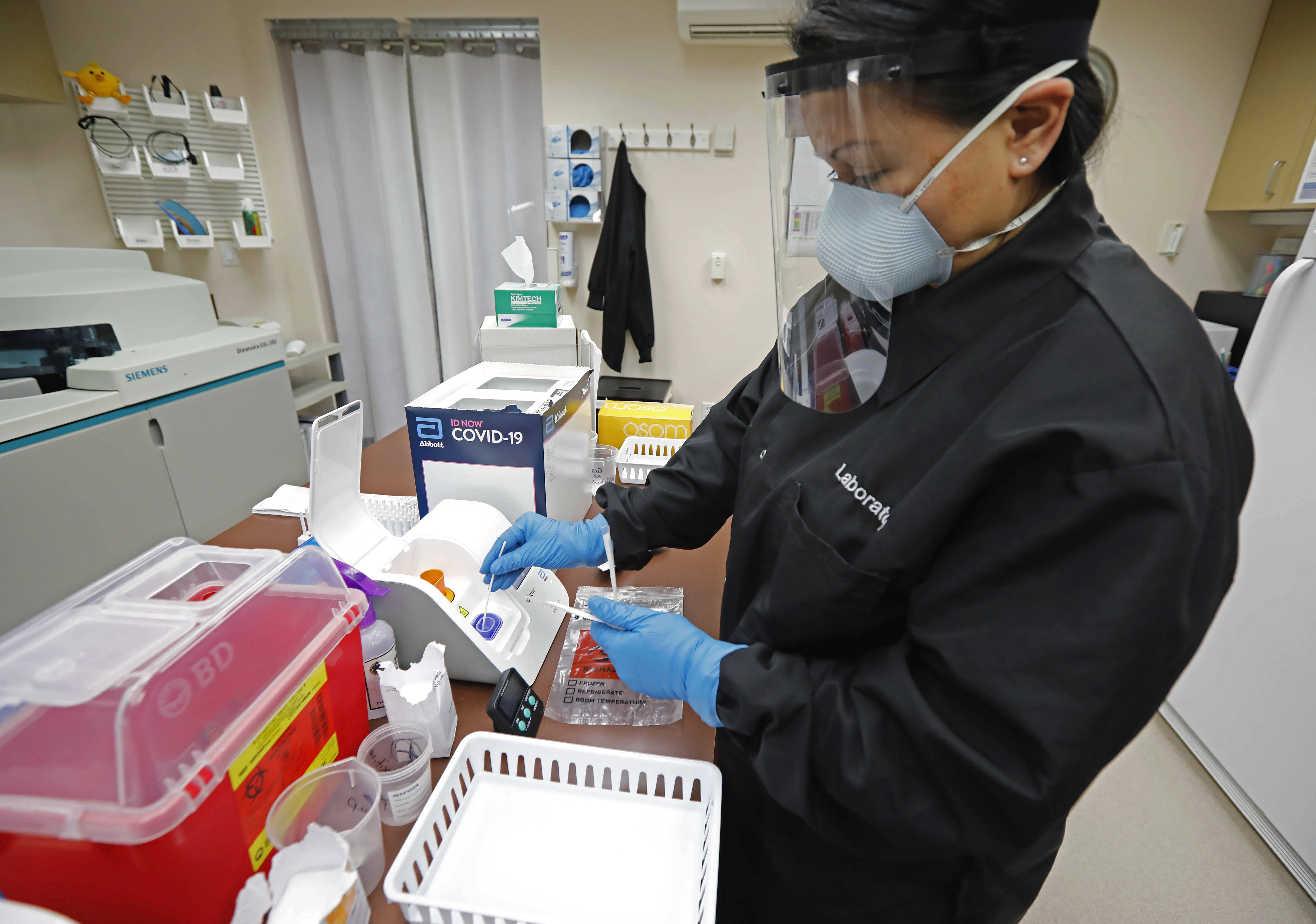 By Dean Rhodes
Smoke Signals editor
Health Services Executive Director Kelly Rowe said the Confederated Tribes of Grand Ronde recently received a second COVID-19 virus test analyzer that will allow the clinic to double its testing capacity from 28 to 56 tests a day during a Wednesday, Jan. 6, Facebook Live event.
"This gives us the ability to react quickly when someone is sick," Rowe said.
Rowe gave an overview of the Tribal Health & Wellness Center's continuing efforts to deal with the virus. She said that as of Tuesday, Jan. 5, the clinic has conducted 1,625 tests with 1,502 of them being negative, 50 positive and 73 being retests. At the time, there were 17 active cases and 46 patients who had recovered from the virus in Grand Ronde.
The Tribe received its first 300-dose shipment of the Moderna COVID-19 vaccine on Dec. 22 and the Tribe will have given out between 130 to 150 doses by Wednesday, Jan. 13.
Rowe said the Tribe is still giving out doses to those in the Phase 1A class (clinic staff, Tribal first responders and adult foster care staff and residents) and hopes to soon move on to those in Phase 1B (teachers, school staff and child care workers and those 75 or older).
The Moderna vaccine must be in administered in two doses about 28 days apart to be effective. Once a 10-dose vial is thawed and opened, it is viable for about six hours, which is why the clinic ensures it has 10 people ready to be vaccinated.
Rowe said she received the vaccination and had a minor reaction. However, she said the Tribe will not offer vaccinations in the Portland area office because there is a chance that someone could have a more serious allergic reaction and there would not be the medical personnel and equipment available to treat the person in that circumstance.
"At this point, we are not looking to do that," Rowe said.
The 42-minute Facebook Live event was the 15th held by the Tribe since the COVID-19 virus became a public health concern in mid-March 2020. About 220 people signed on to hear the update on what is occurring with the Tribe.
In addition to Rowe, Tribal Council Chairwoman Cheryle A. Kennedy, Spirit Mountain Casino General Manager Stan Dillon, General Manager David Fullerton and Tribal Council Chief of Staff Stacia Hernandez participated in the event.
Kennedy opened the Facebook Live event by announcing the Tribe is expanding its technology grants to include all Tribal members and descendants. Previously, the grants were only available to Tribal member students and Elders.
Because the deadline to spend CARES Act funding has been extended to the end of 2021, the Tribe will be using the funds it has remaining of the $45 million it received to fund the $200 per person grants.
"We believe in education," Kennedy said. "We are delivering a key to their future."
Kennedy also announced the Tribe is finalizing a loan program where Tribal members can borrow up to a $1,000 from the Tribe and have two years to repay the loan. The interest rate is yet to be determined and applications will start to be accepted in late February.
Kennedy added that Tribal Council will be possibly extending the COVID-19 Relief Payment Program that sent adult Tribal members eight payments between April and November of last year that totaled $4,400. The program used the CARES Act funding to help Tribal members adversely affected by the economic downturn caused by the pandemic and the suspension of two per capita payments because Spirit Mountain Casino closed for 74 days between mid-March and May 31.
Dillon said that since the casino re-opened seven months ago on June 1 that it has had a "minimal" amount of issues related to COVID-19 considering it is the most popular gaming facility in Oregon. He said the casino sees as many as 6,000 customers a day and has about 1,000 employees.
"I think that shows we are doing a good job trying to keep everyone protected," he said. "I think our protocols are working."
In response to several questions from those watching the Facebook Live event, Dillon said that table games are now limited to three players per table to ensure appropriate social distancing and that poker probably will not return until there is absolutely no fear of the virus anymore.
"I want to wish you all a Happy New Year and as we all move forward into this year, I know that we have greater strength, greater wisdom, greater resilience and greater hope. … I know that as I look at the past year, I know that I have gained strength, I have gained more understanding and I believe that the thing that has happened with all of this is we have become a kinder, gentler people," Kennedy said.
To watch the entire Facebook Live event, visit the Tribe's Facebook page at https://www.facebook.com/CTGRgov.