Tribal Government & News
Yesteryears -- Jan. 1, 2021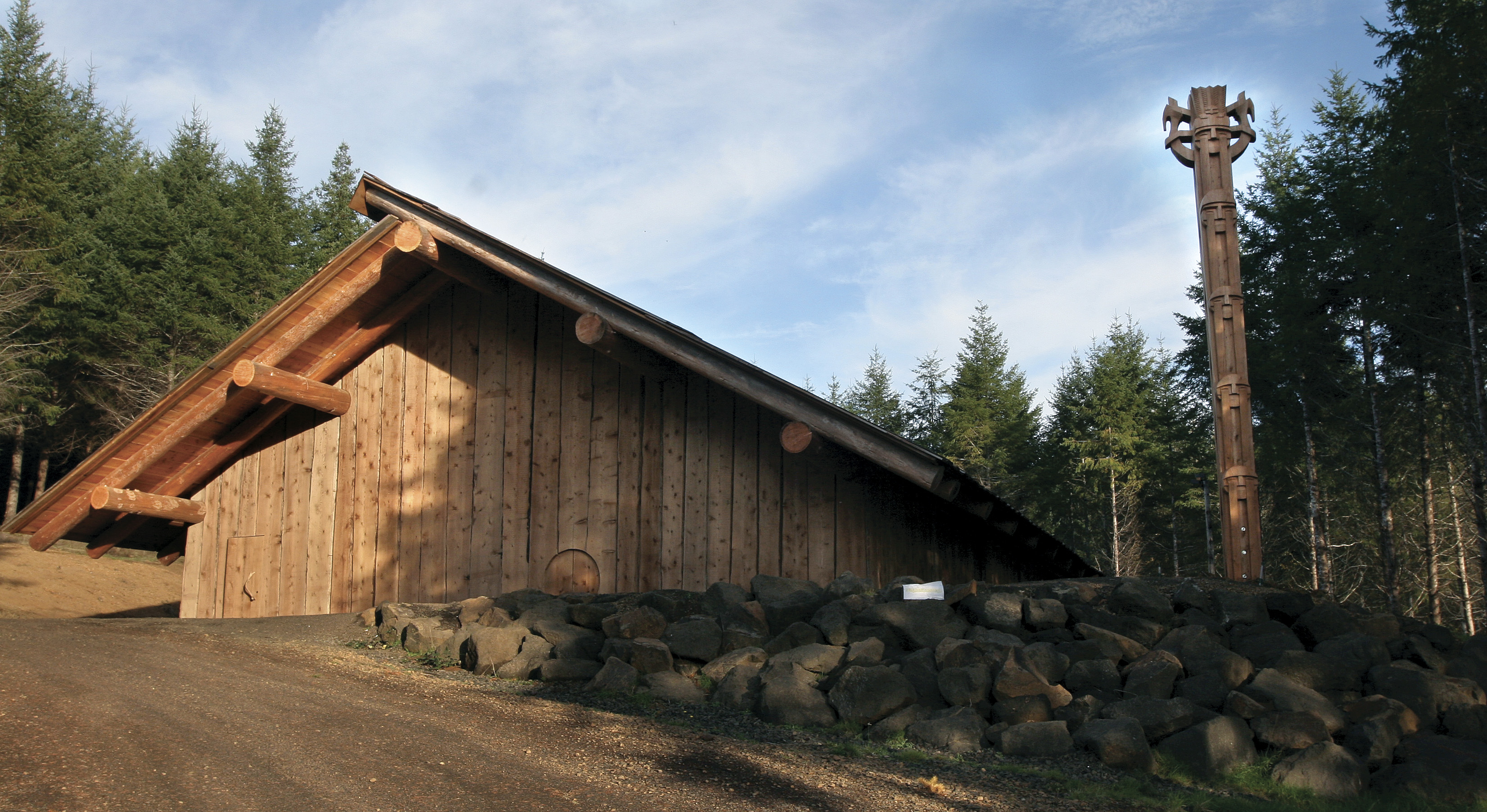 2016 – The Confederated Tribes of Grand Ronde finalized purchase of the 31-acre Multnomah Greyhound Park site in Wood Village. The Tribe closed on the property in December. The site, which was no longer used for dog racing, was listed for sale at $11.2 million in 2015. "Economic diversification has always been a priority for our Tribe and our membership," Tribal Council Chairman Reyn Leno said. "We have worked hard since our Tribe was restored to become self-sufficient, and to provide essential programs for our members. Striving toward a diversified economy is an objective that helps us prepare for the future."
2011 – The Tribal plankhouse received a name. "achaf-hammi" is a Tualatin-Kalapuya word meaning "a house built of cedar planks." The name was finalized in December, said Tribal member Bobby Mercier, the Tribe's language and cultural specialist. Henry Zenk, an anthropologist and friend of the Tribe, helped with the translation.
2006 – Tribal Elder Steve Bobb Sr. created a memorial to loggers who lost their lives on the job. His work, "View from the Top," was a bronze statue of a logger at the top of a large tree and was put on display at Coyote Joe's restaurant in Willamina. The idea came to Bobb while he and wife Connie were driving home to Willamina from the Oregon coast, and the couple saw a memorial dedicated to fishermen lost at sea. "So I thought, why couldn't we do that same thing with people who had lost their lives in the timber industry?" Bobb said.
2001 – Tribal member Tim Holmes was awarded the Paul G. Hearne Award for leadership. "It's a tremendous honor to be selected," Holmes said. "I would have never dreamed of it." The awards program was established in 1999 in honor of the founder of the American Association of People with Disabilities. The program recognized emerging leaders with disabilities who demonstrated leadership while having a positive impact on the community of people with disabilities.
1996 – The Tribe's Education Department hosted 30 representatives of the Oregon Indian Education Council, an advisory board to the Oregon Department of Education. Participants were welcomed by Tribal Council Chair Mark Mercier and Vice Chair Kathryn Harrison. Tasks that the OIEC was looking to undertake included establishing of partnerships with school districts and educational institutions, supporting cultural competence training for teachers, and advocating for Indian education.
1991 – The Confederated Tribes of Grand Ronde was putting together a two-part survey to assess the needs and desires of the Tribal population. One questionnaire was designed to collect socioeconomic, demographic and health-related information concerning 1,000 Tribal households. The other questionnaire would assess attitudes of 600 randomly selected Tribal member adults toward economic development plans in the service area that included Yamhill, Polk, Marion, Multnomah, Washington and Tillamook counties.
Yesteryears is a look back at Tribal history in five-year increments through the pages of Smoke Signals.