Tribal Government & News
Smoke Signals receives three second-place awards from ONPA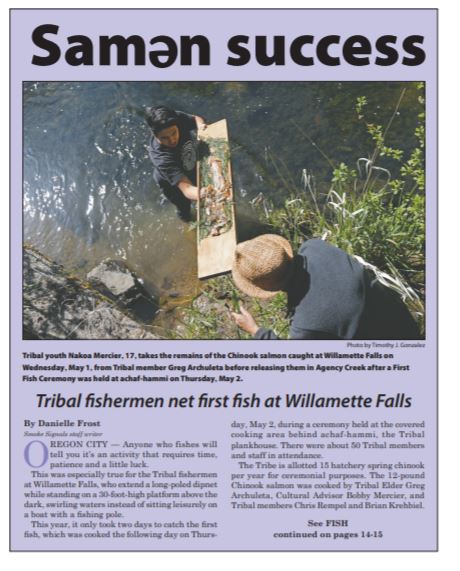 On the heels of winning 11 awards from the Native American Journalists Association on Monday, Sept. 28, Smoke Signals won three second-place awards from the Oregon Newspaper Publishers Association on Tuesday, Sept. 29, for work published in 2019.
Photojournalist Timothy J. Gonzalez won a second-place award in the Best News Photo category for his photo of Iyana Holmes being named Senior Miss Grand Ronde during the 2019 Contest Powwow. The photo received a first-place award from NAJA the day before.
Staff writer Danielle Frost won a second-place award for Best News Writing for her May 15, 2019, story about Grand Ronde Tribal fishermen catching their first fish of the year at the Willamette Falls platform.
Smoke Signals took second place in the Target Audience General Excellence category that judged newspapers on their "level of interest, relevance, creativity and commitment to the target audience." The Salem agricultural-oriented newspaper Capital Press received the first-place award.
"I always value winning any award in the General Excellence category because it is a recognition that the entire staff – from news gathering and writing to photography to editing to designing and creating graphics – contributes to a publication that shows our dedication to providing the Tribal membership the best newspaper we can," Editor Dean Rhodes said.
Smoke Signals competed in the Associate Member category, which includes 25 newspapers such as the Capital Press and Portland Tribune.
"Once again, we were the only Tribal newspaper in Oregon to be honored in this mainstream newspaper contest, which I think shows the quality of the publication and recognizes the Grand Ronde Tribe for being one of the few Tribes in the country with an independent press that allows us to compete on a level playing field," Rhodes said.
The three ONPA and 11 NAJA awards bring the total number of awards won by Smoke Signals during the last 12 years to 99.