Tribal Government & News
Tribal Council re-elects Chris Mercier as vice chair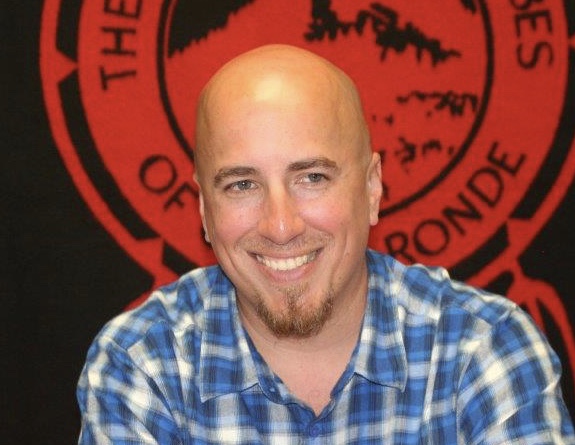 By Dean Rhodes
Smoke Signals editor
Tribal Council re-elected Chris Mercier by acclimation as vice chair during its Wednesday, Sept. 16, meeting.
Tribal Council member Denise Harvey nominated Mercier and there were no other nominations.
"I consider it an honor to get to serve on Tribal Council for as long as I have and I also consider it an additional honor to be able to do the vice chair position," he said. "I appreciate the support of my co-workers."
Mercier, 45, was re-elected to Tribal Council for the sixth time on Saturday, Sept. 12, garnering 966 votes and finishing third behind fellow incumbents Lisa Leno and Michael Langley, respectively.
In his previous 15 years on Tribal Council, Mercier has served as Tribal Council chair for one year, vice chair for two years and secretary for one year.
In other action, Tribal Council:
Approved an amendment with Industrial Economics, the Tribe's technical consultant on the Portland Harbor cleanup and related natural resource damages, that extends the contract through September 2021;
Approved 2021 harvest season licenses on 12 Tribal properties that are projected to earn the Tribe $52,002 in revenue;
Approved a resolution with Portland General Electric that will give the company an easement on a 5,780-square-foot portion of the Chachalu Museum & Cultural Center property that will improve power systems and supply to the Tribal building;
And approved a memorandum of agreement with the Indian Health Service that will support development of 16 new homes at the Creekside Elders housing development at the southwest corner of Grand Ronde and Hebo roads. The $200,000 needed to extend water and wastewater infrastructure to the site will use $150,000 in Indian Health Service funds and $50,000 in Tribal funds.
During other business, Tribal Council members thanked numerous Tribal staff members for the hard work and long hours they have dedicated to helping host the fire camp on the Tribal grounds. About 600 firefighters are using the Tribal campus as a home base and staging ground to combat the Echo Mountain Complex Fire near Otis in Lincoln County.
Tribal Council Chairwoman Cheryle A. Kennedy said the collective Tribal response shows that staff "are part of a big team that says, 'Let's get it done.' "
Tribal Council member Jack Giffen Jr. said that he was told by firefighters that the Grand Ronde fire camp is the best one they have ever been in. "I think that is testimony to our great staff," Giffen said. "They made a huge impact."
To watch the entire meeting, visit the Tribal government's website at www.grandronde.org and click on the Government tab and then Videos.